Friday, June 13, 2014 - Wank Party 2014 #3, Part 1 RAW

Wank Party 2014 #3, Part 1 RAW

In Wank Party 2014 #3 a host of beautiful guys come together. Libor Bores, Danek Gyor, Vladimir Kruty, Peter Van Don and Milan Beran. This first part we find Libor as he waits, by the river, for his friends. Danek, Vladimir and Peter join Libor and he invites them back with him, as he has something to show them. When the get back they find Milan, blindfolded and shacked and they quickly get him naked, with his big, hard cock on show. Peter is quickly sucking on one of Milan's nipples as Libor works on that stiff cock. Vladimir and Danek start to get to grips with each other at the same time. Vladimir sucks on Danek's massive cock as Peter takes a turn on Milan's. With Libor naked as well he moves over and sucks Danek, who in turn sucks Vladimir. Peter is really working on Milan's cock and is soon replaced by Vladimir who shows Milan how good he sucks. Peter gets naked too now and feeds his dick into Danek's mouth. Libor's hot mouth keeps workin on cock too. Peter moves over and kisses Libor before sitting down so that his cock can get some attention. Libor sucks him real good as Danek moves over to suck on Milan. Vladimir loses his pants too and his throbbing cock flops into view. He kisses Milan and sucks his nipples, dropping to suck cock again. Peter takes a turn on Libor's dick as Danek goes down on Vladimir. All 5 are rock hard and ready for anything. They keep swapping suck buddies with Milan, stills shackled getting mouth after mouth on his cock. Things get even hotter as Peter rims Vladmir's hot hole and Milan is released, so that Vladimir can suck him, while Libor works on Danek's hole. All this hot action has the guys ready for more with some great fucking coming up in part 2.
... more about Wank Party 2014 #3, Part 1 RAW further in this newsletter

Our Coming Soon Set Preview
Felix Ryha and Milan Hornik are two very horny guys, as witnessed by their massive erections as they kneel on the bed and kiss each other. Felix quickly reininduces just how horny by sucking on Milan's throbbing cock. His mouth works on that dick, his head bobbing up and down before kissing Milan again. Milan then returns the favour, wrapping his mouth tight around Felix's massive cock. Felix's hand is on the back of Milan's head pushing it down on the cock. Milan then lays on the bed for Felix to suck him some more. Felix sucks and licks at the cock for a while before feeding his dick back into Milan's mouth and fucking his face. Then Felix turns around and bends over for Milan to rim his ass. The tongue lands on Felix's hole and laps at it, wanking his cock at the same time. With Milan laying on the bed Felix then sits his hot ass down on that rock hard cock. He wanks himself as he takes that dick deep in his ass. Then Milan gets behind the bent over Felix and rams his cock deep into that eager hole. Felix takes it so well, loving every minute that his hole is being pounded. Moving into missionary position the fucking continues as Felix wanks himself to a big climax, his cum shooting over his hot body. Milan continues to pound that ass, harder and harder until he is ready to blow. He pulls out and dumps his cum all over Felix's body. What a great scene, ended with they guys kissing each other, just as they started.

OPEN SET WINDOW

Trailer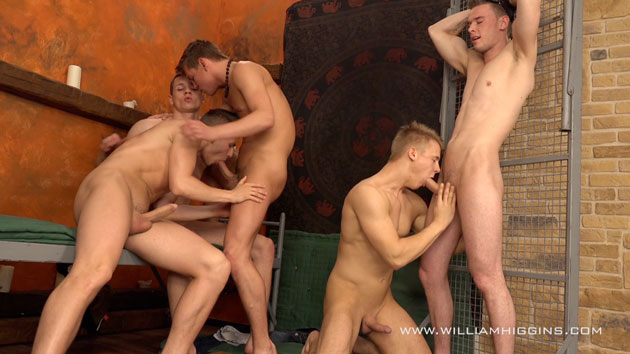 Vlog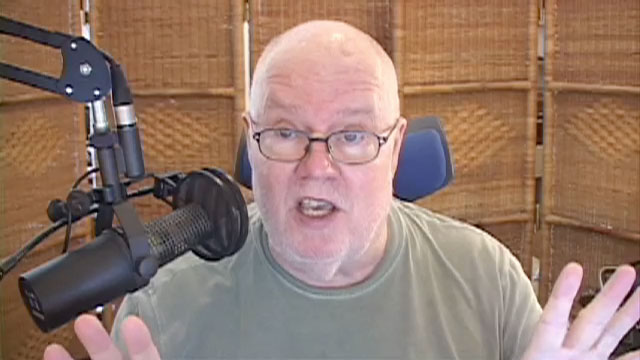 You can watch my Vlog for this Newsletter by clicking above or by going over to the Blog :
http://www.wheuro.com/?p=13032
TGI Friday The Thriteenth! It's an absolutely beautiful day outside in Prague. It's 72º F or 23º C. That's after an unseasonably hot day on which we shot our most recent Wank Party. That's coming up right away. We shot it by a private lake on the outskirts of Prague and it's looks real great.
As we continue to shoot with our new cameras the 4K videos are coming online thick and fast. All three sets today have 4K videos. They are Wank Party 2014 #3 – Part One, followed by Daniel Malek in his erotic video and Tomas Fuk in his session shoot.
We have three very good castees too, they are Peter Looper, Michael Anderson and Mirek Polan. That is a very good selection, with my pick for today going to Peter Looper.
REMEMBER YOUR CAN ALWAYS CHECK THE OLD WH WEBSITE AT:
NEW SETS AT STR8HELL.COM

Members of str8hell.com get full access to the site and to the full archive of more than 2500 sets on Czech Guys Next Door web site, at:
http://archive.czechguysnextdoor.com/
Non-members can access str8hell.com and browse the complete content, including free video previews and some free photos for each set. Non-members can also search the site, and are able to buy any sets they like, without taking out a full membership. Paying only for the sets you really want to see.
Sincerely
William Higgins

BurnDVD.tv Website Latest Updates


DOWNLOAD AND BURN VIDEOS TO DVD OR DOWNLOAD OUR VIDEOS IN FULL HD 1920x1080P!
Special Offer for William Higgins Newsletter Readers
William Higgins Newsletter readers are able to obtain a discount on the price of BURNDVD downloads by using the coupons that we will be publishing in each Members Newsletter. The coupon published in each newsletter will be valid for a period of 7 days.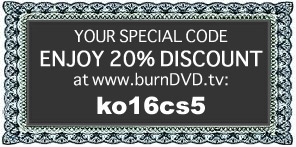 Copy today's coupon code here: ko16cs5

Our Partners:

PLEASE PROCEED TO THE NEXT PAGE FOR THE LATEST WilliamHiggins.com UPDATES