Friday, July 04, 2014 - Arny and Filip - Screen Test RAW - FULL CONTACT

Arny and Filip - Screen Test RAW - FULL CONTACT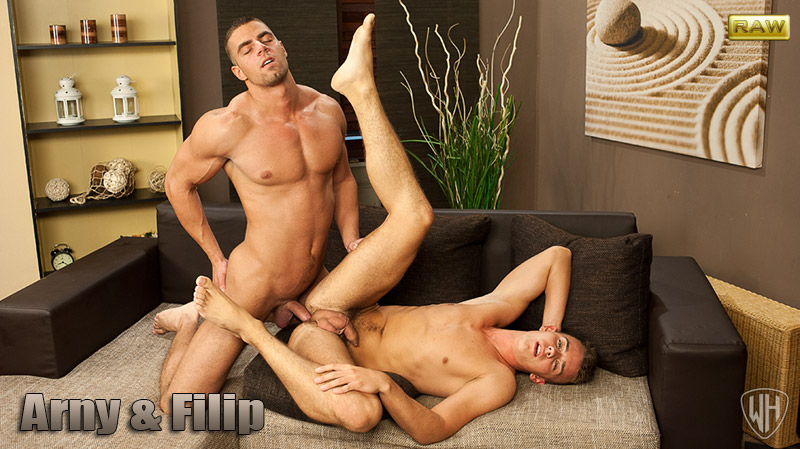 In our latest screentest we have the very studly Arny Donan and have paired him up with the sexy Filip Cerny. Filip interviews Arny to find out a bit about him, encouraging him to show off his awesome chest. Then they both remove their shorts and start wanking. Arny moves closer to Filip, and as his cock hardens he feels his new friends hand on it. Arny reciprocates, so they wank each other and then kiss. Soon Filip has lost his shirt too and has Arny's cock in his mouth, feeling it fuck in and out as he sucks. Arny loves the feeling a hold's Filip's head in place as he fucks his mouth. Moving to 69 with Filip underneath, lets Arny get a taste of cock too. His mouth works over Filips stiff cock as his own is sucked too. Then Arny moves onto his knees for Filip to suck some more. Filip needs it in his ass and is soon on his back, legs up, feeling Arny's throbbing cock fucking him nice and deep. Filip moans as he takes Arny's thick dick. He moves, onto his knees, with Arny behind him, still fucking him nice and hard. Arny is so hot and horny that, as Filip lays on his side , he fucks him hard, leaning over to kiss him as well. All this cock in ass action has Arny ready to blow and he pulls out to dump his creamy cum all over Filip's left leg. Then they sit down, with Filip wanking himself as Arny kisses him, until he too shoots his hot cum. After a great scene the guys go off to the shower and help each other to clean up.
... more about Arny and Filip - Screen Test RAW - FULL CONTACT further in this newsletter

Our Coming Soon Set Preview
In this lovely scene, set in a country garden we find Roman Madec and and Milan Beran, taking a break from work, in the rain. As they sit on a bench they start to kiss and very quickly Roman is sucking on Milan's stiff cock. He works on that cock, his head bobbing up and down. Then he stands and drops his coveralls so that Milan can return the favour. Milan's mouth warps tight around Roman's dick as it fucks in and out of his mouth. Then they switch, for Milan to suck some more, with both cocks so very hard. Roman kneels on the bench seat, his ass presented and Milan gets to work rimming his hairy hole. His tongue works well on that hot ass before he stands and slides his big, thick, cock deep inside. Roman pants heavily as he takes all of Milan's cock deep in his hole. Milan fucks nice and deep stretching the hole wide. They change position, with Roman on his knees, taking that cock so well. He bucks his ass back and forth to get all of the cock that feels so good inside him. Then he moves,to sit his sexy ass right down on Milan's cock and he rides it. His ass slides up and down on that cock, his ass gripping it tight as he does so. When they are close Milan stands over Roman and wanks, but is beaten to the cumshot by Roman who wanks hard and fast and blows his load. Then he takes Milan's cock in his mouth and sucks the cum right out of it. They end the scene with more hot kissing. A great scene with two very hot guys.

OPEN SET WINDOW

Trailer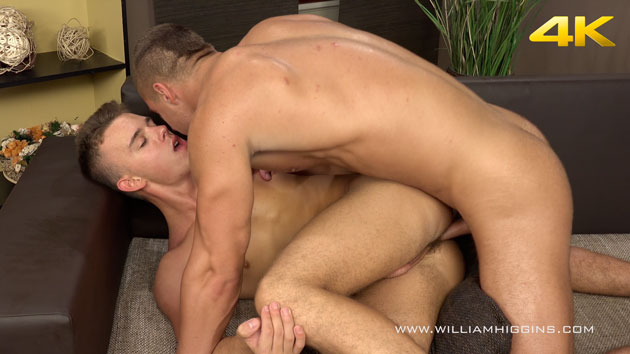 Vlog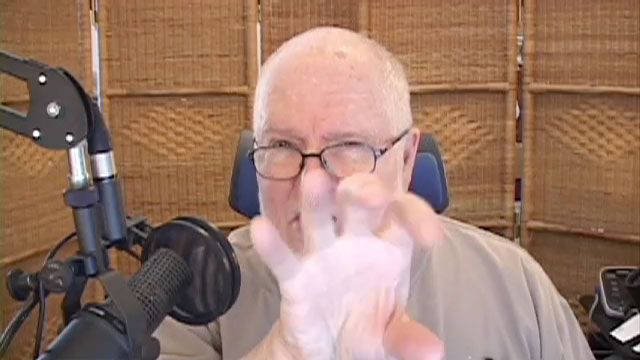 You can watch my Vlog for this Newsletter by clicking above or by going over to the Blog :
http://www.wheuro.com/?p=13124
Happy 4th of July Everyone! For donkey's years we threw a 4th party at Drakes in Prague. Even the US Embassy had their 4th party on a different day. Then I sold an percentage of the bar to British interests and the 4th parties immediately ceased. Sore losers! I still celebrate the 4th in my own way. I hope folks on the other side of the pond will find some time over the weekend to enjoy our July 4th Newsletter.
A few weeks back, I noticed a small article saying that Bing offers much better adult material search results than Google. I never like the look and feel of Bing and, admittedly, I am a Google FanBoi, my life practically revolves around Google. However, when I read the article, I thought, hmmm I have noticed a decline in the quality and quantity of Google results for adult stuff. I tried Bing for adult. And, guess what? Bing is much better than Google for searching for adult. Then just this week, Google announced that it's kicking out hard core from its ad words.
I remember Google tried something like this a few years back and almost immediately backed down. I don't think they will this time. I hope Google isn't going all Steve Jobs on us. Just in case, I've switched to Bing as my default search engine on one of my browsers. I'll definitely keep my eyes open. Not a good sign from Google.
We have a wonderful Screentest to get things started today, with Arny Donan and Filip Cerny. We also have Petr Borsky, a great looking guy, in his erotic video. That is followed by Libor Duhec in his stills shoot. We also have a backstage video of a lovely shoot we did with brothers David and Michael Kott and Ivan Mraz.
Our castings are quite impressive as well today. They are Ian Hozy, Ivan Panek and Milan Srb. They are all very different, but quite enticing. My pick for the day will be Ian Hozy.
REMEMBER YOUR CAN ALWAYS CHECK THE OLD WH WEBSITE AT:
NEW SETS AT STR8HELL.COM

Members of str8hell.com get full access to the site and to the full archive of more than 2500 sets on Czech Guys Next Door web site, at:
http://archive.czechguysnextdoor.com/
Non-members can access str8hell.com and browse the complete content, including free video previews and some free photos for each set. Non-members can also search the site, and are able to buy any sets they like, without taking out a full membership. Paying only for the sets you really want to see.
Sincerely
William Higgins

BurnDVD.tv Website Latest Updates


DOWNLOAD AND BURN VIDEOS TO DVD OR DOWNLOAD OUR VIDEOS IN FULL HD 1920x1080P!
Special Offer for William Higgins Newsletter Readers
William Higgins Newsletter readers are able to obtain a discount on the price of BURNDVD downloads by using the coupons that we will be publishing in each Members Newsletter. The coupon published in each newsletter will be valid for a period of 7 days.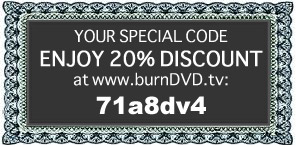 Copy today's coupon code here: 71a8dv4

Our Partners:

PLEASE PROCEED TO THE NEXT PAGE FOR THE LATEST WilliamHiggins.com UPDATES