Tuesday, July 15, 2014 - Martin and Ondra - Screen Test - FULL CONTACT

Martin and Ondra - Screen Test - FULL CONTACT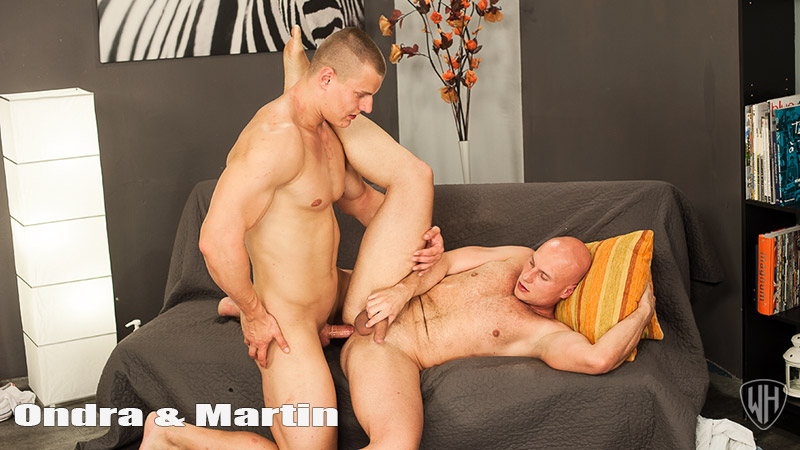 Martin Pletnik is a very handsome guy and with a great body too. He came in for this screentest, so we paired him with an equally hot guy, Ondra Matej. After a brief chat the guys remove their tee-shirts so we can see those awesome chests. Then they take off the rest of the clothes and sit back down and begin wanking each other. Ondra then kneels and presents his throbbing cock for Martin to suck. He quickly gets to work, his lips closing tightly around the cock and working back and forth on it. Martins big cock is also rock hard and soon Matej takes a turn at sucking too. He wanks it hard and fast and then takes it in his mouth. Martin's big balls tighten nicely as Ondra sucks him so well. All the sucking gets them both very hot and Ondra starts to work on Martin's ass, with his tongue. He laps at the hole getting it nice and wet, before sliding his dick deep inside. Martin takes that cock so well, as it works in and out of his hot ass. He loves the feeling of that dick deep inside, so he has Ondra sit on the sofa and he slides his ass down on the cock, riding it up and down, show own cock flapping around. He grabs his cock and wanks it as he rides Ondra's. Ondra takes over the fucking working his cock all the way in that ass as Martin wanks himself to a big, creamy, cumshot. He continues riding on Ondra's cock and they move to a missionary position for Ondra to fuck some more. As he plows that ass he looks down at the handsome Martin who keeps on wanking. Ondra is so close and pulls out of Martin's ass to dump his cum all over him. Then he leans over to kiss his hot new friend before they go to the shower to help each other clean up.
... more about Martin and Ondra - Screen Test - FULL CONTACT further in this newsletter

Our Coming Soon Set Preview
Dima Novakov is a real cutie, who came in for a screentest. Ivan Mraz is the perfect partner and we find them on the bed as Ivan interviews Dima, before leaning over to kiss him. Dima responds and as Ivan works his way down we find Dima naked and hard, so naturally the cock needs sucking. Ivan gets right to work in that cock. He does a great job and is then ready for some mouth on his dick. He gets on his knees, jeans down and his cock nice and hard. Dima shows that he can suck real good too, working his mouth all over Ivan's hot cock. They both really do some great sucking before Ivan has Dima on his front, ass ready and starts to rim his hot hole. Ivan's tongue digs into the hole getting it ready for more. That more takes the form of a finger before Dima sits his ass down on Ivan's rock hard cock. He holds in place so that Ivan can fuck him nice and deep, wanking himself at the same time. Then Dima is on his knees, with Ivan behind him plowing that ass nice and hard. He stretches it real good as he fucks Dima. Then it is into a spoon position, with Dima wanking himself as Ivan continues to fuck him. They kiss as well as Ivan keeps up his thrusting deep into that hole. Dima is loving it and soon his cock explodes with cum while Ivan pounds his ass. Ivan needs to cum too and kneels over Dima, unloading his cream all over that sexy body. What a lovely screentest, with two very hot guys.

OPEN SET WINDOW

Trailer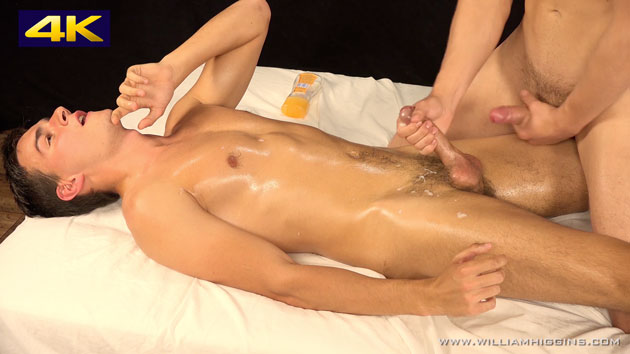 Vlog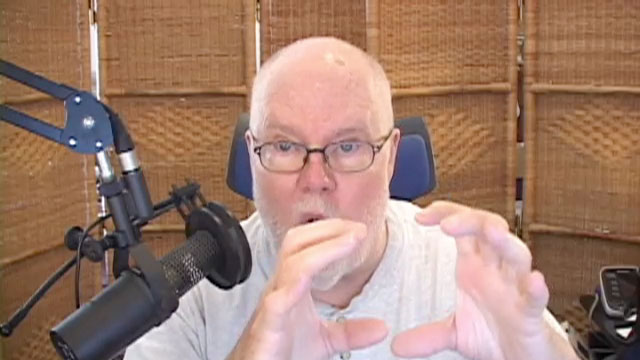 You can watch my Vlog for this Newsletter by clicking above or by going over to the Blog :
http://www.wheuro.com/?p=13160
I tell everyone, "I'm gay, so I don't have to like sports." I like football (soccer) much better than I do baseball, or an even more boing sport, cricket. And I like it whole bunch more than American football (sorry about that). I did watch the final of the World Cup on Sunday. I'm so glad I did. I've fallen in love with World Cup Hero Mario Götze. When he came on field as a substitute, I reacted like a teenage girl: "He is SOOOOOOO CUTE!" Surely, my strong vibes crossed the pond and animated lovely Mario to kick that fantastic goal which won for Germany. At least I like to think so.
I immediately went to work on Bing and Google trying to find some naughty photos of Mario. I found quite a few fakes (already), but I also found some nice material that appears to be genuine, including a couple of very nice 'stiffy' shots: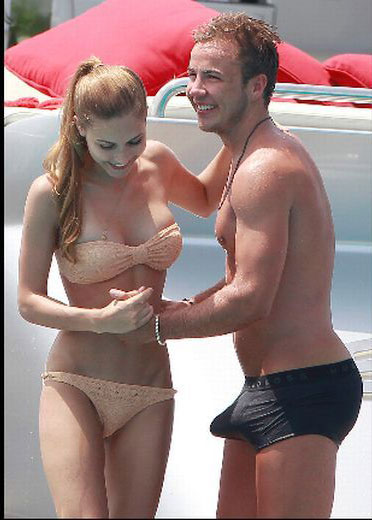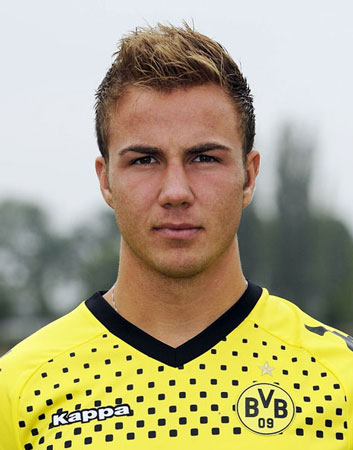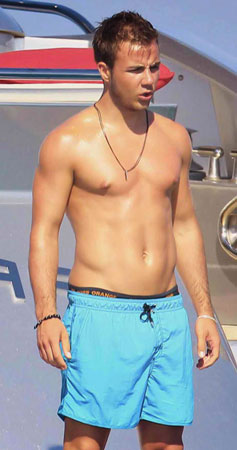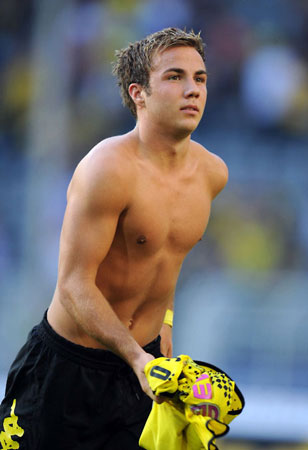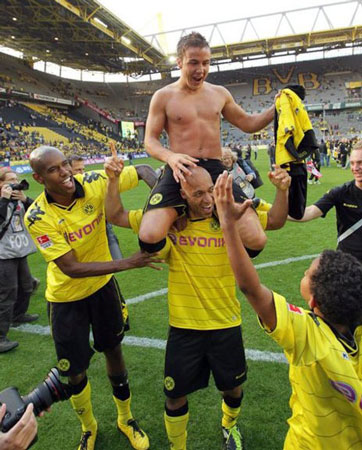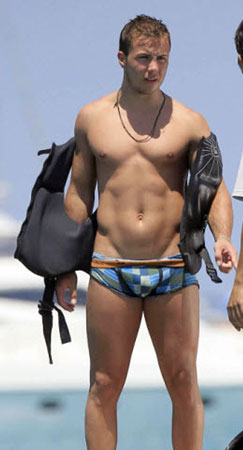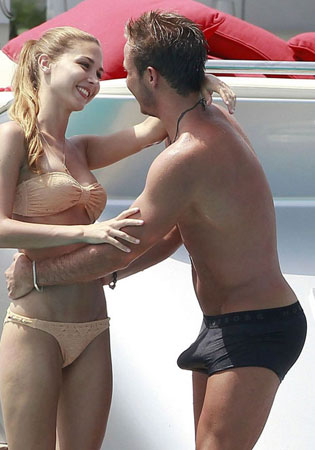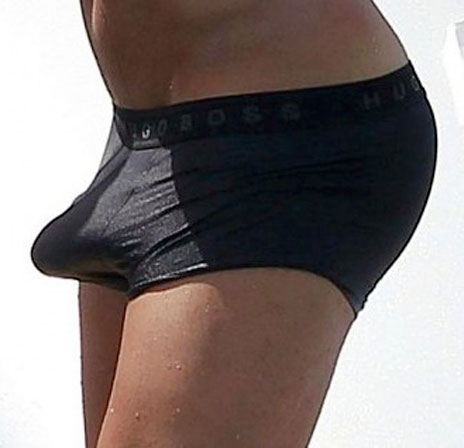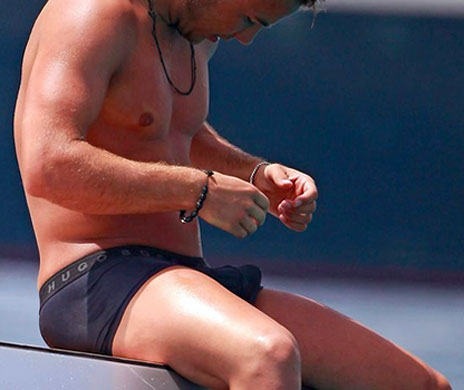 Inspiring!
Meanwhile, I've been struggling since late last year with the new and improved version of iMovies, the Apple software I use to capture the Vlog. It requires three time consuming extra steps from the old version. After two crashes on Friday, I searched how to get back the old version of iMovies. Turns out, Apple left it in an 'Old' folder on the computer. It was easy as pie to get the old one back (now I must hope it works). Duh. What a no brainer that I struggled with.
I'm going to have to break down and buy a 4K monitor for my office so I can look at the rushes of our videos. I need to control them before they're edited and compressed. I'll let you know how that goes.
Meanwhile down to work:
Martin Pletnik, in his Screentest, with Ondra Matej give us a great start to today's newsletter. They are followed by Jirka Mladice's massage. Then we have Ivo Mirek in his erotic video and Alan Carly with his session stills. That is a very good line-up indeed.
Our castings today are Petr Rozisek, Jan Korec, Radan Flex and Mirek Malek. That is a very good selection but the stand out one today is Radan Flex, who is already online in a duo with Peter Filo and our latest Wank Party.

REMEMBER YOUR CAN ALWAYS CHECK THE OLD WH WEBSITE AT:
NEW SETS AT STR8HELL.COM

Members of str8hell.com get full access to the site and to the full archive of more than 2500 sets on Czech Guys Next Door web site, at:
http://archive.czechguysnextdoor.com/
Non-members can access str8hell.com and browse the complete content, including free video previews and some free photos for each set. Non-members can also search the site, and are able to buy any sets they like, without taking out a full membership. Paying only for the sets you really want to see.
Sincerely
William Higgins

BurnDVD.tv Website Latest Updates


DOWNLOAD AND BURN VIDEOS TO DVD OR DOWNLOAD OUR VIDEOS IN FULL HD 1920x1080P!
Special Offer for William Higgins Newsletter Readers
William Higgins Newsletter readers are able to obtain a discount on the price of BURNDVD downloads by using the coupons that we will be publishing in each Members Newsletter. The coupon published in each newsletter will be valid for a period of 7 days.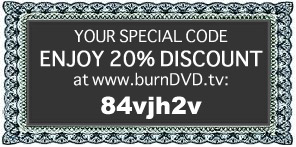 Copy today's coupon code here: 84vjh2v

Our Partners:

PLEASE PROCEED TO THE NEXT PAGE FOR THE LATEST WilliamHiggins.com UPDATES