Tuesday, June 14, 2011 - Pavol, Ivan and Dmitry

Pavol, Ivan and Dmitry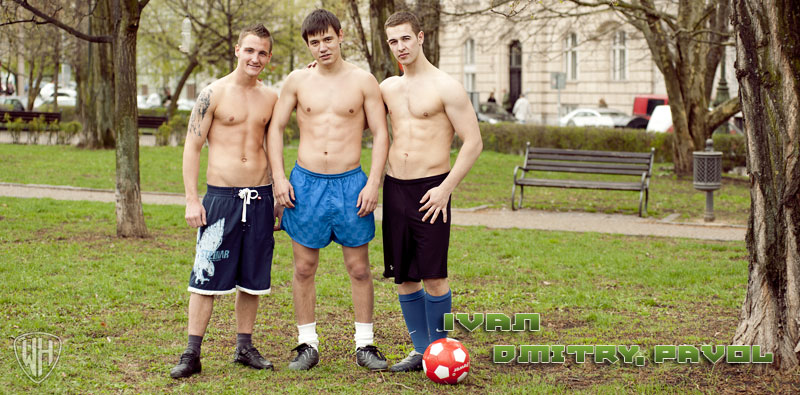 Pavol Zbynek, Ruslan Tarovsky and Ivan Cakovsky are three of the best models you could ever hope to see, and here they get together to give us a wonderful scene. It starts in the park, where Pavol and Dmitry have gone for some football practice. While the are there they meet Ivan, who is practising on his roller blades. Very soon they decide to go somewhere more discreet, and we next see them inside, where Dmitry seems to be sporting a huge erection in his shorts. It's not long before the other guys start to investigate that, and we get to view Dmitry's stiffy. Ivan and Pavol are no slouches with erections and soon they are hard too, as Dmitry drops to his knees and sucks them,in turns, and after a while, both at the same time. Then Dmitry lays down and Ivan climbs on top and starts kissing him, while Pavol seeks his entertainment at the other end, where two delectable asses are on display. Pavol pays them a lot of attention as he rims and fingers both holes, with some relish. Then it is time for more and we see a ...
... more about Pavol, Ivan and Dmitry further in this newsletter

Our Coming Soon Set Preview
Marcel Juras is aged 26 and comes from Most. He is currently unemployed and enjoys going to the gym. What a very handsome guy Marcel is, and with a very nice build too. But what really stands out, in my mind, is his ever present smile. He seemed to be really enjoying himself posing for the camera. He looks great while doing it too,with a beautifully upstanding dick, that is upturned at the end. Goodness it gets so hard and looks beautiful. Marcel also has a lovely ass, and his pucker looks very inviting. I hope we can get something in there for him. I am sure he would be smiling while it went in. I am looking forward to seeing how he gets on in his video shoot.

OPEN SET WINDOW

Latest Updates Trailer
William Higgins Atelier Backstage Vlog
You can also watch my Vlog for this Newsletter by clicking the video above or over at the Blog:
We're having another brilliant, hot summer day in Prague. Aida and I have decided to enjoy it while we can. So, we went for a long walk. Tomorrow at 10:00 we'll shoot our monthly Wank Party. So, be sure to set your alarms so you can watch it live on Prague Buddies.
My comments on today's shoots:
Ludvik speaks both German and English quite well. He's studying to be a translator. He set my 'gaydar' off when he came for casting. Besides German and English, who knows what other languages he speaks fluently. He did seem to be very receptive to a little help from out studio crew.
With the threesome with Pavol, Ivan and Dmitry, I did a preview video which you can view on my Blog. Boris and I had some words on this shoot. Dmitry got hard right away and was showing quite a tent in those blue shorts. Boris told him to hid it by tucking it under the banding. I jumped out of my chair. No No! Show the tent! Customers love that. Didn't go with Boris's concept of the scene. But we did it my way. I think it worked out fine. Then there was another discussion about how to do the double fuck. I told Boris I only knew one way of doing it. Turns out, I was wrong, there are other ways. But that turned out Ok, too. Next time we'll try Boris's favorite: Spoon.
It took some persuading to cajole David into doing this shoot with our resident sex pig, Ivan. But once the shoot got started David loved it, and really got into it.
Thank goodness.
Please write me with your impressions of the new site. If you have problems, let us know about them also and we'll fix them ASAP.
MESSAGE ABOUT CASTINGS:
Just a little reminder that the Latest Updates page which appears when you access the site shows the latest sets to come online. However that doesn`t include the castings. For the latest castings to come online you can click CASTINGS at the top of the page.
MESSAGE ABOUT LINKS TO THE OLD WH WEBSITE - WILLIAMHIGGINS.com ARCHIVES:
Please be aware that the link www.williamhiggins.com takes you to this brand new website now. If you bookmarked our old website in the past and you want to keep the bookmark as a shortest way to access the old WH website you need to change the link in the bookmark to:
You do not need to remember this link, you can conveniently get to the old WH Website - WilliamHiggins.com Archives anytime you need through the "WH 2001-2010" in the top menu of the new WilliamHiggins.com website.
CzechGuysNextDoor.com Latest Updates
Health Warning: There's no health warning for CzechGuysNextDoor tonight. We have to very nice solo shoots.
Enter www.CzechGuysNextDoor.com HERE
ENTER www.CzechGuysNextDoor.cz Newsletter Archives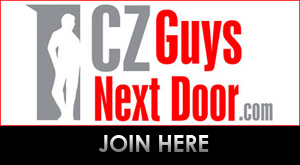 BurnDVD.tv Website Latest Updates
DOWNLOAD AND BURN VIDEOS TO DVD OR DOWNLOAD OUR VIDEOS IN FULL HD
Starting today you can download our videos in Full HD quality 1920x1080px!
Please remember that most of the videos available on BurnDVD are easily able to be downloaded with a single link, but some of the very large files, such as the newsletter DVDs have to be split into three separate links, as detailed below.

The videos with very large file sizes are now split into more than one part, using a program called HJSplit. If you wish to buy one of these larger videos to Burn to DVD, you will receive a link for file and then it is a simple process to join the downloaded files together to make the .iso file for Burning to DVD.

You can see all the available videos at www.burndvd.tv

Before downloading any videos to burn to DVD I advise you to read the BURNDVD Manual, which explains how you can burn the file to DVD. The file is an ISO file which contains all the required DVD files. The process for burning to DVD is fully explained.

The BurnDVD manual is easy to follow, with a step by step guide. Burning a DVD is easy to do, though it is helpful if you have previously burned DVDs or CDs.

The manual can be viewed here: BURNDVD Manual

Anyone who has any problems understanding the manual, or burning their download to DVD, or indeed any questions about this service please email geoff@wh.cz . Geoff will be happy to assist you.

You can view all the available downloads at www.burndvd.tv, by clicking the on the categories. A direct link to the latest files available will be published in each newsletter.
Our Latest Sets at www.BurnDVD.tv
Today we are featuring David Skabeta`s Screentest with Ivan Cakovsky and a great trio with Pavol Zbynek, Ivan Cakovsky and Ruslan Tarovsky:

Special Offer for William Higgins Newsletter Readers
William Higgins Newsletter readers are able to obtain a discount on the price of BURNDVD downloads by using the coupons that we will be publishing in each Members Newsletter. The coupon published in each newsletter will be valid for a period of 7 days.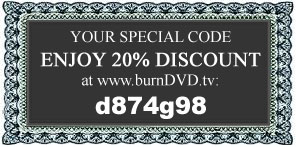 Copy today's coupon code here: d874g98

Our Partners:

PLEASE PROCEED TO THE NEXT PAGE FOR THE LATEST WilliamHiggins.com UPDATES