Friday, July 25, 2014 - Wank Party 2014 #4, Part 2 RAW

Wank Party 2014 #4, Part 2 RAW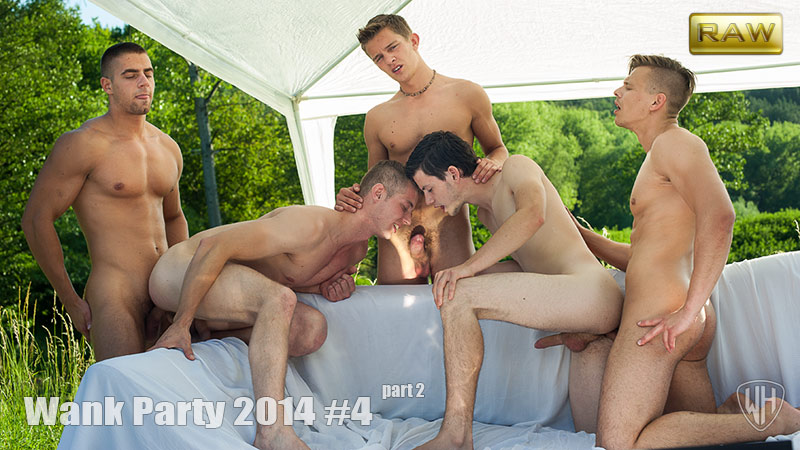 Wank Party 2014 #4 has a great cast of guys, Paul Belonek, Steve Peryoux, Mate More, Radan Flex and Arny Donan. In this second part we join them again as Arny is ramming his big cock in and out of Steve's ass while Radan is doing the same to Paul. Steve is enjoying Mate's cock as well, and then Paul takes over sucking it. As the fucking continues Mate decides he needs to feel some cock in his ass, so it is all change as he rides on Radan's cock and Arny switches to fuck Paul. Steve bends over to suck on Mate's cock as well. Then as he bounces on Radan's cock Mate leans back and sucks Steve. Everyone is getting so hot from all that fucking and they move once more, with Steve shooting his cum all over his body as he gets fucked hard and fast by Radan. Meanwhile Mate has his dick deep in Paul's hole, giving it to him good. For his cum shot Mate shoots his load all over Radan's hot chest, followed by Paul doing the same. Arny sits down next to Radan and wanks himself to a climax too. What a great scene with 5 very sexy guys.
... more about Wank Party 2014 #4, Part 2 RAW further in this newsletter

Our Coming Soon Set Preview
We brought sexy Filip Cerny in to work with Jirka Mladice who had agreed to a screentest. Filip starts off by interviewing Jirka, and then suggests a massage. Jirka lays on the sofa with Flip kneeling to one side, massaging his new friend's chest. Before going very far with the massage Filip blindfolds Jirka and resumes the massage, quickly opening his shorts to show off a hard cock. Filip leans over and licks the head of the cock, and then he removes the shorts and starts sucking. That cock is so hard and Filip's head bobs up and down on it. Then he removes his own shorts and sits astride Jirka, wanking both cocks together. He scoots round and kneels over Jirka's head, sucking on his cock. Jirka licks at Filip's cock and balls, then as Filip turn, he takes the cock in his mouth. Filip really get things moving on, by offering up his hot ass and Jirka eagerly slides his throbbing cock deep inside. He fucks that ass hard as Filip moans with each thrust. Filip takes it real well as Jirka fucks faster and then they move to missionary position with Jirka still pounding away at Filips hot ass. They move again and Jirka really goes at that hole, his cock so deep and ramming in and out. Then Jirka sits and wanks himself as Filip kneels over him, shooting his cum all over that hot body. Jirka then shoots a nice big load too, ending the scene with a hot kiss.

OPEN SET WINDOW

Trailer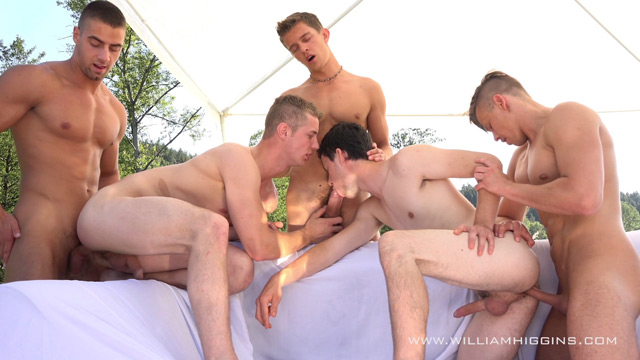 Vlog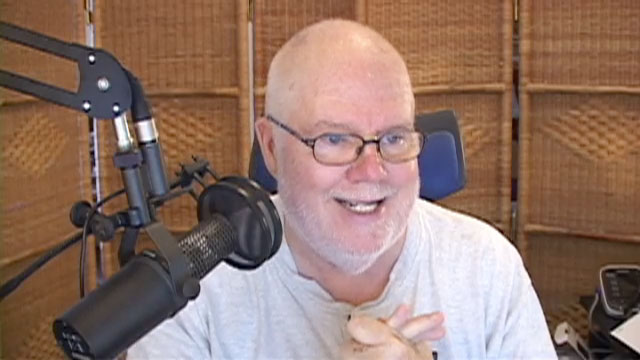 You can watch my Vlog for this Newsletter by clicking above or by going over to the Blog :
http://www.wheuro.com/?p=13208
TGIF again. Pretty hot outside but a wonderful breeze. I directed a wonderful Airport Security this week with my new 'field telephone.' Lots of fun except for the victim on the receiving end. Alan Carly was going through Airport Security. Great guy, very easy going. Except when the phone's insulation slightly malfunctioned once.
Aida was sick for a couple of days. The problem is, with the wonderful warm weather more and more homeless persons are hanging out in Kampa Park. They raid the dumpsters on the streets. Aida can run faster, much faster, than me, and the homeless are always happy to share some of their rotten treats with her before I can ride to the rescue. Some days I'm just beside myself. If I see them in the distance, I put her on the lead. But watch out if she spots them before I do.
Marko has put a great graphic at the top of the Updates page illustration the increased resolution of Ultra HD 4K video. Hopefully, next week we'll receive a new 4K camcorder for Backstage and then we'll be an interely 4K house. I'm very proud to have introduced 4K video to porn, not only gay porn. This past week we had to install another, new super powerful computer in order to keep up with compressing videos from 4K to HD. You can see from the graphic how much sharper 4K is than HD or SD video.
We have a great line-up today, starting with Part 2 of Wank Party 2014 #4. Then we have Marcel Susil in his erotic video. That is followed by Karel Sanak's session stills.
We have some very good castings too, Jiri Truns, Alan Milek and Volodyn Milosevic. They all look good but my pick for today is Jiri Truns.
REMEMBER YOUR CAN ALWAYS CHECK THE OLD WH WEBSITE AT:
NEW SETS AT STR8HELL.COM

Members of str8hell.com get full access to the site and to the full archive of more than 2500 sets on Czech Guys Next Door web site, at:
http://archive.czechguysnextdoor.com/
Non-members can access str8hell.com and browse the complete content, including free video previews and some free photos for each set. Non-members can also search the site, and are able to buy any sets they like, without taking out a full membership. Paying only for the sets you really want to see.
Sincerely
William Higgins

BurnDVD.tv Website Latest Updates


DOWNLOAD AND BURN VIDEOS TO DVD OR DOWNLOAD OUR VIDEOS IN FULL HD 1920x1080P!
Special Offer for William Higgins Newsletter Readers
William Higgins Newsletter readers are able to obtain a discount on the price of BURNDVD downloads by using the coupons that we will be publishing in each Members Newsletter. The coupon published in each newsletter will be valid for a period of 7 days.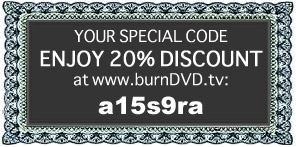 Copy today's coupon code here: a15s9ra

Our Partners:

PLEASE PROCEED TO THE NEXT PAGE FOR THE LATEST WilliamHiggins.com UPDATES