Tuesday, August 05, 2014 - Borek, Jarmil and Filip RAW - FULL CONTACT

Borek, Jarmil and Filip RAW - FULL CONTACT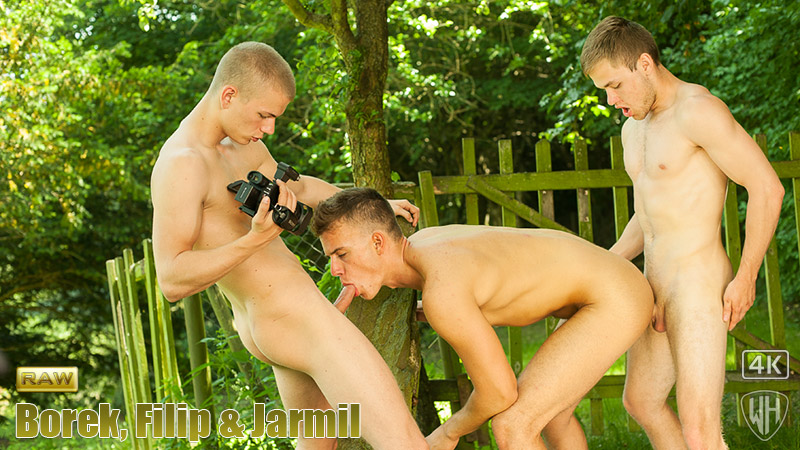 What a great trio of guys we have in Borek Sokol, Jarmil Sladky and Filip Cerny. We find them in the garden, with Borek doing a photo shoot, using the others as his models. As he takes the photos Borek tells them to kiss. Then Filip and Jarmil remove their undies and start to wank each other's cocks. Borek goes in close with the video camera as Jarmil drops to his knees and sucks on Filip's big cock. Filip then drops down so that he can suck on Jarmil's hard cock. Borek reaches out for that cock and waves it in Filip's face. Filip wanks himself as he sucks on Jarmil, with Borek filming all the while. Borek gets so horny watching them that he is soon naked and hard too. Filip wanks Jarmil, whose mouth is full of Borek's cock. Then Filip leans over and starts to suck too. Borek is standing and filming as his cockis worked on by Filip. Then Jarmil starts sucking it again and Filip slides down to suck him too. As Filip goes back to suck on Borek Jarmil starts to play with his hot ass. He soon has his cock deep inside Filip's ass, fucking him good and hard. Borek moves, so that Filip can suck him, while taking Jarmil's dick. That cock stretches Filip's hole real good as Borek films from underneath. Then Borek wants some ass too and changes place with Jarmil. He keeps filming as he fucks Filip's eager hole. Another change around has Filip on his side, being dicked nice and deep by Jarmil, and sucking Borek some more. Jarmil wants some cock in his ass, so he takes a ride on Borek's throbbing dick as Filip sucks him. Jarmil then kneels over Fili[ and shoots his sticky cum. He sucks on Borek's cock as Filip wanks himself until his cum squirts up his body. Last to cum is Borek, still filming, as he shoots his load all over Jarmil's chest. Three hot guys having a great time together.
... more about Borek, Jarmil and Filip RAW - FULL CONTACT further in this newsletter

Our Coming Soon Set Preview
In Wank Party 2014 #5 we have Hugo Antonin, Zdenek Bodbaba, Alan Carly, Danek Gyor and Paul Belonek. In this first part we find them in the garden where they are going to have some 'wheelbarrow; races. First off is Antonin at the driver and Paul as the wheelbarrow. Then Zdenek and Danek, folowed by Antonin again, with Alan. Then they have more races, leaping as frogs might before actually having a game of leap-frog. All this while they are naked, cocks flailing as they leap. It seems that there is reward for the winner, which is Paul's cock. Antonin is deemed the winner and he gets to wank and then suck on that big cock. As he sucks Paul the others start to play too. with Alan and Danek wanking each other and Zdenek leaning over to wank Antonin. Soon they are all hard with Antonin and Zdenek taking turns of Alan's stiff meat. Paul's cock is massive and Danek starts to feast on it too. As the sucking and wanking contiues Paul and Antonin kiss as do Zdenek and Alan. Paul then moves, so that he can suck on Antonin's hard cock, taking it deep in his throat. Antonin, meanwhile, wraps his mouth tight around Alan's cock and Zdenek sucks first Paul and then Zdenek. Moving again has Antonin working on Paul's cock as his own is sucked by Alan. Then Antonin turns and sucks Alan again, who is busy kissing Paul. Zdenek gets to taste Danek's dick as he takes Paul's in his mouth once more. They all want to taste each other, so Paul sucks Danek, and then Antonin as Zdenek bends over to take Alan's thick meat in his mouth. Those cocks are all so rock hard, with Alan's poking out proudly as he wanks Zdenek, before standing and feeding him. Paul is then busy on Antonin's pole as Danek leans over to suck Zdenek. Thoughts start turning to some ass and Alan and Zdenek willingly offer theirs up for some fingering and rimming. Paul's tongue finds Zdenek sweet spot as Antonin fingers Alan's, with Zdenek sitting between them for Zdenek to suck his dick. What a great start to a very hot wank party, with 5 beautiful guys.

OPEN SET WINDOW

Trailer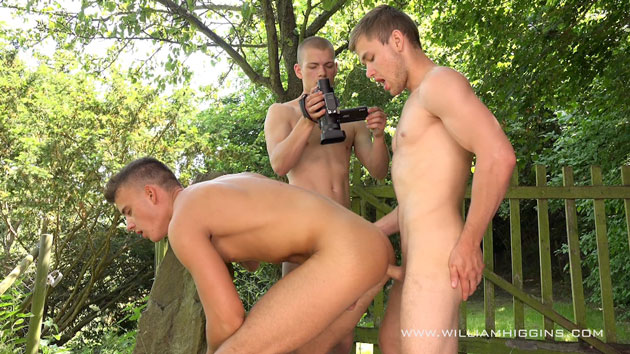 Vlog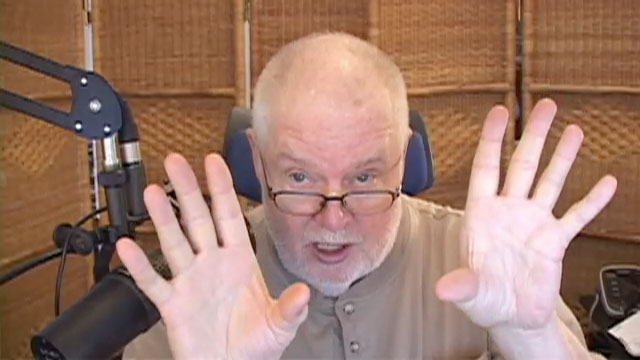 You can watch my Vlog for this Newsletter by clicking above or by going over to the Blog :
http://www.wheuro.com/?p=13246
100 years ago yesterday, the First World War started. The world was forever changed. A few weeks ago, I wrote about the lead up to the war. Years ago, when I was reading about the Great War, I came across a quote alleged to have been said by a woman in the Hapsburg royal family. She said: "Wars are very easy to start. They are very hard to stop." After further research, I'm fairly sure the quote originated with H.L.Mencken. Whoever said it was so right. And still, nobody seems to pay any attention.
Well, onto a great Tuesday Newsletter:

A thrilling trio start us off today, Jarmil Sladky, Filip Cerny and Borek Sokol. Then we have the studly Roco Moric in a massage, followed by Igor Vesely's erotic video and Martin Merlot's session stills.
Our castings today are Martin Merlot and Jirka Mendez. Both look very good indeed, but as his session stills is online today I opt for Martin Merlot as my pick for today.

REMEMBER YOUR CAN ALWAYS CHECK THE OLD WH WEBSITE AT:
NEW SETS AT STR8HELL.COM

Members of str8hell.com get full access to the site and to the full archive of more than 2500 sets on Czech Guys Next Door web site, at:
http://archive.czechguysnextdoor.com/
Non-members can access str8hell.com and browse the complete content, including free video previews and some free photos for each set. Non-members can also search the site, and are able to buy any sets they like, without taking out a full membership. Paying only for the sets you really want to see.
Sincerely
William Higgins

BurnDVD.tv Website Latest Updates


DOWNLOAD AND BURN VIDEOS TO DVD OR DOWNLOAD OUR VIDEOS IN FULL HD 1920x1080P!
Special Offer for William Higgins Newsletter Readers
William Higgins Newsletter readers are able to obtain a discount on the price of BURNDVD downloads by using the coupons that we will be publishing in each Members Newsletter. The coupon published in each newsletter will be valid for a period of 7 days.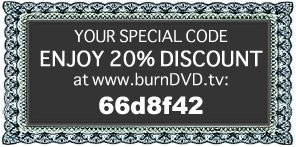 Copy today's coupon code here: 66d8f42

Our Partners:

PLEASE PROCEED TO THE NEXT PAGE FOR THE LATEST WilliamHiggins.com UPDATES