Tuesday, August 19, 2014 - Ondra, Milan and Milan - FULL CONTACT

Ondra, Milan and Milan - FULL CONTACT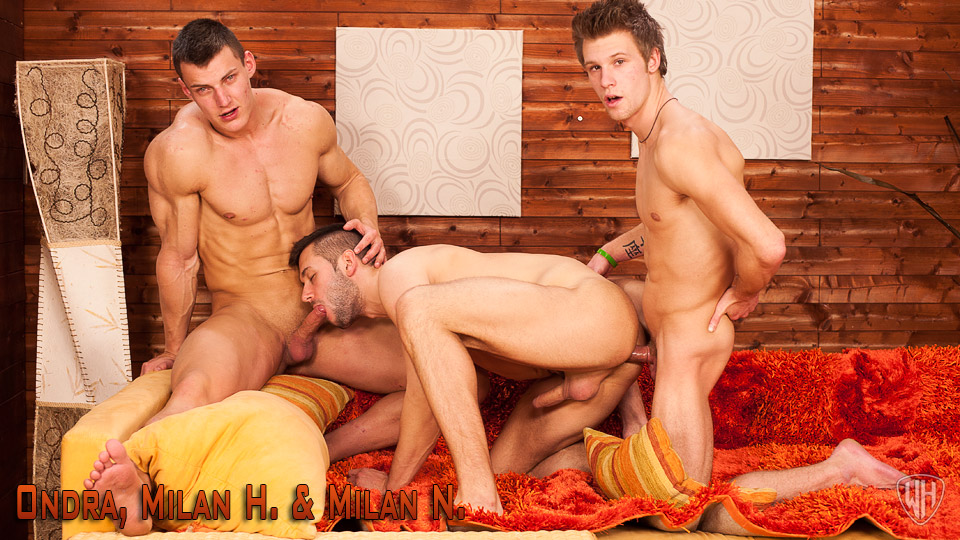 Milan Neoral is playing cards with Milan Beran Hornik and Ondra Mate. It seems to be a game of stripping, as Milan H is soon removing his jeans. Ondra in next to get naked and then they settle down for a final game. Milan N wins again, but decides that he should strip too. He takes his jeans off, revealing a beautiful flaccid cock. Now that they are all naked it seems natural to do more than play cards. Milan N starts kissing Ondra while Milan H sucks on his cock. Ondra's cock gets hard quickly and Milan N takes over sucking on it. He is hard too as he kneels and sucks on Ondra's cock. Milan H is kissing Ondra's hot body and then goes back to take another turn on that cock. Ondra wants some cock too and leans over to suck on Milan N. Milan H continues working on Ondra's cock. Ondra stands and both Milan's kneel either side of him, taking turns on his dick. Milan H stands, so that Milan N has a choice of two cocks to suck. He sucks on Milan H and then offers up his hot ass. Milan H is quick to slide his throbbing cock deep in that ass. Milan N sucks Ondra and takes Milan H's cock at the same time. His ass gets a real good work-out, but Milan H wants his hole filled too.So they move and Milan H slides his hot ass down over Ondra's rock hard cock. He rides that hot cock as Milan N wanks him. Ondra then gets on his knees so he can take a turn in Milan N's ass. He pounds away at that hot hole as Milan wanks himself. That dick in his ass really has him throbbing and he soon shoots a big, creamy load. Milan H is wanking too and is soon ready to blow. He pumps his cock until he too drops his load, all over Milan N's hot body. That sends Ondra over the top too and he gives up his hot load after a great scene.
... more about Ondra, Milan and Milan - FULL CONTACT further in this newsletter

Our Coming Soon Set Preview
In Wank Party 2014 #5 we have Hugo Antonin, Alan Carly, Danek Gyor, Paul Belonek and Zdenek Bodbaba. We join them, in this second part, as Alan is being fingered, and Paul is too, as he is sucking Danek' big thick cock. Then we have Paul riding on Hugo's throbbing dick as Alan is sucking while bent over and taking Danek's cock deep in his ass. Hugo fucks his cock deep up into Paul's eager hole, with Zdenek watching and wanking himself. Alan's hole is really opened up and takes all of Danek's cock, feeling every thrust. Alan loves dick and sucks Paul's huge one too. Zdenek then leans over and sucks Paul's cock as the fucking continues. Alan wants Paul's cock in his mouth again so Zdenek moves up and feeds his to Hugo. Paul decides he wants to fuck too and fucks Alan missionary style while Hugo lays across Zdenek's knees, taking Danek's in his hot hole. The guys all move again, but still with Paul pounding Alan's ass and with Hugo sitting his cock all the way down on Danek's. He rides that dick real well. As he gets fucked by Paul Alan wanks his own rock hard dick. His wanking speeds up and he dumps his cream while Paul is deep in his ass.Paul continues to fuck that hole and Hugo wanks himself, furiously, as he rides Danek, until he drops his juice too. Paul pulls out of Alan's ass and stands over him wanking, needing to cum. Meanwhile Zdenek sits and milks his cock to a big load, followed by Danek whose delivers a massive one, coating his dick in hot cum. Paul is last up, for cumming, and shoots his cream all over Alan's sexy chest at the end of a great wank party.

OPEN SET WINDOW

Trailer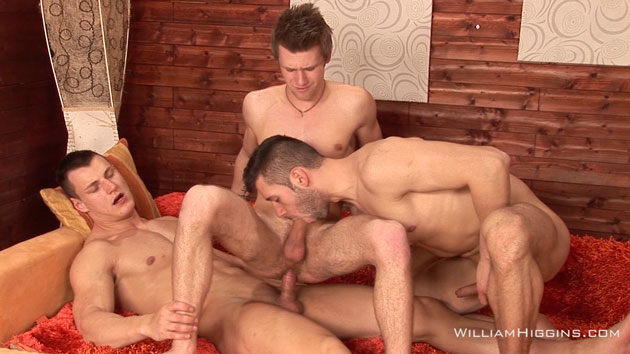 Vlog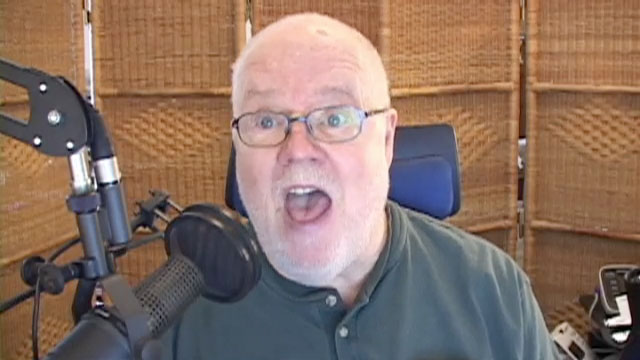 You can watch my Vlog for this Newsletter by clicking above or by going over to the Blog :
http://www.wheuro.com/?p=13302
The Mad Monk wrote today about knee trouble. Seems he had knee problem and went to the doctor. After lots of tests, the doctor said, 'you've got 60 year old knee.' At least I don't have THAT problem! This is Europe, with virtually all Prague orthopedists gone on vacation (it's August), I've managed to get into see one of the few remaining ones at a large teaching hospital tomorrow morning. I'm not expecting, 'take two aspirins and it will be fine.'
I'd also like to wish TC, who keeps the blog going, a Happy Birthday on Thursday. Whenever the Blog spirals out of control, TC moves right in and fixes it. Happy Birthday TC, and many happy returns.
Well, onto a great Tuesday Newsletter:

Trios don't come any better that our first scene today, with Ondra Matej, Milan Neoral and Milan Hornik. Then we have a great submission wrestling bout with Mate More and Vilem Posto. That is followed by Matus Ples in his erotic video and Tom Vojak with his session stills.
Our castings today are Vasek Toba, Martin Konrad, Marek Panek and Mirek Marek. That is a very good selection of very good guys. My pick for today will be Martin Konrad.

REMEMBER YOUR CAN ALWAYS CHECK THE OLD WH WEBSITE AT:
NEW SETS AT STR8HELL.COM

Members of str8hell.com get full access to the site and to the full archive of more than 2500 sets on Czech Guys Next Door web site, at:
http://archive.czechguysnextdoor.com/
Non-members can access str8hell.com and browse the complete content, including free video previews and some free photos for each set. Non-members can also search the site, and are able to buy any sets they like, without taking out a full membership. Paying only for the sets you really want to see.
Sincerely
William Higgins

BurnDVD.tv Website Latest Updates


DOWNLOAD AND BURN VIDEOS TO DVD OR DOWNLOAD OUR VIDEOS IN FULL HD 1920x1080P!
Special Offer for William Higgins Newsletter Readers
William Higgins Newsletter readers are able to obtain a discount on the price of BURNDVD downloads by using the coupons that we will be publishing in each Members Newsletter. The coupon published in each newsletter will be valid for a period of 7 days.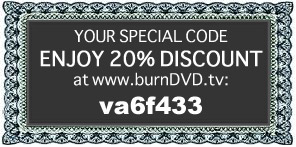 Copy today's coupon code here: va6f433

Our Partners:

PLEASE PROCEED TO THE NEXT PAGE FOR THE LATEST WilliamHiggins.com UPDATES