Friday, June 17, 2011 - Marcel Juras

Marcel Juras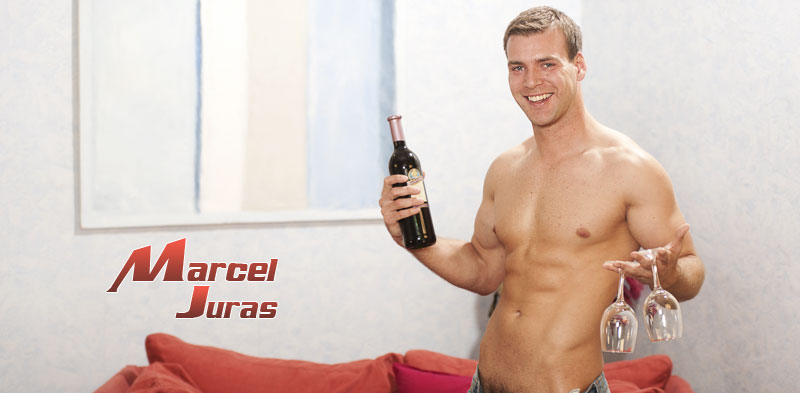 Marcel Juras is aged 36 and comes from Most. He is currently unemployed and enjoys going to the gym. What a very handsome guy Marcel is, and with a very nice build too. But what really stands out, in my mind, is his ever present smile. He seemed to be really enjoying himself posing for the camera. He looks great while doing it too,with a beautifully upstanding...
... more about Marcel Juras further in this newsletter

Our Coming Soon Set Preview
Matej Desny and David Bestik are boyfriends who came in to casting together. Once we realised that they were boyfriends we decided to set up a duo with them. They both look good and were immediately keen to do the shoot. The scene starts with the guys kissing each other and then they stand up and continue to kiss, as they drop their pants, so that we can see hard dicks in their undies. As Matej's undies are dropped to the floor his rock hard dick flops out. David is almost fully hard too as he starts to suck on Matej. That is enough to get David all the way there and he deeps throat Matej very well. Matej soon reciprocates and enjoys having his face fucked by David. Very soon David is ready for more, and Matej kneels on the couch so that David can rim his ass, slurping all over his crack. Then the time is right and David slides his dick deep into Matej's ass and starts to fuck him. Matej moans to indicate his enjoyment of the dick in his ass and they change from doggy to a spoon position, where David continues to fuck real deep. Matej maintains his stiffy all the way through and soon scoots round to be sitting on David's dick and getting some more of that deep, hard pounding. It is not long before Matej, with David's dick still fucking him, squirts his load into David's mouth. David then takes his turn and shoots his load all over Matej's ass before licking it off and then they finish up with some very nice kissing.

OPEN SET WINDOW

Latest Updates Trailer
William Higgins Atelier Backstage Vlog
Our 'Coming Soon' is a threesome with three of our most erstwhile models, Dmitry, Pavol, and Ivan. Put it down in your calendar. It will be a good one.
You can also watch my Vlog for this Newsletter by clicking the video above or over at the Blog:
It's another very hot day in Prague. The weather is supposed to change to rainy for the weekend. Fooy! Aida will be going to the farm tonight for a three day weekend. I'll have a vacation.
Yesterday, we had a national transportation strike in the Czech Republic. It was like a holiday, no traffic on the streets. No, or very few, trams running. But the stores and restaurants were open. Pavel Nikos our Production Manager said, 'there should be more strikes. But they should be on Friday or Monday, where we can have tree day weekends." I am sure it was a coincidence that the strike occurred on Thursday, the same day that President Klaus was scheduled to have his 70th birthday party at the castle. Some say, the strikers wanted to disrupt 'Mr. President's' Birthday bash (for some reason, Czechs always refer to the President in the third person 'Mr. President,' instead of 'the President.' There was no love lost between Mr. President and the strikers, and if their intention was to rain on his party, they succeeded. He cancelled the party on Wednesday. Thursday morning saw a march by 2,000 strikers to the transportation ministry, just down the road from me. They had also planned to march on and possibly blockade the castle. However, as Mr. Klause, prudently perhaps, had cancelled his birth soirée the strikers saw no need to march on the castle. The march started at 09:00, by the time Aida and I went to lunch at the restaurant apparently reserved for us, as there were no other customers, there were police everywhere and black helecopters (I kid you not) were circling overhead. I sent a Skype IM to Mr. Geoff in the UK saying, 'If you don't hear from me after three hours, I've been machine gunned by Mr. President's black helicopters. Notify the US Embassy." Obviously I made it back home. I told Pavel, "You know in France, they have a special police induce of around 60,000 members just to fight the strikers. The strikers always win."
Mr. Miro is still nursing his broken finger from a volleyball match in Tunisia. I just finished filming a lovely Broke Czech Guys with the 'Singer' as a top. He's kind of good as a top. This one went very well. Miro asked me, 'do you know what the singer's job is?' I answered, 'no.' Miro said, 'He's a house burglar and he's asking where your apartment is.' 'Easy,' I responded, 'about 2 kilometers thataway.' I never know how much of what Miro says is a joke. It was a very good romantic shoot. I had Danek sing to his partner. Somehow it worked because while singing, Danek stripped the other guy and they both came out of their pants with raging hardons.
A few comments on today's releases: Marcel Juras, whose stills shoot we present is 26, not 36. He's been on the site before, if memory serves. He'd just gotten out of the French Foreign Legion when he did that shoot about two years ago. He came back for this shoot and was on disability leave from the Czech Army. Wait until you see the video on this shoot.
We have a very good raunchy duo with Dmitry being worked over by Maxim. It's quite worth downloading IMHO.
And we have the erotic solo with Danek Garka, the singer, with whom I just finished working, and who is looking for my apartment.
Our preview is a submission wrestling match between Joey Intenso and a Russian, Ivan. He's either Russian or from one of those *stan countries. It's a very hard fought match, which will be well worth watching.
Health Warning for Czech Guys Next Door: Strong, a Duty Bound, plus two solos.
On malefeet4u.com we have three nice guys: Roman Stach, Martin Klidny, and Pilan Rentik.
Keep the suggestions for footy shoots coming to me at bill@wh.cz
At the Nude Submission Wrestling site, we have a good new match with Roman Stach v Artur Lefek. It's a good en, folks. Remember to order it below, not over there as we censor the downloads on the wrestling site, you get to own the entire thing when you order from the links below.
Be sure to check out the latest Castings. My pick this time is Rado Zuska.
The warning for CzechGuysNextDoor tonight: High. We have a new Duty Bound plus two solo shoots.
MESSAGE ABOUT CASTINGS:
Just a little reminder that the Latest Updates page which appears when you access the site shows the latest sets to come online. However that doesn`t include the castings. For the latest castings to come online you can click CASTINGS at the top of the page.
MESSAGE ABOUT LINKS TO THE OLD WH WEBSITE - WILLIAMHIGGINS.com ARCHIVES:
Please be aware that the link www.williamhiggins.com takes you to this brand new website now. If you bookmarked our old website in the past and you want to keep the bookmark as a shortest way to access the old WH website you need to change the link in the bookmark to:
You do not need to remember this link, you can conveniently get to the old WH Website - WilliamHiggins.com Archives anytime you need through the "WH 2001-2010" in the top menu of the new WilliamHiggins.com website.
Today's Weather in Prague
CzechGuysNextDoor.com Latest Updates


The warning for CzechGuysNextDoor tonight: High. We have a new Duty Bound plus two solo shoots.
Enter www.CzechGuysNextDoor.com HERE
ENTER www.CzechGuysNextDoor.cz Newsletter Archives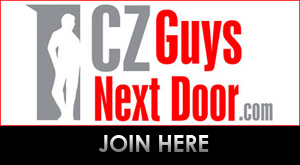 BurnDVD.tv Website Latest Updates


DOWNLOAD AND BURN VIDEOS TO DVD OR DOWNLOAD OUR VIDEOS IN FULL HD
Starting today you can download our videos in Full HD quality 1920x1080px!
Please remember that most of the videos available on BurnDVD are easily able to be downloaded with a single link, but some of the very large files, such as the newsletter DVDs have to be split into three separate links, as detailed below.

The videos with very large file sizes are now split into more than one part, using a program called HJSplit. If you wish to buy one of these larger videos to Burn to DVD, you will receive a link for file and then it is a simple process to join the downloaded files together to make the .iso file for Burning to DVD.

You can see all the available videos at www.burndvd.tv

Before downloading any videos to burn to DVD I advise you to read the BURNDVD Manual, which explains how you can burn the file to DVD. The file is an ISO file which contains all the required DVD files. The process for burning to DVD is fully explained.

The BurnDVD manual is easy to follow, with a step by step guide. Burning a DVD is easy to do, though it is helpful if you have previously burned DVDs or CDs.

The manual can be viewed here: BURNDVD Manual

Anyone who has any problems understanding the manual, or burning their download to DVD, or indeed any questions about this service please email geoff@wh.cz . Geoff will be happy to assist you.

You can view all the available downloads at www.burndvd.tv, by clicking the on the categories. A direct link to the latest files available will be published in each newsletter.
Our Latest Sets at www.BurnDVD.tv
Today we are featuring a Raunchy Sex Duo with Maxim Petrovic and Ruslan Tarovsky And Duty Bound Part 3, with Libor, Miro, Ivan and Drew
Special Offer for William Higgins Newsletter Readers
William Higgins Newsletter readers are able to obtain a discount on the price of BURNDVD downloads by using the coupons that we will be publishing in each Members Newsletter. The coupon published in each newsletter will be valid for a period of 7 days.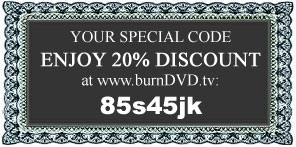 Copy today's coupon code here: 85s45jk

Our Partners:

PLEASE PROCEED TO THE NEXT PAGE FOR THE LATEST WilliamHiggins.com UPDATES