Friday, September 26, 2014 - Peter and Steve RAW - FULL CONTACT

Peter and Steve RAW - FULL CONTACT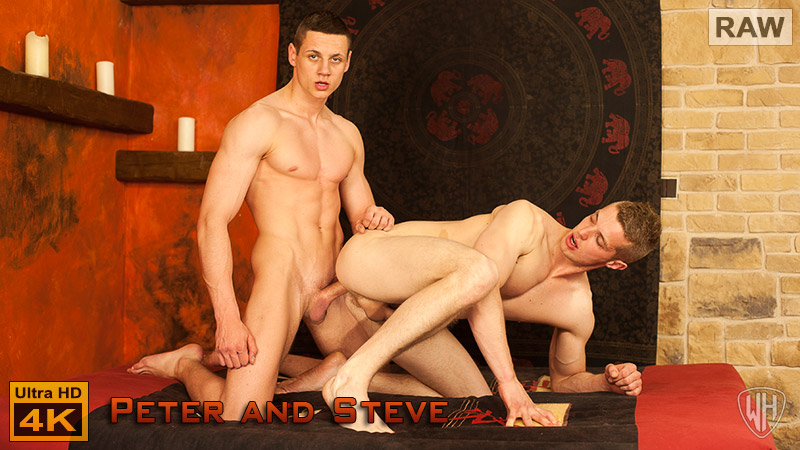 Peter Van Don and Steve Peryoux make a great couple. Steven joins Peter on his bed, ostensibly to watch something on his tablet. But that pretense is soon dropped as Steve starts running his hands over Peter's hot body. He kiss him too, groping his underwear at the same time. Steve then removes his shirt and Peter helps him open his jeans. Steve then pulls Peter's underwear down and is soon sucking on a big, rock hard cock. He is naked himself, his own dick hard as well. Peter takes a turn at sucking, his lips tightly wrapped around Steve's cock. His head bobs on the throbbing cock as his own massive dick sticks out. The two of them look fantastic, with their fit, muscled bodies. Steve bends, presenting his ass to Peter, so we know what he is after. But before that they move to 69, Steve on top and working his mouth all over Peter's huge erection. He loves that cock and continues sucking it as Peter moves onto his knees. Then, after kissing some more Peter goes back down on Steve's dick, taking it deep in his throat. Steve presents that ass again and this time Peter gets his tongue deep in the eager hole, rimming it real good. Steve wanks on his throbbing cock as Peter continues lapping at his hot hole. Then Peter is ready and slides his big cock deep into that ass. He fucks it so well, his hips thrusting hard and fast to fill that ass so well. His big cock really works that ass, stretching it wide and poking it deep. Steve loves being fucked and takes it well, reaching back to pull the ass wider. Peter reaches for Steve's face, gagging his moaning mouth with his face. Then he pulls on the hair, for leverage as his continues to pound that sexy ass. When Peter lays on his back Steve is quick to slide his hot ass down over that cock, and ride it as he wanks himself. His ass works up and down on Peter's stiff shaft, going all the way down to the base. He holds onto Peter's hands to steady himself as he rides on that massive pole. Then Peter grabs Steve's cock and wanks it for him too. Peter wants to fuck that ass even harder and moves to missionary postion. He slams his dick deep into the hole repeatedly as Steve wanks himself. His ass feels so good as that cock stretches it, that Steve soon blows a big creamy load right up his body. Peter continues to pound that ass, until he cant hold back either and pulls out to dump his hot, creamy cum over Steve. Steve grabs the cock and milks it completely until Peter leans forward and kisses him. After all that hot sex they go off to the shower and wash each other, their cocks staying hard all the while.
... more about Peter and Steve RAW - FULL CONTACT further in this newsletter

Our Coming Soon Set Preview
Libor Bores and Tomas Berger are relaxing, and discussing whther to go swimming on a hot summer day. But they find something better to do instead. They kiss each other as they begin to help each other open their jeans. Tomas sits on the window ledge with his jeans down, as Libor wanks him and licks his nipples. Then Libor's mouth drops to Tomas stiffening cock and sucks it briefly. Moving to the sofa Tomas' jeans come off and Libor kneels to really suck on that stiff cock. It is big and thick and Libor's mouth closes around the head and bobs up and down on it. He wanks and sucks on the cock, and licks Tomas' hot body. Then Tomas gets Libor naked as well. His cock is hard right out of his jeans, and Tomas is quickly sucking on it. He licks over the bulbous cockhead and down to the balls, then sucks that big cock down his throat. When he has had a good suck they swap again, with Libor sucking on Tomas again, before moving to 69. Each sucks the stiff cocks, with Tomas on top. Saliva drips down Libor's chin as he takes all of Tomas' cock down his throat. Tomas wants more than sucking and pulls Libor's legs up, so that he can rim his hot hole. He tongues the hole real good and then slips his throbbing cock deep inside. Libor moans as he takes all of Tomas' cock deep in his ass. Tomnas really knows how to fuck and rams his dick in as deep as he can. Libor loves to feel cock in his ass and is soon riding on Tomas' cock, bobbing up and down on it. Then Tomas fucks his cock up and into that eager hole, as Libor continues to moan with pleasure. Libor then comes off the cock and bends over to get more. Tomas continues to pound that sexy ass, reaching to kiss Libor at the same time. He keeps up his fucking, stretching the ass wide, as Libor wanks himself to a big, creamy climax. Then Libor kneels in front of Tomas, who shoots his load too. Libor grabs the sticky cock and sucks it into his mouth to clean it all off. Then, after all that hot sex they go to the shower to clean each other.

OPEN SET WINDOW

Trailer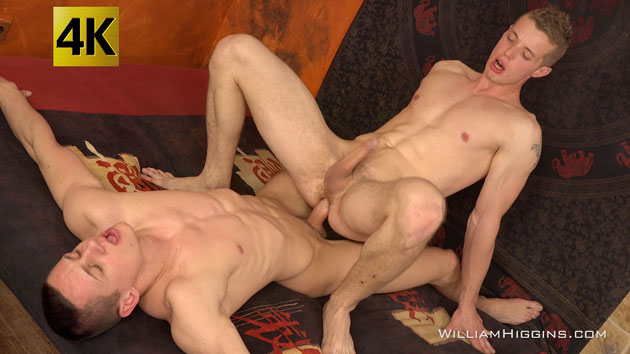 Vlog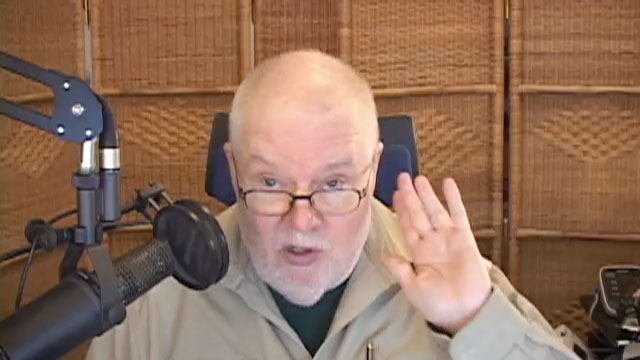 You can watch my Vlog for this Newsletter by clicking above or by going over to the Blog :
http://www.wheuro.com/?p=13459
Today we have more late fall weather. I'm kind of going it alone today. The chimney sweep is coming to Granny's Farm and Pavel Nikos took her down early so he could let the sweeper in.
Have you noticed the facial hair? Have I started a trend? More and more models are sprouting facial hair. Karel Bauer is just one of many examples. I don't mind facial hair but I know members whom it greatly bothers. Back in the days of 'William Higgins Classic' I hated the 'staches' of the SFO Clones, I was from the LA crowd. All facial hair was cut off before shoots. Three day growths, which are soooo popular nowadays were strictly forbidden. If a model had a military buzz cut, we went out and acquired a department store wig, sad but true. We even tried to cover the tats. Talk about a futile effort. We could never match the skin color. Even trying some very extreme methods, like a layer of varnish before applying make-up, within five minutes under the hot lights, that tats would bleed right through the varnish and make-up. It's a funny old world, and, my, how times change.
Peter Van Don and Steve Peryoux get things started today, with a great scene where Peter's big cock really throws a fuck to Steve's hot ass. Then we have a wonderful erotic video with our handsome newcomer Peter Magy. He is followed, in a session stills shoot, by another surefire winner, Karel Bauer.
We have a varied selection in our castings today, with Mirek Slavek, Martin Treben and Ange Lea. They are all very different and my pick of the bunch is Mirek Slavek.
REMEMBER YOUR CAN ALWAYS CHECK THE OLD WH WEBSITE AT:
NEW SETS AT STR8HELL.COM

Members of str8hell.com get full access to the site and to the full archive of more than 2500 sets on Czech Guys Next Door web site, at:
http://archive.czechguysnextdoor.com/
Non-members can access str8hell.com and browse the complete content, including free video previews and some free photos for each set. Non-members can also search the site, and are able to buy any sets they like, without taking out a full membership. Paying only for the sets you really want to see.
Sincerely
William Higgins

BurnDVD.tv Website Latest Updates


DOWNLOAD AND BURN VIDEOS TO DVD OR DOWNLOAD OUR VIDEOS IN FULL HD 1920x1080P!
Special Offer for William Higgins Newsletter Readers
William Higgins Newsletter readers are able to obtain a discount on the price of BURNDVD downloads by using the coupons that we will be publishing in each Members Newsletter. The coupon published in each newsletter will be valid for a period of 7 days.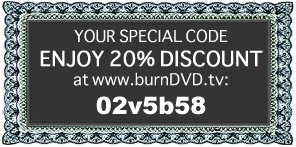 Copy today's coupon code here: 02v5b58

Our Partners:

PLEASE PROCEED TO THE NEXT PAGE FOR THE LATEST WilliamHiggins.com UPDATES