Friday, October 10, 2014 - Wank Party 2014 #7, Part 1 RAW

Wank Party 2014 #7, Part 1 RAW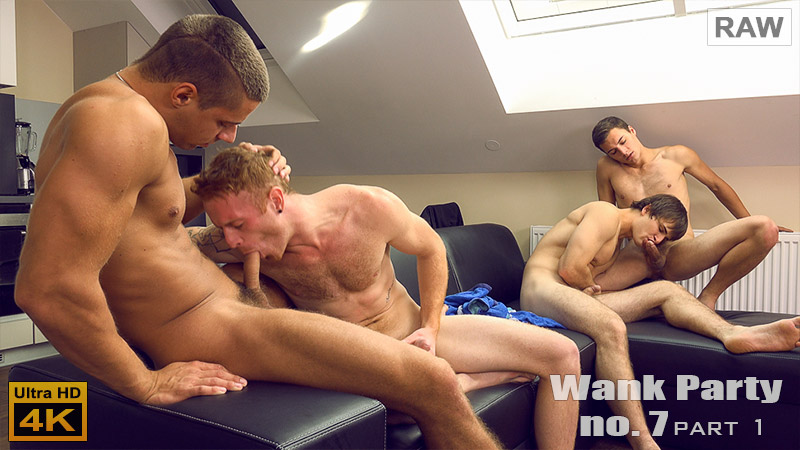 In part one of our latest Wank Party Arny Donan has visitors to his new apartment. They are Tom Vojak, Victor Burek and Jirka Mendez. He proudly starts to give them a tour, starting with his hot tub. Tom and Jirka quickly get naked and into the tub as Arny takes Viktor to show him more of the apartment. As they continue Vitor and Arny start to kiss. Tom and Jirka have similar ideas, and are soon all over each other, kissing and with Jirka wanking on Tom's big cock. The cock looks so good as Jirka begins to suck it. With Tom lifted out of the water, and Jirka bobbing his head up and down on the throbbing cock it all looks so good. Then Jirka sits back and wraps his feet around Tom's cock, with him holding them to wank himself. Jirka is hard too and he lifts himself up, so that Tom can suck him. That sexy body looks so good as Tom works on the cock. He really does a great job on it and then turns around, presenting his hot ass, for some tongue. Jirka gets to work, dipping his tongue in that tight hole, as Tom wanks himself. Meanwhile Arny is working on Viktor, stripping his clothes down, and finding a big, hard dick He takes the cock in his mouth, sucking it all the way. Viktor sits on the stairs and Arny continues to work on his dick. When Arny stands his boxers are bulging and Viktor pulls them down, so that he can taste some cock too. By now Tom and Jirka are standing, kissing and wanking each other. They climb out of the tub and go to join Viktor and Arny. Tom sits and is joined by Arny as Viktor gets together with Jirka. They all kiss and then Tom gets to work on Arny's cock with Jirka doing the same for Viktor. Then they change so that Arny and Viktor are sucking, with Tom's big cock standing so pround as Arny's mouth slides up and down on it. Viktor's mouth licks up and down on Jirka's thick pole and opens to take the head in. Jirka pushes Viktor down again and they kiss and wank each other as Arny sits so that Tom can suck him some more. Arny just loves cock and looks so good as his mouth is open, with Tom's long cock fucking in and out of it. Viktor does a great job on Jirka's cock again, sucking him ready good.
... more about Wank Party 2014 #7, Part 1 RAW further in this newsletter

Our Coming Soon Set Preview
In a lovely screentest we have Marek Prohodil,with Paul Belonek. In a very nice interview Marek agrees to Paul massaging him, but nothing more than that really. Paul, of course has other ideas, and as he starts to feel Marek's body he kisses him. With Paul behind him, removing Marek's tee-shirt they kiss again as the hands roam over his sexy chest and down to his groin. Paul takes his own tee-shirt off as well and his hand slips into Marek's jean, pulling out a hard cock. Marek lays back on the sofa as Paul leans over and starts to suck on that big, hard cock. Marek's cock is so big and is rock hard as Paul's lips are wrapped tight around it. Marek reaches and rubs Pauls groin a little as his cock is worked on. Paul comes off that big cock, so that Marek can get completely naked. Paul removes his shorts too and climbs over Marek for a 69. Both of the cock are so hard, and extra large. Paul's slides into Marek's hot mouth as he leans over to suck again. Then Paul moves, so that Marek can wank both cocks together, as they kiss again. Paul then lays back and pulls his legs in the air, exposing his hot, hairy hole, which Marek starts to rim. His tongue laps at the hole and then he slides a finger inside as well. Marek comes off that hot ass and bends over, with Paul standing behind him, sliding his big cock deep into the tight hole. Marek moans as Pauls massive dick works in and out of the ass, going deeper and deeper as Marek's hole stretches. Soon Paul's cock is going all the way in, with long, hard thrusts, getting faster and faster as Marek's moaning gets louder. That hot ass really gets stretched wide by Paul's thick cock. Paul pulls out and shoves his cock all the way in again fucking hard. He sits on the sofa and Marek climbs over him and slides his hot hole down on that huge dick again. His hot ass rides up and down on Pauls cock. Paul reaches round and wanks Marek's massive dick as well, as his own is gripped tightly by Marek's ass lips. Paul then puts Marek into missionary position and fucks him some more. Marek wanks himself as he takes that hot cock all the way. Paul is ready to cum and pulls out to shoot a big load all over Marek's hot body. Marek is wanking hard too and delivers his own cum as Paul milks his cock dry. Then they go off to the shower to clean up after a very hot scene.

OPEN SET WINDOW

Trailer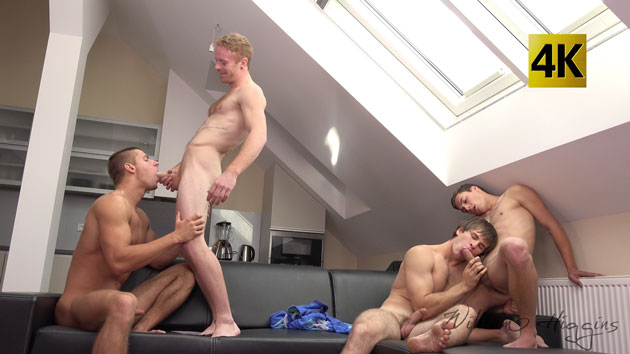 Vlog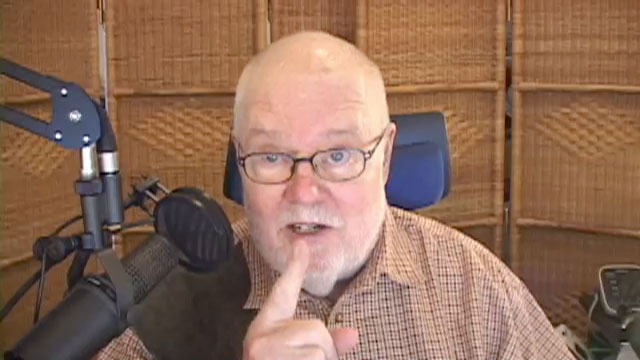 You can watch my Vlog for this Newsletter by clicking above or by going over to the Blog :
http://www.wheuro.com/?p=13524
Earlier this week, The New York Times ran an article headlined: "Sharper Image From 4K TVs Is a Gimmick Worth Having".
The reviewer likes 4K and thinks it eventually will catch on, unlike 3D. There are some problems with 4K TVs: There isn't much content available. HD images up-scaled to 4K don't look great. I confirmed this with our post-production department. Golly, the writer is correct. So, for the moment, I've stopped dead in my tracks from buying a 4K TV. However, it is blatantly obvious that images acquired in 4K and downscaled to HD look absolutely fantastic. That's what we do at present, acquire everything in 4K and compress it to HD and 2K. We think the results are stunning. The article is well worth reading. We'll continue acquiring in 4K and compressing to HD and 2K until there are more 4K pipes and TVs available, I think in much less than 18 months. Then we'll be able to go back to our 4K archive and publish everything in 4K. Meanwhile, I've been advised our post-production department to wait until Apple offers a 4K retina monitor. Okay, I'll wait, if I have to. Meanwhile, take a look at the article, it's a good read:
We have a great line-up for Wank Party 2014 #7, Part one, with Tom Vojak, Viktor Burek, Arny Donan and Jirka Mendez. Following that we have Jan Franz in his excellent erotic video and newcomer Oliver Vanok with his session stills.
We have a very good selection of castings too, with Dan Stalon, Martin Slovak and Pietro Fernando. They all look very good making a pick today rather a difficult choice. But in the end I opt for Pietro Fernando.
REMEMBER YOUR CAN ALWAYS CHECK THE OLD WH WEBSITE AT:
NEW SETS AT STR8HELL.COM

Members of str8hell.com get full access to the site and to the full archive of more than 2500 sets on Czech Guys Next Door web site, at:
http://archive.czechguysnextdoor.com/
Non-members can access str8hell.com and browse the complete content, including free video previews and some free photos for each set. Non-members can also search the site, and are able to buy any sets they like, without taking out a full membership. Paying only for the sets you really want to see.
Sincerely
William Higgins

BurnDVD.tv Website Latest Updates


DOWNLOAD AND BURN VIDEOS TO DVD OR DOWNLOAD OUR VIDEOS IN FULL HD 1920x1080P!
Special Offer for William Higgins Newsletter Readers
William Higgins Newsletter readers are able to obtain a discount on the price of BURNDVD downloads by using the coupons that we will be publishing in each Members Newsletter. The coupon published in each newsletter will be valid for a period of 7 days.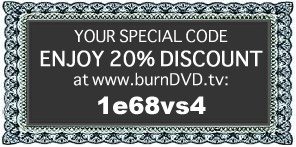 Copy today's coupon code here: 1e68vs4

Our Partners:

PLEASE PROCEED TO THE NEXT PAGE FOR THE LATEST WilliamHiggins.com UPDATES