Tuesday, October 21, 2014 - Peter and Milan - FULL CONTACT

Peter and Milan - FULL CONTACT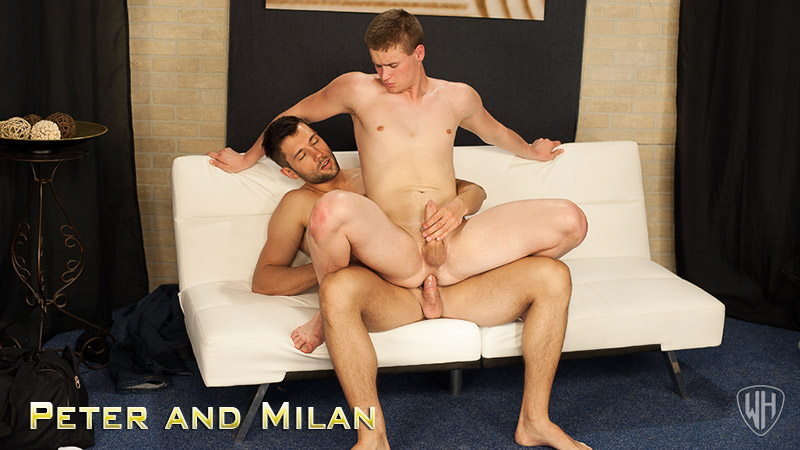 Peter Filo is having a glass of wine, when his friend Milan Neoral gets back from the gym. He has a sip of wine too before leading Peter into a massage, by showing off his 'special' cream. Peter kneels behind Milan and, starts to massage his back and shoulders, after removing his tee-shirt. But Peter doesn't take the massage entirely seriously, soon reaching around to feel Milan's sexy chest too. He then kisses Milan and his lips caress his neck too. Then Milan turns and starts to work on Peter's hot body too. His hands run all over Peter's chest and he leans forward to kiss it. They open their jeans, and take them off, revealing two very hard cocks. Face to face Milan grabs Peter's cock and starts wanking it. Peter joins in too, wanking Milan's big dick as he leans forward and kisses the body. Milan sits and leans back, so that Peter can suck on his throbbing cock. Peter's mouth works all over that cock and he licks the tight balls too. As he sucks he also wanks on the cock andn licks Milan's sexy body. Then it is Milan's turn to suck. His hot mouth wraps tight around Peter's rock hard cock. Peter loves the feeling and his hand goes to his ass to rub over his hot hole. He slips a finger into that hole, as Milan continues his sucking. Milan then turns around and presents his sexy ass. Peter wastes no time, he shoves his throbbing cock deep into that hole and fucks it nice and deep. Milan loves the feeling of cock in his ass and they move to missionary so that he can wank himself as Peter fucks his ass. With Peter's cock really stretching his hole Milans wanks hard and shoots his cum all over himself. Peter leans forward and kisses Milan and then sucks on that sticky, spent cock. Milan isn't finished though, his cock stays hard and soon Peter is taking a ride on it. His ass works up and down on Milan's thick shaft, taking it all the way. As he rides that hard cock Peter grabs his own and wanks it. Soon he needs to cum too and kneels to the side of Milan, so that he can shoot his hot cum over that sexy chest, before leaning over to give his friend one last kiss.
... more about Peter and Milan - FULL CONTACT further in this newsletter

Our Coming Soon Set Preview
We rejoin Wank Party 2014 #7, for the second part, as Tom Vojak and Jirk Mendez are rimming Viktor Burek and Arny Donan. Jirka is working on Viktor's ass, while Tom is busy with Arny. Tom spanks Arny's ass as he laps at his hairy hole. Then Tom's rock hard cock is deep in Arny's eager hole. Arny moans as he takes that cock deep. Viktor, meanwhile, is taking a ride on Jirka's cick. Tom really slams his cock in and out of Arny's ass going right in up to the balls. Jirka fucks his throbbing cock up into Viktor's ass too. Arny wanks his cock as he is fucked, and Viktor's cock stays fully hard while Jirka works his hole. Jirka leans over and kisses Arny and then it is all change, as Tom gets to fuck Viktor and Arny slides his hot ass over Jirka's rock hard cock. Jirka really stretches Arny's ass before switching back to fuck Viktor in a new position As he takes that cock Viktor wanks himself. Arny wanks too as Tom's massive tool pounds his hole again. With Jirka really banging away at his ass Viktor's wanking speeds up, and when he has cum Jirka pulls out and dumps his cream over him. Then Arny, wanking hard, cums too, followed by Tom, who pulls out of his ass and shoots his load all up that sexy body. He leans over to kiss Arny to end a great Wank Party

OPEN SET WINDOW

Trailer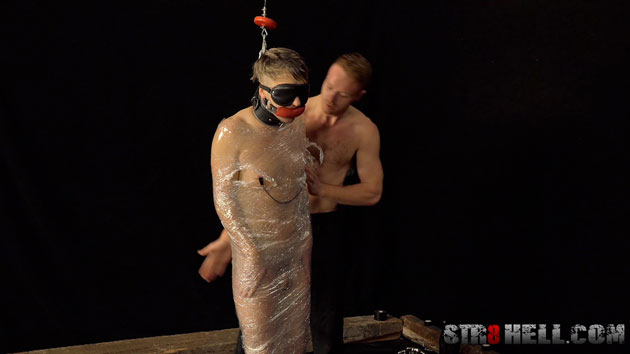 Vlog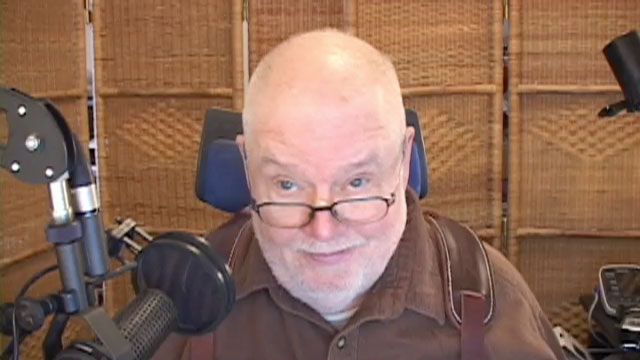 You can watch my Vlog for this Newsletter by clicking above or by going over to the Blog :
http://www.wheuro.com/?p=13564
Yesterday, we shot twins. The fact they are twins would probably have gone unnoticed except for the fact that Mr. Geoff looked at their casting photos and noticed they had identical last names and identical dates of birth. They had developed two totally different looks. We'll have to attempt to impose similar looks if we decide to do a 'twins thing' with them. Brothers, but especially twins, are extremely popular in the gay community. I think it will be worth the effort. So, stay tuned for their duo-solo shoot.
I want to comment about Pavel Bohan. When Borek 'interfered' with him by first inserting a finger and then 'the' vibrator up his bumper chute, Pavel not only took it like a man, he was extremely aroused. Shortly after his solo, we gave him a screen test where he topped. That's the first step. You'll have to wait for his erotic video, but not long, to see Borek's 'interference.' 'Interfere,' that's a word I first heard in a sexual context in a Jason Statham movie. I looked it up and it's one of about four million British euphemisms for sexual situations. 'No sex please, we're British.' For a people with such puritanical attitudes, they certainly have a lot of sexual expressions, including words I've never even imagined for 'penis' and 'testicals.' I learn more weekly, the latest from the Top Gear fracas in Argentina.
What a great scene we have, to start things off today, with Peter Filo and Milan Neoral. Our massage with Lotar Bojar and Alan Carly is excellent too. Then we have a returning model, Jirka Babika in his erotic video and we finish off with Pavel Bohan with his session stills.
We have an excellent selection of castings too with Pavel Andel, Tomas Hozman, Petr Doubra and Pavel Bohan. What a very good selection of guys that is, with my pick for today going to Peter Doubra.

REMEMBER YOUR CAN ALWAYS CHECK THE OLD WH WEBSITE AT:
NEW SETS AT STR8HELL.COM

Members of str8hell.com get full access to the site and to the full archive of more than 2500 sets on Czech Guys Next Door web site, at:
http://archive.czechguysnextdoor.com/
Non-members can access str8hell.com and browse the complete content, including free video previews and some free photos for each set. Non-members can also search the site, and are able to buy any sets they like, without taking out a full membership. Paying only for the sets you really want to see.
Sincerely
William Higgins

BurnDVD.tv Website Latest Updates


DOWNLOAD AND BURN VIDEOS TO DVD OR DOWNLOAD OUR VIDEOS IN FULL HD 1920x1080P!
Special Offer for William Higgins Newsletter Readers
William Higgins Newsletter readers are able to obtain a discount on the price of BURNDVD downloads by using the coupons that we will be publishing in each Members Newsletter. The coupon published in each newsletter will be valid for a period of 7 days.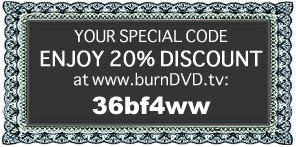 Copy today's coupon code here: 36bf4ww

Our Partners:

PLEASE PROCEED TO THE NEXT PAGE FOR THE LATEST WilliamHiggins.com UPDATES