Friday, January 16, 2015 - Viktor and Steve RAW - CZECH UP

Viktor and Steve RAW - CZECH UP

Viktor Burek is in hospital, being tended to by Steve Peryoux. Steve wheels Viktor into the room and helps him onto the bed. Then Steve begins to examine Viktor, suggesting that he massage the injured leg to see it if helps. Removing the bandage from Viktor's thick left thigh Steve takes some oil and starts to massage. After briefly massaging the thigh Steve has Viktor sit up, on the edge of the bed. He lifts his gown so that Steve can listen to his chest. Naked under the gown we see Viktor's cock and balls as he holds the gown up. Then Steve checks Viktor's neck, for any swollen glands. It seems that Steve is interested in more that his work, as his hands caress Viktor's face. Soon he helps Viktor off with the gown and sits next to him to rub his hands over that sexy body. Removing his own shirt Steve leans over and starts to kiss Viktor, before going down to suck on his lovely, soft cock. That hot mouth has the desired effect and Viktor's cock is soon rock hard as Steve's head bobs up and down on it. Then Viktor sits up and opens Steve's pants, releasing a big hard cock. Viktor quickly lowers his head onto it and starts to suck. Steve stands up and lets Viktor continue to suck his throbbing cock. He holds Viktor's head in place as he starts to fuck the cock in and out of the eager mouth. As he sucks Viktor wanks his own cock keeping it nice and hard. Then he lays back on the bed and Steve climbs over him so they can suck each other's cocks in a 69. Steve also moves down to lick and suck on Viktor's toes as well. Then Viktor lifts his legs up, so that his hot hole is available and Steve starts to rim it, getting his tongue lapping at that tight hole. Viktor's ass needs more than tongue and soon Steve's big dick is deep inside, fucking hard and fast. Viktor moans as he takes that big cock, loving how his hole is stretched wide and plowed deep. Having worked that ass real good Steve wants to feel some cock in his hole too, so he climbs up and sits his hot ass down on Viktor rigid cock. He rides up and down on Viktor's cock, wanking himself hard and fast at the same time. Soon Steve's cock spurts with creamy cum and Viktor keeps fucking his tight hole as deep as he can. Steve then moves, bending over the bed so that Viktor can fuck him from behind. He fucks that ass real good. Then pulls out to wank himself and quickly dumps his hot cum all over Steve's ass. They enjoy another bout of kissing to end a very hot scene.
... more about Viktor and Steve RAW - CZECH UP further in this newsletter

Our Coming Soon Set Preview
Alan Carly and Marek Prohodil are exporing a derelict building, and find it a good place to share a kiss. As they do so they start to undress each other, opening the shirts. The pull the shirts from each other, exposing their sexy chests. Then the shorts are dropped as well and Marek goes down on his knees and begins to suck on Alan's lovely cock. Alan is quickly very hard indeed as the hot mouth works on his dick. Marek's mouth slides over the cock very well, filling his mouth with rock hard meat. He looks up to Alan face as he licks and sucks on the cock. His mouth really works the cock well and he licks Alan's big balls too. Then he stands up and Alan wanks both there cocks with one hand. Both are big and thick. Alan leans over and kisses Marek's nipples on his way down to suck his cock. He shows that he can do a great job at that too, working the cock down his throat. Marek's balls are tight around the base of his shaft as the cock throbs in Alan's mouth. Alan takes it all the way down his throat, gagging slightly. He licks the shaft and suck on the cock as Marek strokes his head. Then Alan rubs those tight balls as well, keeping up with the sucking. Alan then bends over, showing off his hot ass, and Marek is quick to taste that tight hole. His tongue gets to work rimming the hole, as he pulls the cheeks wide apart. Then Marek stands and slides his big, fat cock deep into that ass. Breathing heavy and moaning Alan takes that dick all the way in his ass. Marek really pounds away at the ass, stretching it wide and fucking it deep. Alan's cock stays rock hard as his hole gets fucked real good. Marek then pulls out and sits down, so that Alan can slide his hot ass down over that big, throbbing cock. He rides up and down on it getting fucked so well. Moving again, into missionary position, Marek takes over the fucking, ramming his cock inand out of that ass as hard as he can. Alan wanks on his own cock as his hole is filled and stretched. His hand works hard wanking on that cock as Marek keeps fucking him deep. Soon Alan's cock explosed with a big cumshot, the hot juice landing on his body. Marek keeps up with his fucking until he is ready too. He pulls out and dumps his cum all over Alan's belly. After milking the cock dry Marek leans over and kisses Alan again. What a great scene, from two very hot guys.

OPEN SET WINDOW

Trailer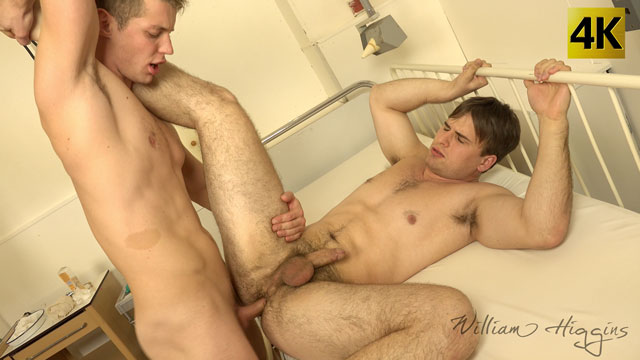 Vlog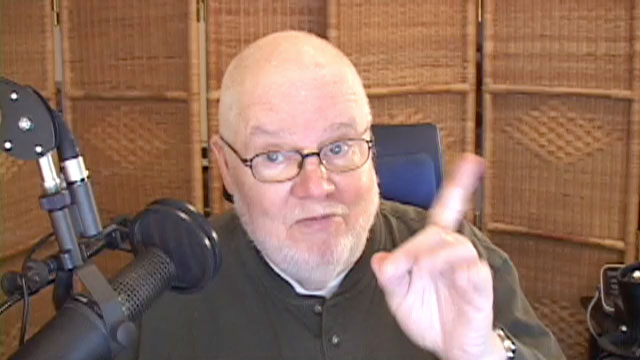 You can watch my Vlog for this Newsletter by clicking above or by going over to the Blog :
http://www.wheuro.com/?p=13939
Yesterday, we shot our upcoming Wank Party at a private sauna. Great location, great models, great action. I can hardly wait.
We have a very good duo featuring Viktor Burek and Steve Peryoux as our lead today. Viktor and Steve were filmed in the doctor's surgery created by Mr. Trevor in Drakes. Great to see it put to such good use. Then we have a very good erotic video with Martin Polena and a great new model Richard Brouk in his session stills.
Our castings today are Milan Morek, Omar Koler and Alan Polek. They all look very good, with Milan Morek being my pick for today.

REMEMBER YOUR CAN ALWAYS CHECK THE OLD WH WEBSITE AT:
NEW SETS AT STR8HELL.COM

Members of str8hell.com get full access to the site and to the full archive of more than 2500 sets on Czech Guys Next Door web site, at:
http://archive.czechguysnextdoor.com/
Non-members can access str8hell.com and browse the complete content, including free video previews and some free photos for each set. Non-members can also search the site, and are able to buy any sets they like, without taking out a full membership. Paying only for the sets you really want to see.
Sincerely
William Higgins

WHVideoShop.com Website Latest Updates


DOWNLOAD OUR VIDEOS IN FULL HD 1920x1080p FROM ALL 6 SITES!
Special Offer for William Higgins Newsletter Readers
William Higgins Newsletter readers are able to obtain a discount on the price of WHVideoShop downloads by using the coupons that we will be publishing in each Members Newsletter. The coupon published in each newsletter will be valid for a period of 7 days.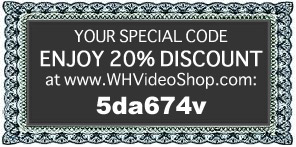 Copy today's coupon code here: 5da674v

Our Partners:

PLEASE PROCEED TO THE NEXT PAGE FOR THE LATEST WilliamHiggins.com UPDATES