Friday, July 08, 2011 - Tomas Spilka

Tomas Spilka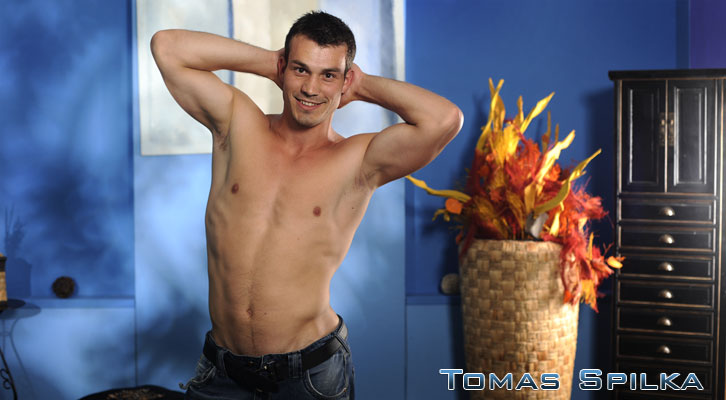 Tomas Spilka is aged 24 and lives in Michalovce. He is a student who enjoys Swimming, Boxing and Ice Hockey. Tomas is a great looking guy. He has a most handsome face and a very good body, clearly he spends a lot of time in the gym. In this stills shoot he shows ...
... more about Tomas Spilka further in this newsletter

Our Coming Soon Set Preview
David Kadera meets up with Danek Carka for a very good scene. Danek, our happy-go-lucky singer is at work in the boiler room when David arrives to service the boiler. David soon discovers how hot it is and asks for some water. Still rather hot he takes of his shirt, and receives compliments on his body from Danek. The two come together and start touching each other, and it isn't long before David has Danek's dick in his mouth. He sucks on Danek's cock and gets it nice and stiff. I must say David is certainly a great sucker, he turns Danek around and laps at, and kisses, his ass for a while. Danek then want to return the favor and finds that David is already rock hard, so he sucks on his meat. Then he bends David over and starts to rim his wonderful, muscular ass. Danek though is thinking of more than rimming and is soon fingering the hole as well, before standing up and sliding his dick deep into David's ass. He fucks him in that position for a while, getting the hole open very nicely. Then David sits on Danek's dick and bounces up and down on it, showing how much he loves to feel a big stiff one in his ass. Danek does some hard fucking too, in this position before changing to a spoon position to fuck him some more. For the finale Danek kneels over David and works on his cumshot, while Davide squirts over his abdomen and then Danek shoots over David's face. David loves that and takes Danek's dick in his mouth and does some fairly hard sucking to drag the last of the cum out of his dick. The guys gave us a really good scene which, I think, will encourage repeated viewings.

OPEN SET WINDOW

Latest Updates Trailer
William Higgins Atelier Backstage Vlog
You can also watch my Vlog for this Newsletter by clicking the video above or over at the Blog:
We're having some great weather in Prague this week, as folks take off on vacations. Pavel Nikos has gone to Greece again. That means poor Aida will be stuck here with me for the next two weekends.
Today, using the new Final Cut Pro X, I edited the second sneak peek of our July Wank Party. I spent two days watching video tutorials. It must be said, I had a much more difficult time with this one than I did the first one, where I just watched a couple of YouTube tutorials. Well, that's what you get for attempting to follow all of the 'professional rules.' But the WP is great. Hope you enjoy the trailer.
We have a very nice looking Preview tonight. It was shot in a very hot attic, with two nice looking models David Kadera and Danek Carka. Gosh, I know this will be controversial. But I like David new long hair. He's such a nice guy. And, no apologies, I like long hair, as long as it isn't a mullet, or a mullet, topped by a rooster.
Wa have a great looking session stills shoot with Tomas Spilka.
Tomas Spilka is aged 24 and lives in Michalovce. He is a student who enjoys Swimming, Boxing and Ice Hockey. Tomas is a great looking guy. He has a most handsome face and a very good body, clearly he spends a lot of time in the gym. In this stills shoot he shows himself off very well indeed, with some lovely poses and, with his very endearing smile as he does so, I think he is a real winner. I will look foward to seeing his erotic video shoot soon.
Albert Masak is a great looking guy. I told Boris, 'whatever you do, be sure to get the shoot done before he takes off the blue plaster.' Boris got it.
Albert Masak is from Prague and is aged 22. He works as a technician and likes football and spending time with friends. What a good looking guy Albert is. He had a plaster cast on his arm when he came into casting, and we signed him up very quickly for this shoot, so he still had the cast when he came back in. Dressed in a Czech Hockey shirt and jeans Albert starts off the shoot by rubbing his hands over his body and then removing the shirt, to reveal a very good chest. His hand dips into his shorts and plays with his dick before dropping his jeans and revealing his tackle. Albert has a lovely big endowment, which looks splendid as it hardens, so we see that it stands up very well,a nd tapers slightly from the base to tip. A nice thick one. Having shown us a wonderful erection Albert then sets about giving us a fabulous view of his ass, which has a nice hairy crack. He really knows who to spread that ass to give us the best view. He then turns around and lays back on the couch, pulling his legs up, so we can see the hole even better, and that monster dick at the same time. Finally, having displayed all his wares to perfection Albert lets go with a lovely creamy load.
Dalibor Janek and Michal Adamus are two delightful young men who came in for a Broke Czech Guys shoot. We interviewed them at the start and established that they are both 18 years old. With me asking the questions, translated back and forth by Pavel Nikos the interview was very illuminating. Dalibor was asked about the first time he had sex, and his reply was that he had never had sex before. So this encounter was his very first EVER,, and I was now very keen to see how far he would go. Michal had sex for the first time when he was 17, he was at a camp and was drunk, and did it for the first time, with a girl. We started the action by asking the guys to get naked. Michal was first, and we get our first glimpse of a very nice package, and a lovely ass too, as Dalibor turns him around. Then Michal gets Dalibor naked and the guys, standing together, start to kiss. At first just little kisses, but with some prompting they do real proper kissing. Then I asked them to grab each other's dicks, which they did. I noticed that Dalibor's dick started to grow immediately. The guys then went onto the bed and started to wank each other. Dalibor was soon quite hard and what a lovely sight it was. So I asked Michal to suck Dalibor's dick for a while. Michal duly obliged, and when we asked Dalibor how it felt he said 'good'. That was apparent, as his dick stayed very hard all the while it was being sucked. Then we asked the guys to switch, and Dalibor started sucking Michal, whose dick didn't respond too well, but after a piss it rose very well indeed, at the urging of Dalibor's mouth. Then the guys went into a 69. Next the guys went onto their knees, to show us their asses. Michal was then encouraged to inspect Dalibor's asshole, while wanking him. He also slipped a finger into Dalibor's ass as he wanked. Next it is Dalibor's turn to inspect Michal's ass, and as he does so he wanks him, and also is persuaded to rim the ass a little bit, before fingering it. Then he got underneath and sucked on Michal's rock hard dick some more. Everything was going really well, the guys had really been very good indeed, so I wanted to push just a little further and so we told Dalibor to fuck Michal. So for the final barrier is broken too as Dalibor slides his dick into Michal's ass, and fucks him, in three different positions before both guys deliver very good pop shots. In an interview at the end Dalibor tells us that the best bit was the cumshot, and when asked if he liked the sex, the answer was a one word no. But I think he did very well indeed, as did Michal who, for his first time with a guy, and first time taking it up the bumper chute, was a great sport as well.
Be sure to check out the Castings tonight. My pick is: Dominik. Love the face and, oh yes, the dick.
MESSAGE ABOUT CASTINGS:
Just a little reminder that the Latest Updates page which appears when you access the site shows the latest sets to come online. However that doesn`t include the castings. For the latest castings to come online you can click CASTINGS at the top of the page.
MESSAGE ABOUT LINKS TO THE OLD WH WEBSITE - WILLIAMHIGGINS.com ARCHIVES:
Please be aware that the link www.williamhiggins.com takes you to this brand new website now. If you bookmarked our old website in the past and you want to keep the bookmark as a shortest way to access the old WH website you need to change the link in the bookmark to:
You do not need to remember this link, you can conveniently get to the old WH Website - WilliamHiggins.com Archives anytime you need through the "WH 2001-2010" in the top menu of the new WilliamHiggins.com website.
Today's Weather in Prague
CzechGuysNextDoor.com Latest Updates


And we have a Strong, Mad Monk, health warning for Czech Guys Next door tonight.
Enter www.CzechGuysNextDoor.com HERE
ENTER www.CzechGuysNextDoor.cz Newsletter Archives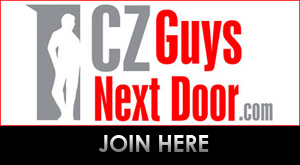 BurnDVD.tv Website Latest Updates


DOWNLOAD AND BURN VIDEOS TO DVD OR DOWNLOAD OUR VIDEOS IN FULL HD
Starting today you can download our videos in Full HD quality 1920x1080px!
Please remember that most of the videos available on BurnDVD are easily able to be downloaded with a single link, but some of the very large files, such as the newsletter DVDs have to be split into three separate links, as detailed below.

The videos with very large file sizes are now split into more than one part, using a program called HJSplit. If you wish to buy one of these larger videos to Burn to DVD, you will receive a link for file and then it is a simple process to join the downloaded files together to make the .iso file for Burning to DVD.

You can see all the available videos at www.burndvd.tv

Before downloading any videos to burn to DVD I advise you to read the BURNDVD Manual, which explains how you can burn the file to DVD. The file is an ISO file which contains all the required DVD files. The process for burning to DVD is fully explained.

The BurnDVD manual is easy to follow, with a step by step guide. Burning a DVD is easy to do, though it is helpful if you have previously burned DVDs or CDs.

The manual can be viewed here: BURNDVD Manual

Anyone who has any problems understanding the manual, or burning their download to DVD, or indeed any questions about this service please email geoff@wh.cz . Geoff will be happy to assist you.

You can view all the available downloads at www.burndvd.tv, by clicking the on the categories. A direct link to the latest files available will be published in each newsletter.
Our Latest Sets at www.BurnDVD.tv
Today we are featuring Dalibor Janek and Michal Adamus in a Broke Czech Guys shoot And Marek Novak`s Spanking:
Special Offer for William Higgins Newsletter Readers
William Higgins Newsletter readers are able to obtain a discount on the price of BURNDVD downloads by using the coupons that we will be publishing in each Members Newsletter. The coupon published in each newsletter will be valid for a period of 7 days.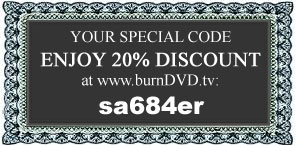 Copy today's coupon code here: sa684er

Our Partners:

PLEASE PROCEED TO THE NEXT PAGE FOR THE LATEST WilliamHiggins.com UPDATES