Friday, November 11, 2016 - Wank Party 2016 #11, Part 1 RAW

Wank Party 2016 #11, Part 1 RAW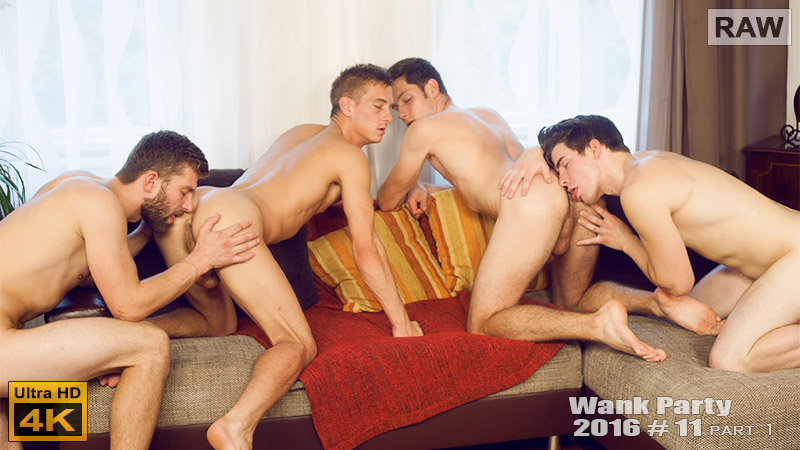 Wank Party 2016 #11 features Nikol Monak, Dusan Polanek, Milan Major and Adam Rezal. In this first part we Milan and Adam as they sit on the sofa kissing each other. They are quickly joined by Duas and Nikol who arrive with wine to celebrate a birthday. Dusan pours the wine and then Dusan kisses Adam, wishing him a happy birthday. Nikol and Milan join in the fun by kissing each other too. Then the clothes start to come off with everyone getting bare-chested. Adam is the focus of attention as his pants are taken down, revealing his hard cock. Everyone else reaches for him, with Dusan wanking and having a quick suck of the cock before Milan leans over and begins sucking it. He gives way to Nikol, so that all three have had a quick turn on the birthday cock. Dusan returns to sucking, his head bobbing on the cock and then Milan takes over again. After all enjoying that cock Dusan and Nikol remove their pants, so that two more hard cocks are available. Adam quickly goes down on Dusan's dick as Milan leans over, taking Nikol's pole in his mouth. They both suck very well before Milan's pants come off too. Nikol returns the favor, sucking Milan as Dusan goes back down on Adam's throbbing dick. Then Milan sucks Nikol and Adam sucks Milan and Dusan sucks Adam. They change places with Milan working on Adam's big cock and Dusan doing the same with Nikol's. Then he releases Nikol's cock and the favour is returned. As his cock is sucked Dusan leans over to taste Milan's again, before going back down on Nikol's Adam is back on Milan's as well. After all the hot sucking Adam and Milan kneel on the sofa, presenting their asses. Dusan and Nikol respond to the inviting asses by rimming them, the tongues lapping at the inviting holes. That sets everything thin up very well for more in Part two.
... more about Wank Party 2016 #11, Part 1 RAW further in this newsletter

Our Coming Soon Set Preview
Roco Rita and Martin Dorcak are having some fun, as they kiss and feel each other's body. Martin's big cock is rock hard and poking out of his underwear. Roco's hand closes around that cock and rubs it. Martin lays along the sofa with Rocok over him grabbing at his cock. He pulls it out of the underwear and wanks it as he works his way down Martin's chest and begins to suck. His mouth wraps around the cock and sucks it real good. Roco's mouth works Martin's big cock, taking time out to kiss him as well. Then the both remove their underwear and Roco's cock stands proud, inviting Martin to suck it. Martin is eager to do just that and he goes right down on the big dick. His head bobs on that cock and he sucks on the heavy balls too. Having enjoyed the mouth on his cock Roco turns around, onto his knees for Martin to rim his hot hole. Martin's tongue laps at the hole as his hands pull the cheeks wide apart. Then he presents his cock to the ass, sliding it deep inside. He fucks Roco's ass deep, stretching the hole wide. Grabbing the hips Martin really pounds Roco's eager hole. Then, as Martin sits on the sofa Roco slides his ass down on that big, fat, cock. He rides Martin's cock so well, his own big dick flapping about as he does so. He grabs his cock and wanks it as Martin thrusts his dick deep into the ass. As he wanks that cock Roco soon shoots his cum as Martin fucks him deep. Martin keeps fucking that hole until he is ready to cum, then Roco climbs off and Martin wanks himself. He quickly shoots his cream cum and Roco takes the cock into his mouth to drain every last drop from it. He kisses Martin again after the hot fuck session.

OPEN SET WINDOW

Trailer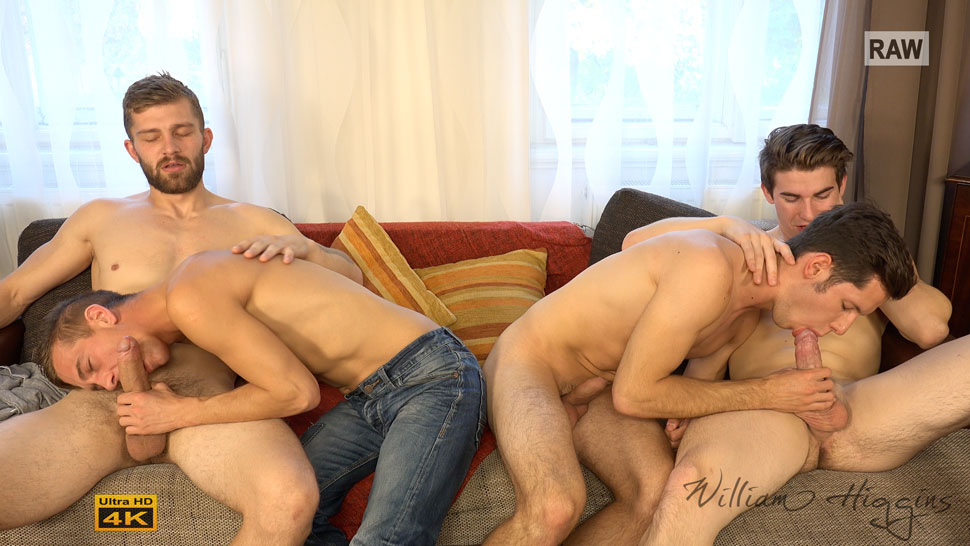 Vlog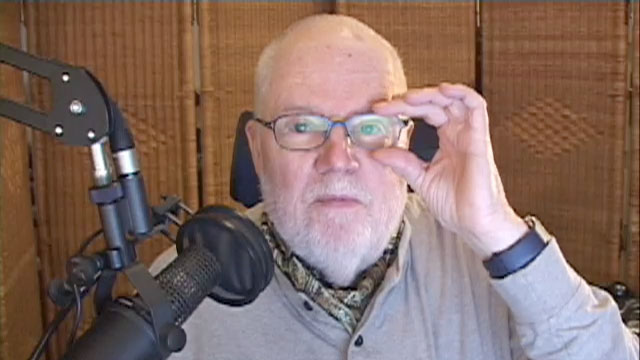 You can watch my Vlog for this Newsletter by clicking above or by going over to the Blog :
http://www.wheuro.com/?p=16886
Today, I'm withholding all comments except to quote Betty Davis: Fasten your seatbelts. It's going to be a bumpy night.
https://www.youtube.com/watch?v=yKHUGvde7KU
Wank Party 2016 #11, Part 1 leads off today, featuring Adam Rezal, Milan Major, Nikol Monak and Dusan Polanek. Then we have Petr Sykora with his erotic video and very handsome newcomer Marek Provaz in his session stills shoot. We also have a backstage video of a Dream Set Duty Bound that appeared recently on Str8hell.com with Martin Gajda, Romi Zuska, Tomas Fuk, Martin Polnak and Mirek Madl. This Dream Set was also suggested by Dan. He has certainly come up with some fantastic ideas for Dream Sets. And like to urge each of you to get your ideas for Dream Sets into Franky, curator of our Dream Sets.
For our castings today we have two very handsome guys, Vlado Soran and Adam Serkan. My pick for today will is Adam Serkan.
REMEMBER YOUR CAN ALWAYS CHECK THE OLD WH WEBSITE AT:
NEW SETS AT STR8HELL.COM

Members of str8hell.com get full access to the site and to the full archive of more than 2500 sets on Czech Guys Next Door web site, at:
http://archive.czechguysnextdoor.com/
Non-members can access str8hell.com and browse the complete content, including free video previews and some free photos for each set. Non-members can also search the site, and are able to buy any sets they like, without taking out a full membership. Paying only for the sets you really want to see.
Sincerely
William Higgins

WHVideoShop.com Website Latest Updates


DOWNLOAD OUR VIDEOS IN FULL HD 1920x1080p FROM ALL 6 SITES!
Special Offer for William Higgins Newsletter Readers
William Higgins Newsletter readers are able to obtain a discount on the price of BURNDVD downloads by using the coupons that we will be publishing in each Members Newsletter. The coupon published in each newsletter will be valid for a period of 7 days.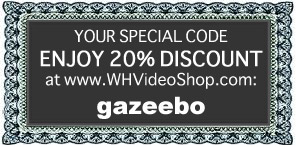 Copy today's coupon code here: gazeebo

Our Partners:

PLEASE PROCEED TO THE NEXT PAGE FOR THE LATEST WilliamHiggins.com UPDATES