Tuesday, August 23, 2011 - Jan and Drew - FULL CONTACT

Jan and Drew - FULL CONTACT

We tooka Michal Herak and Artur Lafek on location with us. Both great looking guys I was looking forward to a really good scene. The guys start out by the side of a river, and give themselves a quick wash before checking the map to find where they need to go. They soon find their way to the castle and find a way in. Michal is in need of a piss, so he takes a leak as Artur has a cigarette. When Michal has finished with his piss he gets feels a bit frisky, so undoes Artur shorts and take out his cock, going down on it. Michal sucks that cock while Artur enjoys his cigarette, and soon the cock is rock hard with Michal fucking his mouth onto it. Artur gives Michal a toke of the cigarette and Michal blows th smoke out, over that throbbing cock. Then Michal goes up and starts to kiss Artur who responds by groping Michal thru his ...
... more about Jan and Drew - FULL CONTACT further in this newsletter

Our Coming Soon Set Preview
We signed Jirka Buzek up for a spanking and then a massage soon after his casting. After those shoots he got cold feet and didn't want to do a solo shoot or anything else. Happily he very soon changed his mind and did a solo shoot and was then keen for more, so we did a wrestling and he was ready for a screentest. We needed someone with him that we knew would be reliable as a top so we plumped for Danek Carka. This scene is the result of that pairing. After a brief chat Danek starts the action by kissing Jirka, who is very responsive to it. After lots of kissing Danek's hand strays down to Jirka's crotch and starts to rub it. Then Danek rubs his own dick through his briefs as Jirka sucks his nipples. Danek then leans over Jirka and pulls his slipys down a bit, so he can see his ass, grabbing at his cock as he does so. Finally Danek pulls Jirka's dick out of his undies and starts to suck it, quickly removing the undies. Jirka looks great as his cock is sucked, and it soons gets hard above a pair of magificent balls. As he sucks Danek pushes his own briefs off to reveal that he is rock hard too. Then it is Jirka's turn to taste cock for the very first time. He takes Danek's big dick in his mouth and begins to suck. Jirka is a quick learner and does a good job on Danek's cock before the guys move to a 69, with Jirka's ass nicely exposed. Danek wastes no time in getting to that ass that starts to rim it and then wets his finger and slides it in Jirka's tight ass. Soon, without much ado Danek is also sliding his large, throbbing dick into Jirka's ass for his very first fuck. Jirka takes it very well indeed, though a little discomfort is visible on his face, but he is a determined guy and sticks at it. Danek pushes Jirka down onto the bed, so he can really fuck hard and begins to really pound that ass. A change, so that they are in spoon position gives us a great view of that dick ramming into Jirka's tight hole. Jirka wanks on his cock as he is being fucked deep and hard. Danek cant hold back and pulls out so he can quickly shoot his load over Jirk'as face, and Jirka takes the cock in his mouth to taste the last of the cum, and as he sucks on Danek's big cockhead he cant hold back and shoots his own ample load. The guys kiss and bring a wonderful screentest, for Jirka, to a very nice end. Jirka really proved himself to be a very willing bottom, I am sure we will be seeing more of him.

OPEN SET WINDOW

Latest Updates Trailer
Hi everybody, this is Geoff presenting today's newsletter, as Bill is enjoying a trip to Venice. He will be back in time for the newsletter on Friday. I haven't heard anything from Bill since he left on Saturday, but I trust he is having a great time seeing all the sites and galleries etc.
Our Preview is a lovely screentest we shot with Jirka Buzek and Danek Carka. Jirka had done spanking and massage and wasn`t sure about doing anything else but he soon relented and we got him in for this screentest.
Our shoots for today's newsletter are:
Artur Lafek's Massage:
The lovely Artur Lafek came in for a massage. He is such a sweet guy, and looks wonderful on camera. I have received so many emails about him since we first posted his casting. It seems that almost everyone in in lust for him. Artur starts off by stripping off and letting us see him naked, front and back, before climbing onto the massage table. As he lays on the table we get to see just what a lovely shaped ass he has. The masseur arrives and gets to work, oiling Artur's back and massaging his shoulders, and back. A nice slow massage concentrating, at first on the back. Artur is relaxed, eyes closed as the hands work over his muscled body. Having worked the back the masseur moves the modesty towel slight, revealing some of that sweet, hairy ass as he massages Artur's arms. Then removing the towel completely Artur's ass is fully exposed and the masseur gets to work on massaging it. His hands slip over the ass, siding along the ass crack as he works it, and then on to those hairy legs. Such nice thick thighs and calf muscles. Having done the legs and feet that attention turns back to Artur's ass, and the cheeks are spread so that we get a good look at his hole. The hands work up and down Artur's ass crack as we also see his cock and balls. Artur's cock has gotten very hard with all the attention he is receiving. The masseur puts him on his knees and pushes that hard cock backwards so we see it in all its glory. He uses the vibrator on Artur's cock as it is pushed fully back through his legs. Then, lubing Artur's hole the masseur plays the vibrator over ass, balls and cock before letting it slide into Artur's tight hole. It works in and out, nice and deep as his cock is also kept nicely hard. The masseur then uses his finger in that tight hole, wanking the cock at the same time. Then the vibrator enters the ass again as we get a wonderful side view of the action. The orange vibrator as loosened Artur's ass quite nicely, so another vibrator comes into view. This is a much larger, black one. It works its way into Artur's hole,and begins to fuck in and out. Artur's face is a picture as he feels his hole being filled so nice and deep. His dick is still nice and stiff, as his ass is being fucked, and the masseur wanks that stiff cock. Artur is moved on to his side, with a leg inthe air, so we can see the vibrator working his hole. The view is magnificent as we see hole filled, cock wanked and Artur's face as the action takes place. Artur is place on his back, legs spread, vibrator in place as his cock is being wanked, ready for his pop shot. Artur takes over the wanking as the masseur ensures the vibrator is held in place in the ass. Artur pops his load, a nice creamy one. The masseur takes the cum and wipe it back over Artur's cock before using the residue to smear on Artur's handsome face. What a lovely massage on a beautiful guy. Artur is such a good model, and we have recently done a lot more work with him, it is always good to have him in the studio.
Jan Pribyla and Drew Hemcak - Full Contact:
Drew Hemcak and Jan Pribyla are at the castle to do some decorating. But before they really get started they stop for a cigarette break, standing by an open window. Drew, tempting Jan with the cigaretter quickly moves it away and replaces it with his mouth, and kisses Jan instead. Dropping the cigarette Drew starts to open Jan's shirt and rubs him through his pants. Kissing Jan as he does it Drew then pulls Jan's rampant cock out of the pants, quickly dropping the pants to the floor so he can go down and suck on that rigid cock. Drew stands and kisses Jan once more, pulling him by his cock to another position so that Jan can go down on Drew's dick as it pokes through his pants. Drew takes his shirt off as Jan sucks on his cock, revealing his smooth chest. Jan continues to suck on Drew's throbbing cock, sometimes wanking it, so we get to see a huge hard dick and big balls hanging out of the pants. Then they move with Jan's legs spread between a ladder and gantry, so that Drew is under him can suck him and eat his ass. Drew quickly decides that the ass needs a finger as well, and slips one in. He fingers the ass as he sucks on cock, and then wets a second finger to slip that up too. Jan's cock is rock hard in Drew's mouth while his ass is streched by two of Drew's fingers. Then Drew licks as that hot hole some before sucking and fingering again. Jan's ass is nice a stretched now and ready for Drew to shove his rock hard dick in there. He really fucks Jan's ass deep and hard, thrusting his dick in, as far as it will go, Jan's head bucks in appreciation of the pounding his ass is receiving. Jan wants it so bad, so they move to a position where Drew can lay down and Jan can sit on that throbbing cock and really ride it. Drew really thrusts his cock up into Jan's ass. Jan's rides it some more, with his own cock rock hard as he does it. Jan is loving the feeling of that meat deep in his ass, with Drew fucking him hard and fast. The guys move again into a sort of missionary position so that Drew and continue to pound Jan's hot hole. Jan loves it and furiously wanks his cock as his ass is being fucked. Two such big dicks, and it is great to see Drew, cock in Jan's ass, bend forward and take Jan's cock in his mouth as he fucks. Jan is ready to blow and with Drew's dick deep in his ass, let's his load go. That sends Drew over the edge too and with a last flurry of deep fucking pulls out and shoots his load into Jan's waiting mouth, and over his face. Jan quickly goes down on Drew again to get the last of the cum, bringing a wonderful scene to an end. Two really great guys having a lot of fun in an excellent scene.
Jan Krutak - Erotic Video:
Jan Krutak is aged 22 and lives in Prague. He is a student of economics and likes movies, fitness and athletics. Jan is a great looking guy, who is very relaxed in his interview, and when it is over starts to slowly open his belt while his hands caress his body. He looks great as he reclines, and we see his massive forearms, a promise of much more to see. We don't have to wait long as Jan opens his shirt to reveal a muscular chest. Then opening his pants his hand slips down inside, before coming out again. Jan rubs his massive chest and we can see his nipples are already quite firm. The hands rub his chest and dip into his jeans, where we see a hint of his pubes. Jan then stands so that we can see his physique much better, with the jeans open so we begin to see his cock below a neatly trimmed bush. As he stands there Jan poses for us, flexing his biceps, before turning around to show us his nice ass. He spreads his cheeks, so we get a good view of his hairy hole with his balls hanging very nicely. Massaging his ass and wanking his cock Jan looks great and he turns, side-on so we see his rock hard erection, and low hanging balls, as he wanks. Completing the turn Jan is now resplendent in his nakedness. Sitting down of the sofa Jan reclines and starts to wank for us, and then relaxes to show us his six pack a while before liftin his legs to expose his ass hole again. Such a nice tight pucker hole, and we get to see even more of it as Jan gets on to his knees, legs spread and ass pushed back to really present that ass in a glorious fashion. Jan then turns over and wanks himself again, bringing himself to a glorious climax, as those pendulous balls bounce in unison. Great strings of cum ooze out of his huge hard cock, some hanging tantalisingly from his hand as he wanks. We see a wonderful close up of that creamy load as his hand rubs over his sticky cock. Jan then moves to the shower for a well deserved clean up having given us a really wonderful erotic video.
Radek Pacan - Session Stills:
Radek Pacan is aged 19 years and lives in Prague. He is a student who likes playstation, fitness and table tennis in his spare time. Radek is a very cute looking redhead, with a lovely smile. I really enjoyed this stills shoot with him, posing for us, with a really great erection, which he seemed to maintain throughout the shoot. He also showed us a lovely ass, with a nice hairy hole. I get the impression that Radek really enjoyed doing this shoot, and his enthusiasm shows through. I will look forward to seeing his erotic video, and hope we can take him further.
We have also started to put some scenes from the old site over onto the new site, with a more detailed description and with the video options expanded so members can have a greater choice of video format. Today we have two such scenes:
Stanislav Krejcik and Michal Havlik - Friends Duo. You can see this updated set here: http://www.williamhiggins.com/set-list/set-detail/10110402 .
and Ivan Cakovsky's Screentest with Roland Barkac. You can see the updated set here: http://www.williamhiggins.com/set-list/set-detail/11040802
We have some very good castings today but my choice goes to Michal Tovara.
MESSAGE ABOUT CASTINGS:
Just a little reminder that the Latest Updates page which appears when you access the site shows the latest sets to come online. However that doesn`t include the castings. For the latest castings to come online you can click CASTINGS at the top of the page.
MESSAGE ABOUT LINKS TO THE OLD WH WEBSITE - WILLIAMHIGGINS.com ARCHIVES:
Please be aware that the link www.williamhiggins.com takes you to this brand new website now. If you bookmarked our old website in the past and you want to keep the bookmark as a shortest way to access the old WH website you need to change the link in the bookmark to:
You do not need to remember this link, you can conveniently get to the old WH Website - WilliamHiggins.com Archives anytime you need through the "WH 2001-2010" in the top menu of the new WilliamHiggins.com website.
Today's Weather in Prague
CzechGuysNextDoor.com Latest Updates

On CzechGuysNextDoor there is no health warning today. We have two excellent solo shoots.

The Warning for Czech Guys Next Door: High, Duty Bound, plus two solo shoots.
Enter www.CzechGuysNextDoor.com HERE
ENTER www.CzechGuysNextDoor.cz Newsletter Archives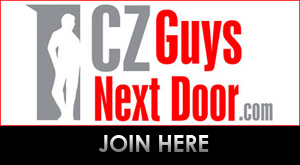 BurnDVD.tv Website Latest Updates


DOWNLOAD AND BURN VIDEOS TO DVD OR DOWNLOAD OUR VIDEOS IN FULL HD
Starting today you can download our videos in Full HD quality 1920x1080px!
Please remember that most of the videos available on BurnDVD are easily able to be downloaded with a single link, but some of the very large files, such as the newsletter DVDs have to be split into three separate links, as detailed below.

The videos with very large file sizes are now split into more than one part, using a program called HJSplit. If you wish to buy one of these larger videos to Burn to DVD, you will receive a link for file and then it is a simple process to join the downloaded files together to make the .iso file for Burning to DVD.

You can see all the available videos at www.burndvd.tv

Before downloading any videos to burn to DVD I advise you to read the BURNDVD Manual, which explains how you can burn the file to DVD. The file is an ISO file which contains all the required DVD files. The process for burning to DVD is fully explained.

The BurnDVD manual is easy to follow, with a step by step guide. Burning a DVD is easy to do, though it is helpful if you have previously burned DVDs or CDs.

The manual can be viewed here: BURNDVD Manual

Anyone who has any problems understanding the manual, or burning their download to DVD, or indeed any questions about this service please email geoff@wh.cz . Geoff will be happy to assist you.

You can view all the available downloads at www.burndvd.tv, by clicking the on the categories. A direct link to the latest files available will be published in each newsletter.
Our Latest Sets at www.BurnDVD.tv
Today we have Artur Lafek`s Massage And a great duo with Jan Pribvla and Drew Hemcak and part 4 of CFNM Pure Suffering:
Special Offer for William Higgins Newsletter Readers
William Higgins Newsletter readers are able to obtain a discount on the price of BURNDVD downloads by using the coupons that we will be publishing in each Members Newsletter. The coupon published in each newsletter will be valid for a period of 7 days.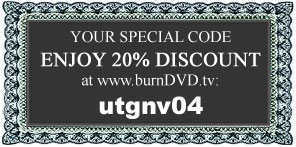 Copy today's coupon code here: utgnv04

Our Partners:

PLEASE PROCEED TO THE NEXT PAGE FOR THE LATEST WilliamHiggins.com UPDATES