Friday, September 01, 2017 - Romi & Martin RAW - FULL CONTACT

Romi & Martin RAW - FULL CONTACT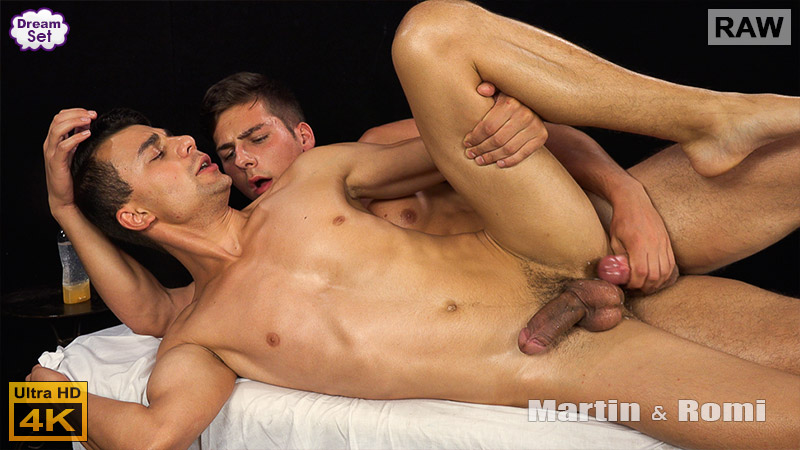 We have a lovely Dream Set featuring Romi Zuska and Martin Gajda. Romi is laying, face down, on the massage table as Martin takes some oil and begins to massage him. Martin's hands glide over Romi's back and shoulders. He quickly pulls Romi's underwear down off his sexy ass to reveal the cheeks. The oily hands start to massage the base of the back and those hot cheeks too. Then Martin takes more oil and works on Romi's legs as well. He goes right down the legs and massages the feet too. Then Martin completely removes Romi's underwear and goes back to massaging the sexy ass. His fingers rub over Romi's hairy ass crack and onto his hole. The cheeks are parted to show that hot hole as Romi's cock and balls are shown too. As the hands work on the ass a finger slips into Romi's tight hole and gently fucks it. Then Romi turns over, onto his back, revealing his stiff cock. Martin's hand rubs the cock and the balls as he leans down to lick the balls. He takes the cock in his mouth and begins to suck on it. He sucks the stiff dick and moves up to kiss Romi as well. Then he kisses his chest and moves back to sucking on that stiff dick. Martin removes his underwear and we see that he is rock hard too. Then, after kissing Romi again he climbs over him so they can 69 to enjoy sucking each other. Martin's dick slides easily into Romi's mouth as they suck each other. Then the turns around and sits his ass down on Romi's throbbing cock. He rides up and down on that rock hard cock before Romi begins to fuck upwards into the hot ass. Then Martin climbs off and Romi stands to bend over the table with Martin behind him. Martin's dick slips into the eager hole and he fucks Romi deep and hard. As he fucks that ass he slap it a few times too. He continues to fuck Romi in that position for a while then they move onto the table again to spoon as Martin's dick works Romi's hot hole some more. That fat cock really stretches Romi's ass as he wanks himself. He keeps wanking as he takes the big cock and soo dumps his hot cum with Martin's cock deep in his ass. Romi milks his cock dry abd Martin continues his fucking until he is ready to cum too. Then he pulls out and shoots his hot cum all over Romi's balls and they end with a final kiss.
... more about Romi & Martin RAW - FULL CONTACT further in this newsletter

Our Coming Soon Set Preview


Trailer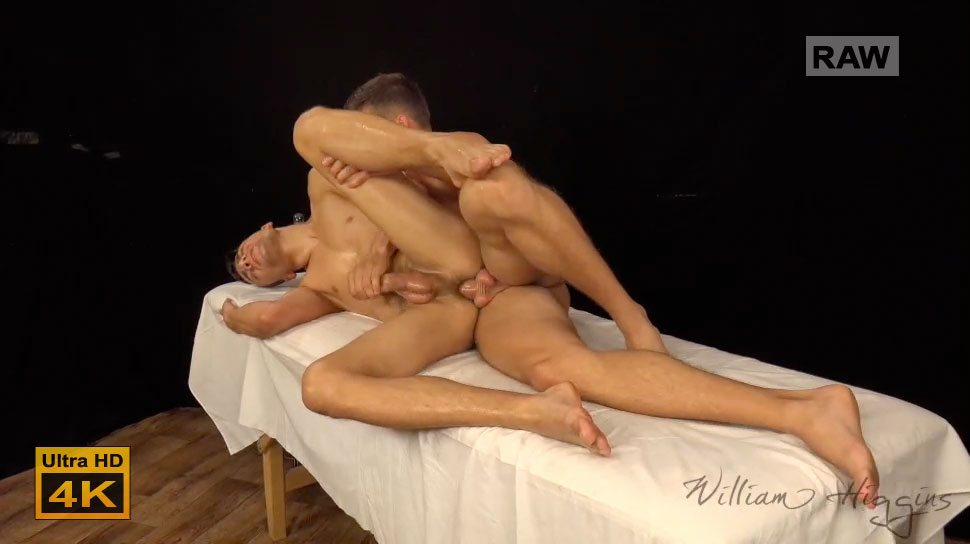 Vlog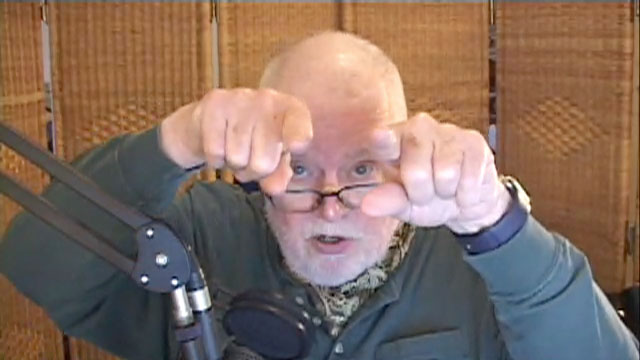 You can watch my Vlog for this Newsletter by clicking above or by going over to the Blog :
http://www.wheuro.com/?p=18014
I'm back from my trip to two of the castles of Ludwig II of Bavaria: Linderhof Palace and Herrenchiemsee New Palace. A few years back I visited Neuschwanstein, Ludwig's most famous castle. Ludwig built these hugely expensive palaces for HIMSELF and himself only. Only one person ever visited Linderhof. And no one ever visited Herrenchiemsee. The thrown and audience rooms were built for NO AUDIENCES. In all three palaces, Ludwig had 'magic' tables. The tables would descend into the basements, and servants would put the food on them. That way Ludwig would never have to see the servants. They didn't work out too well as the process took 30 minutes each time, and the food was usually cold by the time it got to Ludwig. Ludwig was totally obsessed by the French King Louis XIV. At each castle there are statues of Louis. In the ceiling of the entrance hall to Linderhof is a crest of the Sun King. Ludwig considered himself the moon king. Does Ludwig's fascination with the Sun King remind you of anyone we know from the current time?
I've stated that the Ludwig solution might be appropriate for the current situation.
My travel companions knew that I'm a World War II buff. On the way to Linderhof, we pulled into the parking lot of a run down hotel. I thought, 'why are we stopping at this dump?' Turns out it was the hotel where Ernst Rohm was arrested by Hitler. It was only a few miles from the house where we were staying. And it's schedule to be torn down within the next year. Turns out, it was on my World War II bucket list. I never thought I'd make it there.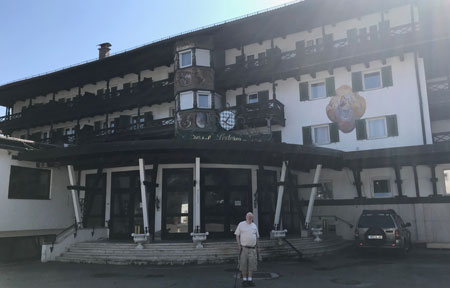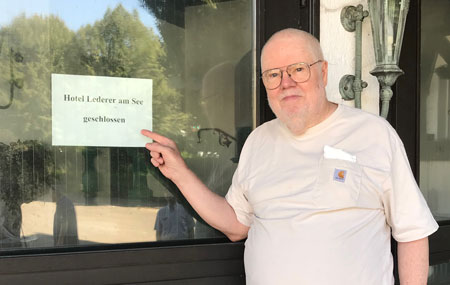 So, several ticks on the bucket list. I've now visited all three of Ludwig's castles. And I saw the famous hotel where Hitler ambushed Rohm.
It must be said, Ludwig was a VERY strange monarch. He brings in so much income to Bavaria. They will never admit that Ludwig was gay, only allowing, 'his sexuality was not known.'
We have a wonderful Dream Set today with Martin Gajda and Romi Zuska. They really give us a great show. And I want to thank Anthony for the excellenbt idea. Then we see the very handsome Erik Oscar with his erotic solo. We also have a great bonus set, from str8hell.com, an Airport Security with Rosta Benecky, Robin Valej and Paul Hunter.
For our castings today we have Emil Raden and Lada Dalin. They both look very good indeed but it is Emil who gets my vote for pick of the day.
REMEMBER YOUR CAN ALWAYS CHECK THE OLD WH WEBSITE AT:
NEW SETS AT STR8HELL.COM

Members of str8hell.com get full access to the site and to the full archive of more than 2500 sets on Czech Guys Next Door web site, at:
http://archive.czechguysnextdoor.com/
Non-members can access str8hell.com and browse the complete content, including free video previews and some free photos for each set. Non-members can also search the site, and are able to buy any sets they like, without taking out a full membership. Paying only for the sets you really want to see.
Sincerely
William Higgins

WHVideoShop.com Website Latest Updates


DOWNLOAD OUR VIDEOS IN FULL HD 1920x1080p FROM ALL 6 SITES!
Special Offer for William Higgins Newsletter Readers
William Higgins Newsletter readers are able to obtain a discount on the price of BURNDVD downloads by using the coupons that we will be publishing in each Members Newsletter. The coupon published in each newsletter will be valid for a period of 7 days.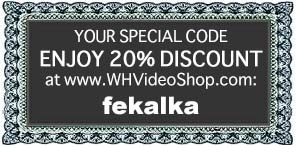 Copy today's coupon code here: fekalka

Our Partners:

PLEASE PROCEED TO THE NEXT PAGE FOR THE LATEST WilliamHiggins.com UPDATES