Friday, September 15, 2017 - Bradley & Milos RAW - CZECH UP

Bradley & Milos RAW - CZECH UP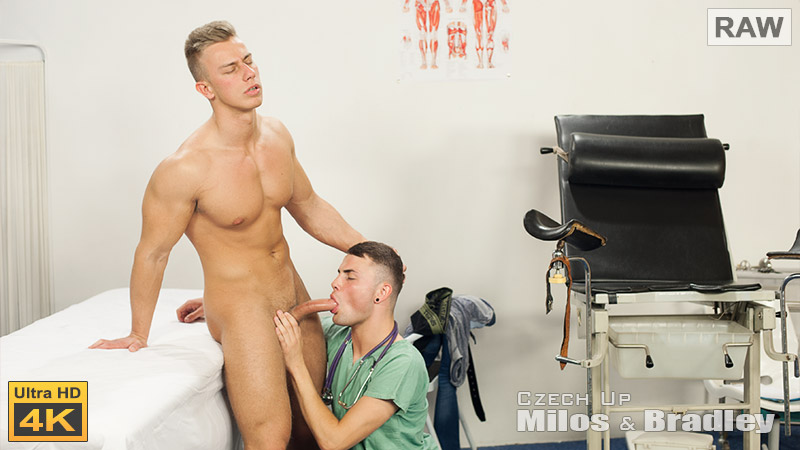 Milos Ovcacek has a new patient in his surgery, Bradley Cook. It seems that Bradley has had sex and his cock has stayed hard all morning. Milos tells him to get undressed. As Bradley obeys the instruction we see that his big cock is indeed still hard. He lays on the table and Milos begins to examine him, feeling around the cock and balls. He feels something and thinks that a massage of the area may help. His hands gently massage around the cock and he wanks that too. The big, fat, cock looks so good in Milos hand and shows no sign of going soft. Milos leans forward and sucks on tha massive cock, telling Bradley that it is the only way the cock might get soft. His mouth wraps around the thick cock and his head bobs up and down as he sucks it.He sucks and wanks the cock for a while and Bradley's hand feels for Milos cock in his pants. Bradely sits up, leaning on the table and Milos drops to his knees to continue sucking. His mouth deepthroats that dick, taking every inch all the way down his throat. Then Milos stands up and moves Bradley to the examination chair. Bradley sits in the chair and rest his legs in the stirrups, exposing his tight ass too. Milos returns, eagerly, to his sucking. Then he moves to one side and sucks the cock as his fingers rub Bradley's hot hole. Taking some oil Milos rubs it over that tight hole as he sucks some more. His fingers probe the hole and one slips inside as Milos head bobs on the cock. The finger goes deep into Bradley's ass hole and begins to fuck it. Having loosened the hole a little Milos takes a dildo and pushes that into Bradley's ass. The dildo fucks that ass nice and deep as Milos keeps up his wanking and sucking. Bradley is then moved back onto the table, his massive dick still rock hard. Milos gets naked too, showing that he has a big dick too. His cock is also hard and he climbs over Bradley and sits his ass down on the thick cock. Milos wanks himself as he rides up and down on Bradley's throbbing cock. That ass really takes the cock so well. Milos works his hole up and down on the thick shaft, his own dick flapping around as he does so. They move again, with Milos laying on the table, legs up for Bradley to slide his cock back into the eager hole. Bradley fucks that ass hard and fast, really pounding it. His dick really stretches Milos' hole wide. As his ass is fucked so hard Milos wanks himself. Both fucking wanking get even faster and soon Milos balls are tight around his shaft as his cock gives up the hot cum. He shoots it over his belly as Bradley continues to fuck that hot hole. Bradley is soon ready to cum to and pulls out to milk his cock dry. Then he leans forward to kiss the doctor to end a great scene.
... more about Bradley & Milos RAW - CZECH UP further in this newsletter

Our Coming Soon Set Preview
Lukas Beran has his screentest, paired with Igor Tapak. They start off chatting as they sit on the bed, exploring what experiences Lukas has had. Then Igor persuades him to kiss. As they kiss Igor helps Lukas takes off his tee shirt. Igor runs his hands over Lukas' body. Then Lukas' shorts are removed too and his hard cock is exposed. Igor is soon sucking on that cock, licking up and down the shaft and sucking on the head. He kisses Lukas' again as he wanks on the cock before sucking again. Lukas' cock is rock hard and he moves onto his knees for Igor to continue sucking. That cock stands proud as the mouth works it and the tongue licks up and down the shaft. Igor then gets naked too and bends forward for Lukas to get behind him. Lukas slaps his cock against Igor's ass and then slides it into his waiting hole. The cock goes in easily and Lukas begins to fuck Igor's tight hole. He fucks that ass with long strokes, slowly at first and then speeding up. Igor takes the throbbing cock so well and when they move he quickly sits his ass back down on Lukas' big cock. He rides up and down on that dick taking every inch. Then they move to spoon position and we see that big cock really stretching Igor's hot hole. He grabs his own cock and starts to wank as Lukas pounds his ass. Igor keeps wanking himself as he takes Lukas' cock, shooting a big, creamy load as the dick pounds his ass. Lukas keeps fucking, going in deeper and fucking harder, then he pulls out and shoots his hot cum over Igor's balls.

OPEN SET WINDOW

Trailer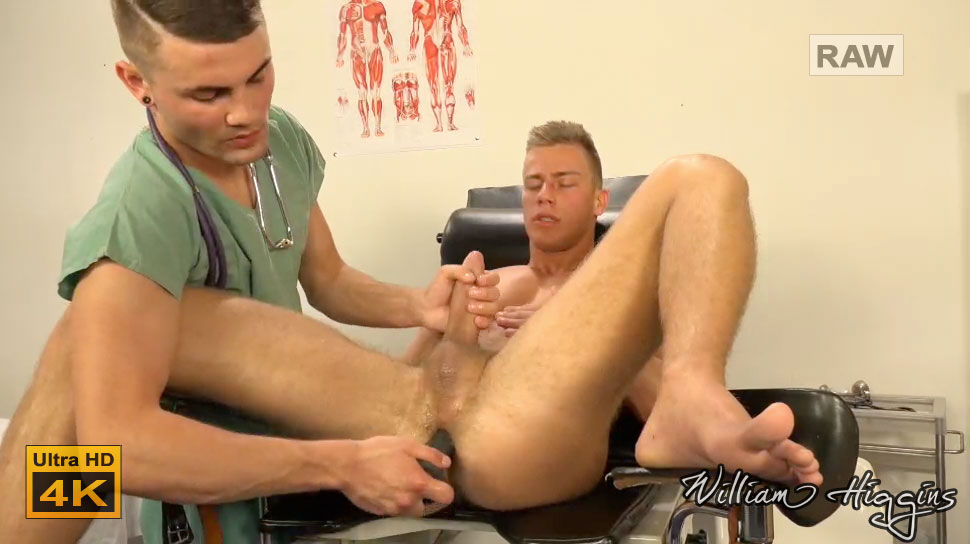 Vlog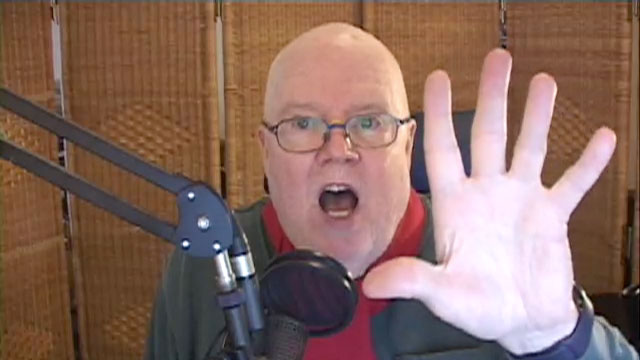 You can watch my Vlog for this Newsletter by clicking above or by going over to the Blog :
http://www.wheuro.com/?p=18056
We're enjoying, a not Indian Summer Day, but a nice spring like day in Prague. I won't get used to it because the weather forecast calls for five consecutive days of rain starting tomorrow.
We all want to wish our wordsmith, Mr. Geoff, back from his Internet Hell. A word to the wise, whatever you do, don't ask Geoff about his ISP's customer service department. Knock on wood: we recently switched from microwave to fiber. That's something we've only been waiting for since 1997. The microwave service provider was small and usually jumped right on Internet outages (unless they happened on the weekends when people in Prague didn't expect to use the Internet). Even that changed in later years when they provided customer service on the weekends. With fiber, we're at the mercy of a giant, international cable company. Geoff's problems might be a dark foreshadowing of future callousness. Knock on wood. I hope not.
I want to make a special notation about two new models, Jaro Bielik, new to today's Newsletter, and Alan Pekny who debuted on Tuesday. IMHO both of these lads are spectacular. And I have a great secret, don't tell anyone, I've looked at their rushes and both have already done much harder material for the site. It's 'in the can.'
A wonderful Czech Up with Bradley Cook and Milos Ovcacek is our lead feature today. Both are very well endowed and give us a great scene. Then we have Jaro Bielik, another very handsome guy, with his erotic solo.
For our castings today we have Nicolas Daner and Karel Omanak. They are both very good indeed and Karel has already appeared in a duo as well as his solo shoot, as well as on str8hell.com in a Hot Ass scene, so I will make him my pick of the day.
REMEMBER YOUR CAN ALWAYS CHECK THE OLD WH WEBSITE AT:
NEW SETS AT STR8HELL.COM

Members of str8hell.com get full access to the site and to the full archive of more than 2500 sets on Czech Guys Next Door web site, at:
http://archive.czechguysnextdoor.com/
Non-members can access str8hell.com and browse the complete content, including free video previews and some free photos for each set. Non-members can also search the site, and are able to buy any sets they like, without taking out a full membership. Paying only for the sets you really want to see.
Sincerely
William Higgins

WHVideoShop.com Website Latest Updates


DOWNLOAD OUR VIDEOS IN FULL HD 1920x1080p FROM ALL 6 SITES!
Special Offer for William Higgins Newsletter Readers
William Higgins Newsletter readers are able to obtain a discount on the price of BURNDVD downloads by using the coupons that we will be publishing in each Members Newsletter. The coupon published in each newsletter will be valid for a period of 7 days.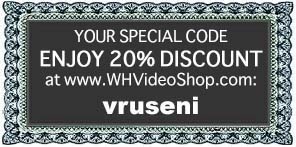 Copy today's coupon code here: vruseni

Our Partners:

PLEASE PROCEED TO THE NEXT PAGE FOR THE LATEST WilliamHiggins.com UPDATES