Friday, September 22, 2017 - Wank Party #88, Part1 RAW

Wank Party #88, Part1 RAW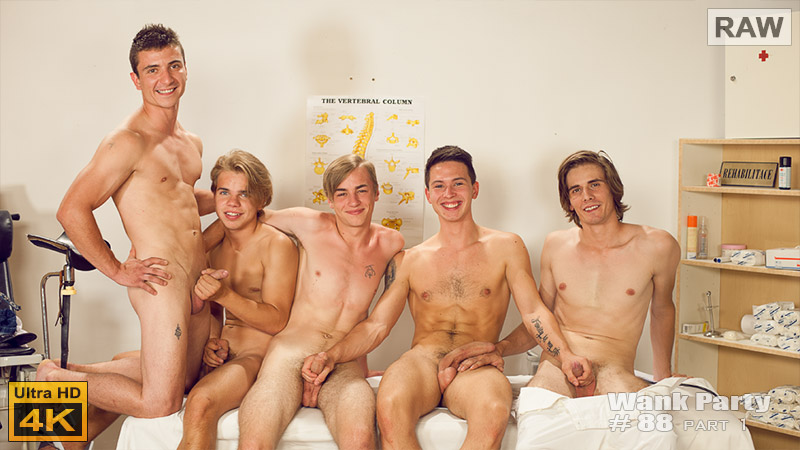 Wank Party #88 stars Tomas Befger, Miro Dalek, Kanil Banek, Adam Egner and Karel Omanak. This first part we find Kamil and Tomas in charge of a medical examinations. Miro, Adam and Karel arrive in the office at the same time and they are asked a few questions at first. Then their exam begins, with all of them being checked at the same time. Mouths are checked and then the three guys remove their teeshirts to have their chests cheked too. Both Kamil and Tomas listen to the chests, Then Kamil does a test on Karel's eyes and moves on to do Adam and Miro too. Next the guys are told to remove their jeans, and none of them are wearing underwear, so cocks are on show. Karel's cock is hard as soon as his jeans come down. Kamil examines that cock as Tomas checks Miro's. Karel's cock is softer as it is being checked. His balls are examined to. Miro's dick seems to swell as Tomas checks it. Then Kamil moves to Adam to examine his dick too. All seems to be ok and Kamil explains that they have to have their prostates checked too. So the guy kneel on the table, presenting there asses. First Kamil's oiled fingers lube Karel's hole then he pushes a finger into the tight hole as he feels the balls too. His finger goes deep into Karel's hole to check properly. Then he moves over to Miro, whos balls dangle low between his legs, and slides a finger deep into his hole. He checks the balls too and works his finger into the hole and Miro jerks as he feels it. The three guys then turn over and sit on the table. They have to wank their cock and soon all of them are rock hard. With the cocks all hard the doctors examine them, Kamil feels Karel'scock and wanks it as Tommas does the same to Miro. Adam keeps wanking his own cock as he watches the guys being wanked. Miro is enjoying the feeling and his hand reaches for Tomas who leans over and begins to kiss him. Kamil rubs himself through his pants as he continues to wank Karel. Then he kisses Karel as Tomas bends to takes Miro's cock in his mouth. Adam is emboldened by what he sees and reaches to rub Karel's leg and then to wank Kamil's cock. Miro reaches for Adam's cock and wanks it. Then it is all action as Kamil dick pokes out in front of him as he sucks Karel, who is bent over to suck Adam's cock and Tomas continues to suck Miro. Adam then draws Tomas' attention and they kiss as Tomas wanks on the stiff cock. Karel and Kamil kiss as they wank each other and Miro reaches to rub Tomas ass. Kamil moves up so that Karel can suck him some more while Tomas takes Adam's dick into his mouth. Adam leans over and sucks on Kamil's cock, taking turns with Karel. Adam turns to his other side to suck on Miro's cock. Then Karel and Tomas are on their knes sharing Miro's cock as Kamil and Adam rim the exposed asses. Kamil fingers Karel's tight hole as Adam continues to tongue Tomas'. Setting everything up nicely for part two.
... more about Wank Party #88, Part1 RAW further in this newsletter

Our Coming Soon Set Preview


Trailer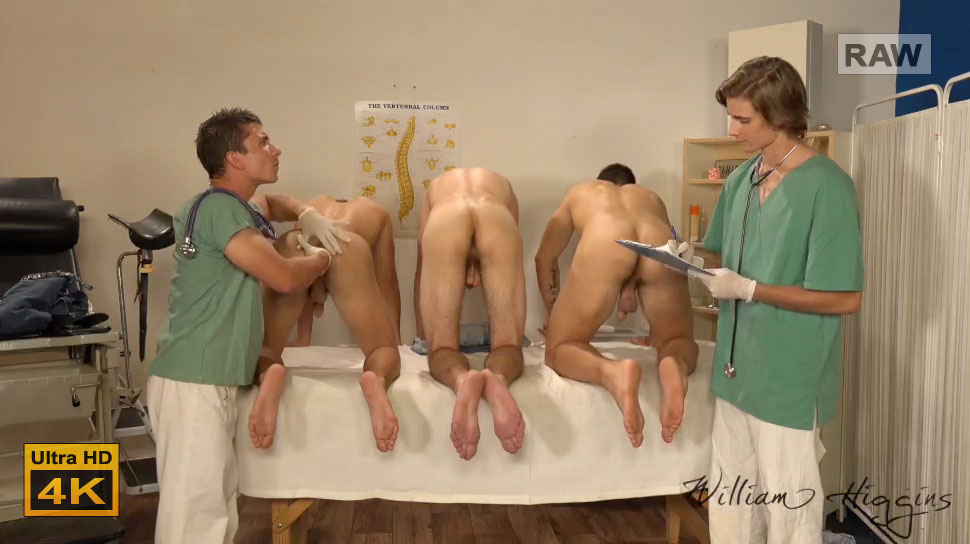 Vlog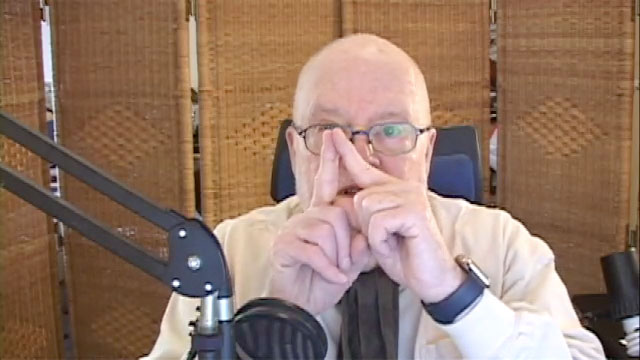 You can watch my Vlog for this Newsletter by clicking above or by going over to the Blog :
http://www.wheuro.com/?p=18078
We're having a lovely TGIFriday in Prague today. The weather outside is as perfect for this time of year as we could wish for.
I want to make a special call-out today to take a special look at Str8hell. Two of the current site favorites are featured. Karel Omanak gets a right-honorable rooting by Tomas Fuk. Karel is so cute. He's only about 5' 4". Just a real beauty. Then we feature our sensational new discovery Alan Pekny getting his ass tanned. Each of these shoots is in the 'do not miss' category.
Meanwhile over at the main site we have a wonderful Wank Party starting today, Part one of WP#88. It features 5 guys models, Kamil Banek, Karel Omanak, Adam Egner, Tomas Berger and Miro Dalek. Then we have a great erotic solo too, with Ozan Bajak, where is hole opens up so well as he shows off his sexy ass. We also have a backstage video with Milan Major and Petr Zuska.
For our castings today we have Ivan Janekov and Filip Onalek. They both look fantastic so it is very difficult to choose between them. Since we already have Filip's solo shoot online I will make him my pick for today.
REMEMBER YOUR CAN ALWAYS CHECK THE OLD WH WEBSITE AT:
NEW SETS AT STR8HELL.COM

Members of str8hell.com get full access to the site and to the full archive of more than 2500 sets on Czech Guys Next Door web site, at:
http://archive.czechguysnextdoor.com/
Non-members can access str8hell.com and browse the complete content, including free video previews and some free photos for each set. Non-members can also search the site, and are able to buy any sets they like, without taking out a full membership. Paying only for the sets you really want to see.
Sincerely
William Higgins

WHVideoShop.com Website Latest Updates


DOWNLOAD OUR VIDEOS IN FULL HD 1920x1080p FROM ALL 6 SITES!
Special Offer for William Higgins Newsletter Readers
William Higgins Newsletter readers are able to obtain a discount on the price of BURNDVD downloads by using the coupons that we will be publishing in each Members Newsletter. The coupon published in each newsletter will be valid for a period of 7 days.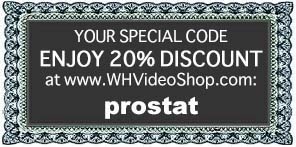 Copy today's coupon code here: prostat

Our Partners:

PLEASE PROCEED TO THE NEXT PAGE FOR THE LATEST WilliamHiggins.com UPDATES