Tuesday, November 14, 2017 - Peter & Romi RAW - FULL CONTACT

Peter & Romi RAW - FULL CONTACT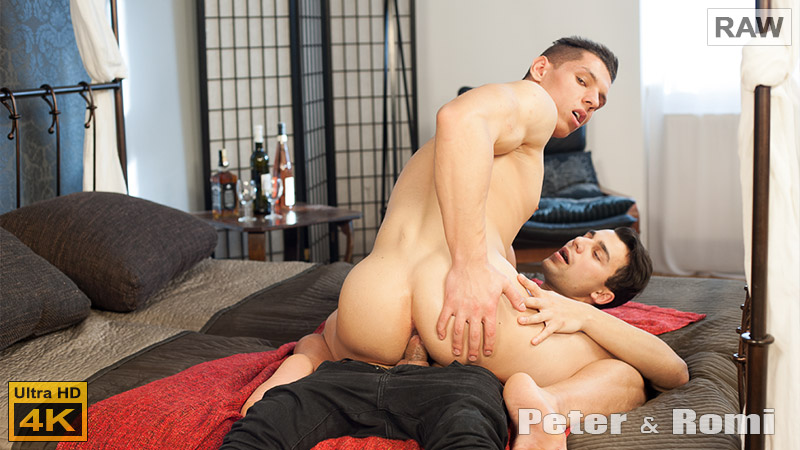 Muscled straight guy Peter Lipnik has showered and is rubbing cream over his sexy body when he is joined by another hot str8 guy Romi Zuska. Romi helps out by rubbing the cream over Peter's back and shoulders. As he rubs he reaches round to Peter's sexy chest and begins to caress him with his lips. Peter turns his head so that they can kiss as Romi continues to feel his body. Peter turns to face Romi as they kiss and Romi drops to his knees, removing Peter's towel. His mouth encloses Peter's face cock and he sucks on it. Romi's mouth works on the cock as it begins to grow, getting nice and hard. His head bobs on the cock and he wanks it too, with Peter's balls getting tight around the base of the shaft. Then Romi lays on the bed and Peter is soon sucking on is cock. The cock is rock hard as Peter's mouth works on it. He wanks the cock too and licks Romi's balls. The Peter straddles Romi and positions the stiff dick against his ass hole, pushing down until the head slips past the sphincter. His hot ass slides up and down on Romi's throbbing cock . Then Romii begins to fuck up into the sexy hole. Then Peter kneels on the bed with Romi naked and hard behind him. Romi slides his cock deep into Peter's waiting hole. He fucks that ass, stretching it wide. Peter takes the dick so well as Romi keeps fucking his ass. Romi climbs onto the bed as his dick pounds Peter's hole. Romi's tight hole is on view too as his dick slides in and out of Peter's ass. He keeps up his hot fucking, speeding up and going deep in the hole until his hot cum is pumped deep inside. Then Romi pulls out and uses his hands to spread that ass as Peter pushes the hot cum out. Then Peter lays on his back and wanks himself until he shoots his cum onto his belly.
... more about Peter & Romi RAW - FULL CONTACT further in this newsletter

Our Coming Soon Set Preview
Franta Tucny, a very cute str8 guy is up for his screentest and is paired with another really hot str8 guy Karel Omanak. Sitting on the bed they chat as Karel asks a few questions. Then they begin to kiss each other. They help each other taking off the tee shirts and Karel begins to kiss Franta's chest. He reciprocates and then Karel helps him remove his jeans to expose a rock hard cock. Karel is soon sucking on Franta's upstanding dick, licking the shaft and working his mouth over the head. Karel removes his jeans and we see that he is rock hard too. Franta leans over and starts sucking on that cock, cupping the balls in his hand as his head bobs on the dick. He does a great job at sucking on Karel's cock, licking the shaft too. Karel lays down as Franta continues sucking and licking the swollen head. Franta lays on the bed so that Karel can slide his hot ass down on the hard cock. He takes that dick deep into his ass as he rides up and down on it. He wanks himself as Franta's dick works his hole. Franta fucks his cock up into Karel's ass as deep as it will go. All the while Karel continues to wank his own throbbing dick. That big hard cock shoots the hot cum onto Franta's belly. Then Karel moves onto his knees with Franta behind him to fuck him some more. Franta's cock stretches the hot hole as he fucks deep. He keeps up the hard fucking until he is ready to cum too and pulls out to dump his cum. Then he leans forward to kiss Karel once more.

OPEN SET WINDOW

Trailer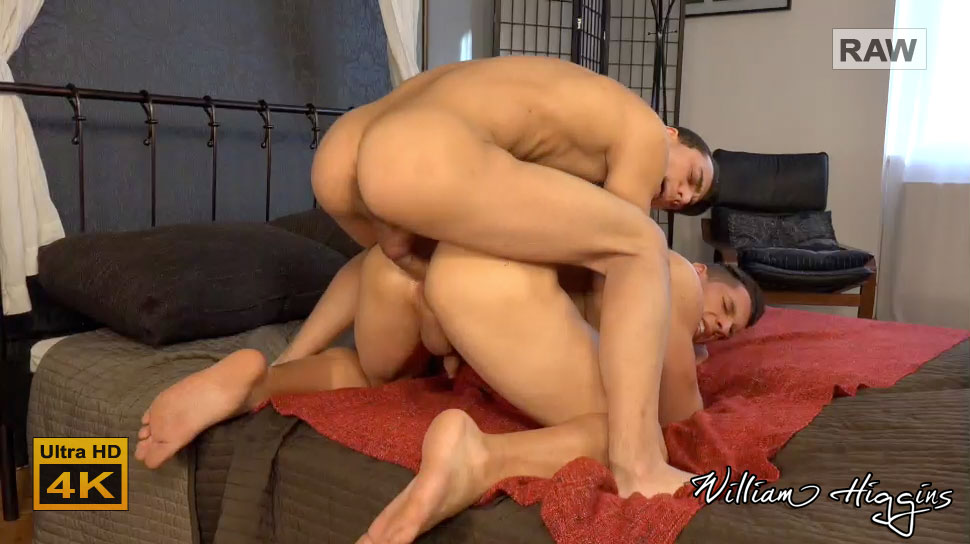 Vlog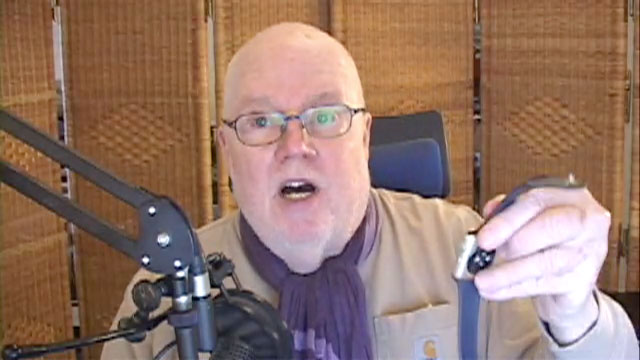 You can watch my Vlog for this Newsletter by clicking above or by going over to the Blog :
http://www.wheuro.com/?p=18243
It's a crisp, sunny cold day in Prague. I really like it. I do want to give special shout-outs to two scenes. The lovely Dylan Bieber, love his hair, does his erotic solo, but about half way through, it turns into a Helping Hand. Just love it when that happens. Then we have a 'soft duo' with Miro Dalek. It's kind of 'soft' but Miro does take it up the bumper chute with a dildo. This 'soft duo' kind of turns into a dress rehearsal for Miro's Cherry Busting. Already filmed, coming soon, stay tuned. Love this guy's smile. Not to mention the rest of him.
Sexy str8 guys Peter Lipnik and Romi Zuska lead things off in today's newsletter with some very hot sex. Then we have a superb soft duo with two more very hot str8 guys in a soft duo, where Kamil Banek seduces Miro Dalek. We then see str8 guy Dylan Bieber in his erotic solo, where he gets a helping hand as well.
Our castings today are very good indeed, Adam Cerny and Ivan Burak. That is one hot muscled guy and a very cute slim guy. They both look good but it is Adam Cerny who gets to be pick of the day.
REMEMBER YOUR CAN ALWAYS CHECK THE OLD WH WEBSITE AT:
NEW SETS AT STR8HELL.COM

Members of str8hell.com get full access to the site and to the full archive of more than 2500 sets on Czech Guys Next Door web site, at:
http://archive.czechguysnextdoor.com/
Non-members can access str8hell.com and browse the complete content, including free video previews and some free photos for each set. Non-members can also search the site, and are able to buy any sets they like, without taking out a full membership. Paying only for the sets you really want to see.
Sincerely
William Higgins

WHVideoShop.com Website Latest Updates


DOWNLOAD OUR VIDEOS IN FULL HD 1920x1080p FROM ALL 6 SITES!
Special Offer for William Higgins Newsletter Readers
William Higgins Newsletter readers are able to obtain a discount on the price of WHVideoShop downloads by using the coupons that we will be publishing in each Members Newsletter. The coupon published in each newsletter will be valid for a period of 7 days.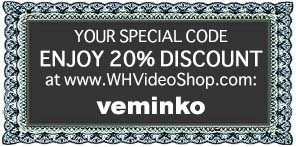 Copy today's coupon code here: veminko

Our Partners:

PLEASE PROCEED TO THE NEXT PAGE FOR THE LATEST WilliamHiggins.com UPDATES