Friday, November 17, 2017 - Franta & Karel - Screen Test RAW - FULL CONTACT

Franta & Karel - Screen Test RAW - FULL CONTACT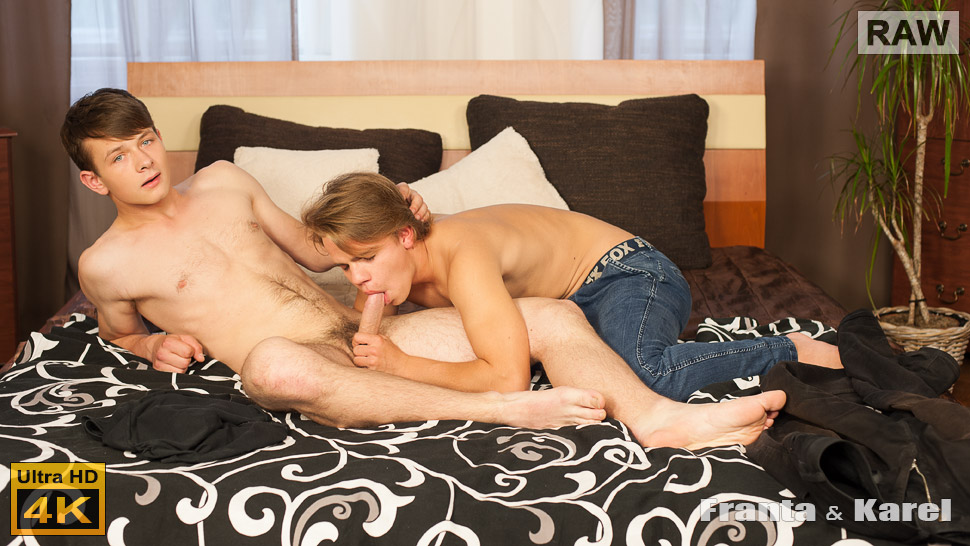 Franta Tucny, a very cute str8 guy is up for his screentest and is paired with another really hot str8 guy Karel Omanak. Sitting on the bed they chat as Karel asks a few questions. Then they begin to kiss each other. They help each other taking off the tee shirts and Karel begins to kiss Franta's chest. He reciprocates and then Karel helps him remove his jeans to expose a rock hard cock. Karel is soon sucking on Franta's upstanding dick, licking the shaft and working his mouth over the head. Karel removes his jeans and we see that he is rock hard too. Franta leans over and starts sucking on that cock, cupping the balls in his hand as his head bobs on the dick. He does a great job at sucking on Karel's cock, licking the shaft too. Karel lays down as Franta continues sucking and licking the swollen head. Franta lays on the bed so that Karel can slide his hot ass down on the hard cock. He takes that dick deep into his ass as he rides up and down on it. He wanks himself as Franta's dick works his hole. Franta fucks his cock up into Karel's ass as deep as it will go. All the while Karel continues to wank his own throbbing dick. That big hard cock shoots the hot cum onto Franta's belly. Then Karel moves onto his knees with Franta behind him to fuck him some more. Franta's cock stretches the hot hole as he fucks deep. He keeps up the hard fucking until he is ready to cum too and pulls out to dump his cum. Then he leans forward to kiss Karel once more.
... more about Franta & Karel - Screen Test RAW - FULL CONTACT further in this newsletter

Our Coming Soon Set Preview
Igor Galek and Igor Tapak, two very hot straight guys give us a great scene. On a hot and sunny day they are in the garden and lay out a towel and sit down on it. Igor G offers to massage Igor T's feet. He begins to run his hands over one foot and then kisses it too. But his attention is drawn to more than feet and he begins to kiss Igor T. Laying him down he straddles his friend, continuing to kiis him as he opens the jeans to release Igor T;s cock. He wanks the cock as he kisses his was down the chest. Then Igor G starts to lick and suck on his friend's cock. He moves back up to kiss him some more and then goes back down on the stiff dick. His mouth wraps tight around the cock as Igor T fucks it in to the mouth. Then Igor G stands and drops his jeans to expose his own massive, and stiff dick. Igor T is quick to suck on it, taking it into his mouth and sliding it in deep. He works on Igor G's big cock for a while and then turns around to present his hot ass. Igor G tongues the tight hole, lapping at it. Then he slides his big cock into that hot hole. He fucks it deep, opening the hole well. His cock pounds away at Igor T's ass, spanking it a few times too. That big dick really stretches the hole and Igor T takes it so well. Igor G uses his belt around Igor T's neck to give me extra leverage as he bangs away at the sexy ass. Then Igor G lays down and Igor T sits on that big dick , taking it all the way in his ass as he rides up and down on it. Igor G fucks his dick up into the ass as hard as he can and his buddy takes it all so well. As he rides he grabs his dick and wanks it until he shoots his hot cum onto Igor G's belly. Then he climbs off and lays down for more cock in his ass. Igor G fucks him hard and fast until he is ready to blow his load too. Then he pulls out and shoots his creamy load onto Igor T, milking every last drop of cum from his big cock.

OPEN SET WINDOW

Trailer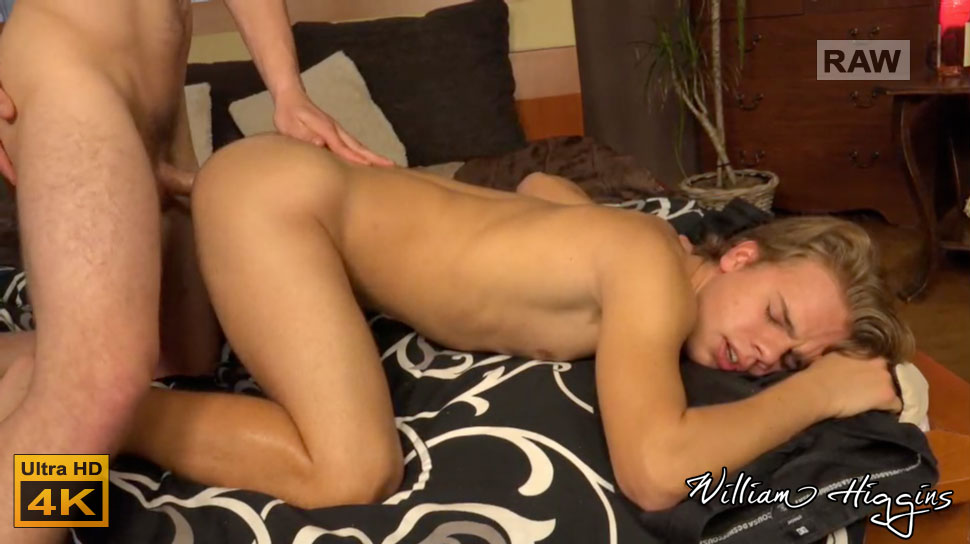 Vlog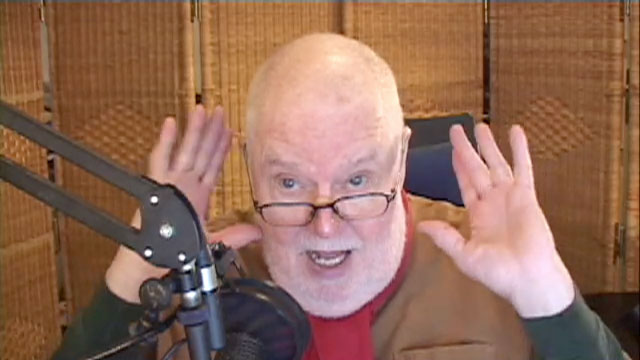 You can watch my Vlog for this Newsletter by clicking above or by going over to the Blog :
http://www.wheuro.com/?p=18260
Today is Freedom and Democracy Day in both the Czech and Slovak Republics. It's the 28th anniversary of the Velvet Revolution in 1989 But it commemorates several other events.
Here's an excellent article:
I'm ashamed to say, while I've lived here for over 25 years, I never attended a Freedom and Democracy Day celebration until the 25th anniversary three years ago. It consisted of lots of Czech heavy metal and/or rap bands plus endless really deadly speeches in Czech by Czech politicians. At the time, I vowed never to attend another one again. Since then I've reconsidered and have decided I'll go to the 50th anniversary in 2039.
For anyone wishing to see a str8 boy getting ready to be fucked this is a really great "Backstage"!! In this Backstage we get a good lesson, from about 5 minutes into the scene, how str8 boy Mirek Madl prepares for his bottomming scene with a dildo before Martin actually fucks him. Even during the trial fucking before the real filming has started... we see his real reaction to being fucked!!
Unusually for the site we have a pretty 22 year old boy who identifies as being gay. About 95% of our models identify as being str8. This becomes a little more evident as his natural exhibitionism comes through during his performance to camera during the shoot. Let's see what he does next on the site? In the early years, we got very few gay models. Now gay guys seem to be becoming a little more relaxed about appearing in gay porn.
Franta is very new to the site and his Erotic solo was posted on 26th October. It was very obvious from his interview that he is really quite shy and not really very experienced at all and he was paired with Karel Omanak who has only bottomed for the site so far. Karel claims to have had his first sex at 12 years old and fucked with 15 different girls since then...so far he appears to prefer to bottom given that the other 4 guys fucked him in Wank Party 88!
Just noticed that this Erotic Solo turns into a "Helping hand". When you click on "More Info..." I noticed that the picture that pops up looks very different from the boy now so I checked. The original "Casting" was posted on 9th April 2014. There was also a "Massage" previously which was posted on 15th March 2015...it looks like this model took a long time to decide to do more for the studio! I wonder if we'll have to wait another year or so for the next shoot?!!
One of the sites best bottoms...Peter Lipnik appears again getting fucked by Romi Zuska. This is the guy when asked "What do you think about gay sex?" in his interview said, "I think it's awful"'. Since then he has been fucked on the main website by Martin Hovor, Nikol Monak, Filo Bruska, Alan Carly, Martin Gajda, Igor Galek and in this latest "Full Contact" by Romi Zuska. Additionally, on Str8Hell he has been fucked by Petr Zuska and Rosta Benecky. Perhaps getting a stiff cock up his arse this regularly by a lot of different guys isn't so awful after all?
Franta Tucny's screentest, with Karel Omanak is a great start to a newsletter, as we enjoy two sexy str8 guys in full, hard, sex. After that we have a very cute newcomer, Petr Kana, with his erotic video. We also have a lovely backstage video with Martin Gajda and Mirek Madl to complete a great line-up today.
For our castings today we have Emil Otaker and Martin Poznik. They both look good to me, but it is Martin's slim build and coy smile that wins the vote as pick of the day.
REMEMBER YOUR CAN ALWAYS CHECK THE OLD WH WEBSITE AT:
NEW SETS AT STR8HELL.COM

Members of str8hell.com get full access to the site and to the full archive of more than 2500 sets on Czech Guys Next Door web site, at:
http://archive.czechguysnextdoor.com/
Non-members can access str8hell.com and browse the complete content, including free video previews and some free photos for each set. Non-members can also search the site, and are able to buy any sets they like, without taking out a full membership. Paying only for the sets you really want to see.
Sincerely
William Higgins

WHVideoShop.com Website Latest Updates


DOWNLOAD OUR VIDEOS IN FULL HD 1920x1080p FROM ALL 6 SITES!
Special Offer for William Higgins Newsletter Readers
William Higgins Newsletter readers are able to obtain a discount on the price of BURNDVD downloads by using the coupons that we will be publishing in each Members Newsletter. The coupon published in each newsletter will be valid for a period of 7 days.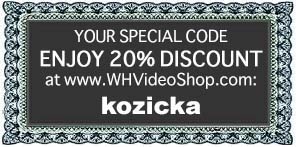 Copy today's coupon code here: kozicka

Our Partners:

PLEASE PROCEED TO THE NEXT PAGE FOR THE LATEST WilliamHiggins.com UPDATES