Friday, December 01, 2017 - Dusan & Mirek RAW - CHERRY BUSTING

Dusan & Mirek RAW - CHERRY BUSTING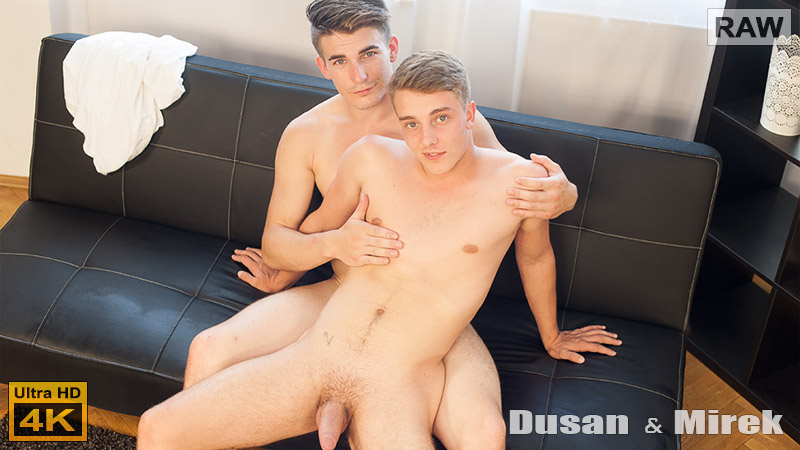 Handsome str8 guy Dusan Polanek gets his cherry busted today by another sexy str8 guy Mirek Madl. We join them as Mirek sits between Dusan's legs having his body felt all over. His tee shirt is removed and Dusan's hands run over the bare chest and down to his groin. Mirek's cock is hard in his shorts as Dusan gropes him. Then Dusan's tee shirt is removed and Mirek goes onto his knees rubbing the bulge and then opening the shorts to release a stiff cock. Dusan takes the shorts off and Mirek gets to work sucking on the big, stiff, cock. His mouth wraps around the thick shaft as he head bobs on the cock. Mirek licks the head too as he works on Dusan's cock. Dusan pushes the head down on his dick, loving the feeling of the mouth on it. Then Mirek moves up to kiss Dusan. Dusan opens Mirek's shorts to release his hard cock. He starts to lick and wank it and then he takes it in his mouth. He takes the cock as far as he can into his mouth as he sucks it, as he wanks himself too. Then Dusan leans back and spread his legs, raising one into the ait to spread his ass. Mirek finger's the tight hole and then positions Dusan, pushing his cock against the hole. The dick slides deep into Dusan's ass as he wanks himself. Mirek starts to fuck that hot ass, stretching the hole wide. His fucking speeds up as he fucks deep into Dusan's hot hole. Then Mirek sits on the sofa for Dusan so slide his ass down on the throbbing cock. Dusan takes it deep into his ass and rides up and down. He works his ass down on the big cock and the holds still as Mirek thrusts his dick deep into the ass, fucking it hard. Dusan wanks himself as he feels the big cock pounding his hole. Soon Dusan's rock hard cock shoots the squirting cum all over the floor. Mirek continues to fuck him hard and fast. Then Dusan climbs off the cock and wanks and sucks it some more. Mirek grabs his own cock and wanks it until he shoots his creamy cum over Dusan's face. Then they go off to the shower to clean up.
... more about Dusan & Mirek RAW - CHERRY BUSTING further in this newsletter

Our Coming Soon Set Preview
Two very sexy str8 guys, Kamil Banek and Adam Nezval are enjoying a kick=about in the garden. When they finish they walk into the barn and Kamil tells Adam he wants something more. He moves to him and they begin kissing and feeling each other. Kamil kisses Adam's chest and nipples and then gropes his shorts. Moving down he opens the shorts and they drop down to reveal Adam's hard cock. Kamil's mouth quickly encloses the dick and he sucks on it. He rubs it too as he sucks with the balls tight at the base of the shaft. Kamil's head bobs on the cock, taking it deep into his mouth as he sucks. Then Adam returns the favour, taking Kamil's throbbing cock into his mouth. He licks all the the shaft and swallows the head, swirling his tongue around it too. Then he turns Kamil around and starts to rim his sexy ass. He pulls the cheeks wide apart to get his tongue into the tight hole. Then Adam stands and slides his rampant rod deep into the waiting ass. He fucks that hole deep and hard with Kamil taking it so well. Adam's cock goes it all the ways and he really bangs away at the hot ass. Kamil's dick stays rock hard as he feel his hole being fucked. They move to the grass and Adam sits. Kamil slides his ass down on the waiting cock, taking every inch as he rides up and down. He wanks himself too as he works his hole on that dick. He wanking speeds up as he continues to ride the big cock. His cock erupts with a fountain of hot cum as Adam's dick is deep in his hole. Adam fucks up into the tight hole until he is ready to cum. Then he pulls out and Kamil kneels before him to watch his cum.

OPEN SET WINDOW

Trailer
Vlog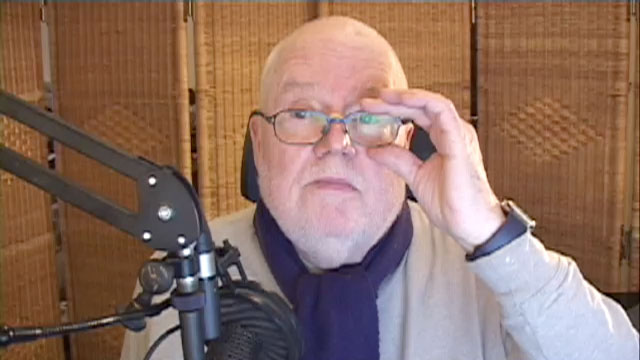 You can watch my Vlog for this Newsletter by clicking above or by going over to the Blog :
http://www.wheuro.com/?p=18304
It's December First and 2017 is almost over. Seemed like New Year's was just yesterday. Appropriately, it turned much colder over night. It's seems like real December weather. But no sign of snow in the Prague valley. But a few flakes have been spotted in the upstairs regions.
Really handsome str8 guy Dusan Polanek gets his cherry busted in today's update. He's really good looking. Used to be we threw 'Cherry Bustings' into the 'Screen Test' category. A viewer couldn't tell, without reading Geoff's running play-by-play commentary, whether a new model was getting busted for the first time or he was trying out as a top. I told the editorial department: Let's start a 'Cherry Busting' category. There response, 'but there will only be one video in that department.' I rejoined: 'That will change quickly.' We sure do bust a lot of str8 cherries on these pages.
I want to second the assessment that str8 lad Ondra Taryk is STUNNING! Miro has already convinced him to do a submission wrestling. Then Miro proposed a 'massage' video. Ondra said, 'I hope it's not a gay video.' I watched the rushes, and Ondra took the vibrator with no problem. Hopefully, he'll progress to the dreaded 'gay video.' Dusan Polanek gets his cherry busted by Mirek Madl to start today's newsletter. These two str8 guys really give us a great scene. Then we have a stunning newcomer, str8 guy Ondra Taryk with his erotic video. We also have a backstage video of Filo Bruska and Laco Meido.
For our castings today we have Ivan Igorov and Igor Janek. Both of the guys look very good but it is Ivan Igorov who gets the vote as pick for today.
REMEMBER YOUR CAN ALWAYS CHECK THE OLD WH WEBSITE AT:
NEW SETS AT STR8HELL.COM

Members of str8hell.com get full access to the site and to the full archive of more than 2500 sets on Czech Guys Next Door web site, at:
http://archive.czechguysnextdoor.com/
Non-members can access str8hell.com and browse the complete content, including free video previews and some free photos for each set. Non-members can also search the site, and are able to buy any sets they like, without taking out a full membership. Paying only for the sets you really want to see.
Sincerely
William Higgins

WHVideoShop.com Website Latest Updates


DOWNLOAD OUR VIDEOS IN FULL HD 1920x1080p FROM ALL 6 SITES!
Special Offer for William Higgins Newsletter Readers
William Higgins Newsletter readers are able to obtain a discount on the price of BURNDVD downloads by using the coupons that we will be publishing in each Members Newsletter. The coupon published in each newsletter will be valid for a period of 7 days.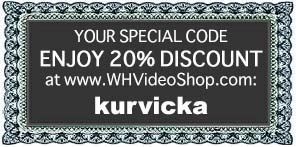 Copy today's coupon code here: kurvicka

Our Partners:

PLEASE PROCEED TO THE NEXT PAGE FOR THE LATEST WilliamHiggins.com UPDATES