Tuesday, December 12, 2017 - Tomas & Hugo RAW - CHERRY BUSTING

Cherry Busting – Tomas Salek & Hugo Antonin RAW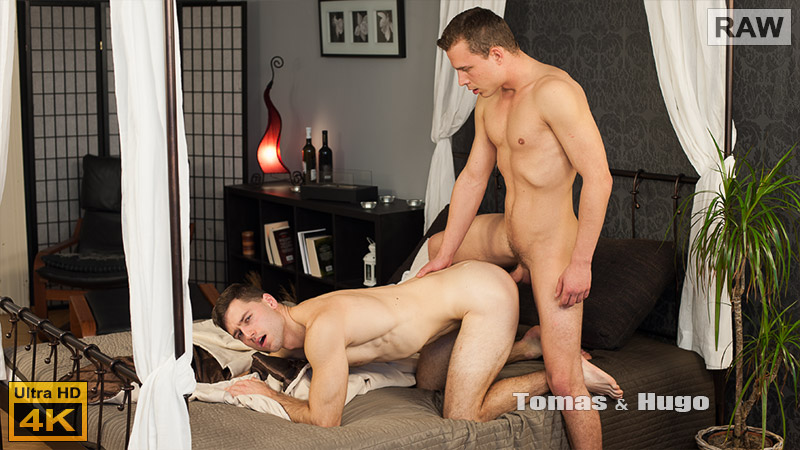 Tomas Salek, the most handsome and sexy of str8 guys gets his cherry busted by another hot str8 guy, Hugo Antonin. We join them as they sit on the bed with Hugo asking questions about Tomas sex life and experience. He gently persuades Tomas to try a kiss and, enjoying it, Tomas decides they can go a little further. They kiss again and Tomas allows his hand to be pressed into Hugo's groin. Hugo removes Tomas' tee shirt, revealing his hot chest. He kisses the chest and then removes his own tee shirt. They continue kissing and groping each other. Hugo opens his jeans and releases his throbbing cock. Tomas takes hold of the cock and wanks it, then leans forward to take it in his mouth. He sucks on Hugo's dick so well for a novice, closing him mouth tight around it. He sucks the dick for a while and then Hugo retuns the favour, taking Tomas' rock hard cock in his mouth. His head bobs on the stiff dick with Tomas pushing him down on it. Cupping the balls Hugo keeps sucking Tomas cock. Tomas enjoys the feeling of a mouth on his dick and takes off his jeans, spreading his legs wide. Tomas goes between the legs to continue sucking on the big cock. Then Hugo wants to fuck Tomas who is not sure he is ready. Getting naked Hugo leans over and kisses Tomas who lays back with his legs in the air. Hugo's rampant cock slides into the virgin hole, going all the way in. Tomas moans as he feels the cock fucking in and out of his tight hole. He takes it all the way as Hugo continues to fuck. Tomas takes hold of his own cock and pulls on it as Hugo keeps fucking that hot hole. Tomas' cock gets even harder in his hand as he wanks and he shoots his hot cream onto his belly as Hugo keeps fucking his ass. Then Tomas turns over, onto his knees for Hugo to fuck him some more. Hugo pounds away at the beautiful, tight, ass. The hole is stretched wide and fucked deep as Hugo pulls out and shoves his dick back in again. His fucking gets harder and faster as the cum builds up in his balls. Tomas takes that dick so well and soon Hugo pulls out and dumps his creamy cum onto that sexy ass.
... more about Cherry Busting – Tomas Salek & Hugo Antonin RAW further in this newsletter

Our Coming Soon Set Preview
Jan Bavor, a very well built str8 guy is the patient in str8 doctor Petr Zuska's office today. Jan is in for a Czech Up and takes off his tee shirt as he sits on the table. Petr checks his chest with the stethoscope. Then he begins to feel Jan's stomach. He presses all around and tells Jan to remove his jeans so he can check the whole belly. Jan does as he is told and then lays on the table for further examination. As he feels the stomach Petr says he must check the prostate as well, so Jan removes his underwear and climbs into the examination chair, placing his legs in the stirrups. That exposes his ass for the exam. Petr puts on his gloves and lubes Jan's tight hole before sliding a finger inside to check it. He fucks the finger in and out and applies more lube too. The finger slides in right up to the knuckle, probing deep. Needing further axamination Petr uses the scope to really open the hole. Jan mentions that the activity has caused him to get hard and Petr takes hold of the stiff cock and wanks it as he fingers the tight hole again. Leaning over he takes the rock hard cock into his mouth for sucking as he continues to finger Jan's hole. Petr licks the balls as well as sucking on the cock. Then he kisses Jan as well, wanking him and fingering the hole. He removes his tee shirt as he continues playing with that fat cock. Petr then drops his pants and slides his hard cock into Jan's mouth for sucking. Jan sucks eagerly at the stiff cock and on the balls as well. Petr then positions himself between Jan's legs and slides his throbbing cock into the hot hole. He fucks that ass deep as Jan wanks himself. Petr fucks deep and hard as Jan keeps wanking. Soon Jan's cock releases a creamy load of cum onto his thick left thigh. He keeps wanking to milk it dy as Petr pounds his tight hole as hard as he can. Then Petr pulls out and grabs his dick to wank it and shoot his hot cum too. Then he leans forward to kiss Jan again.

OPEN SET WINDOW

Trailer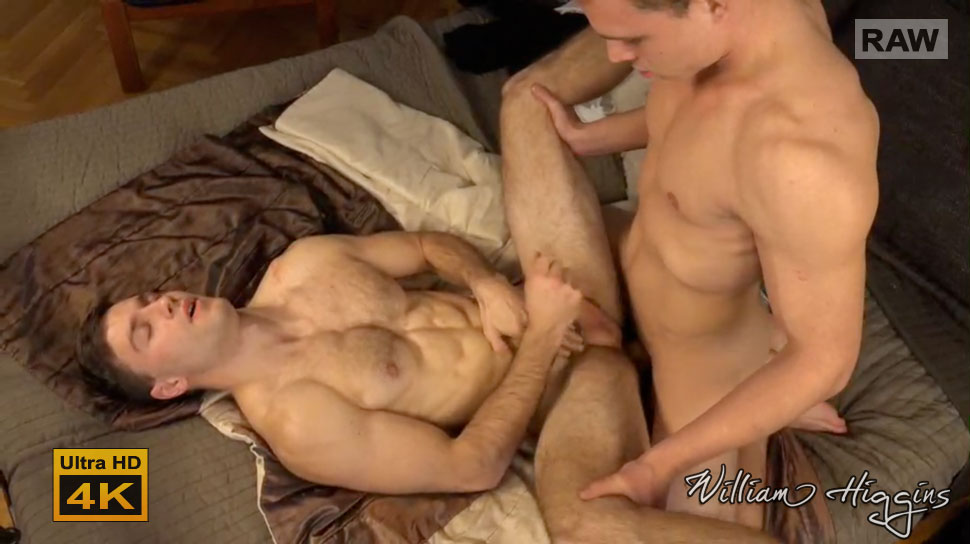 Hi to all, this is Geoff, with today's newsletter. Bill has, as he had hoped, has managed to get away for a few days to visit Berlin while his apartment reconstruction continues. So there will not be a vlog today, but Bill will be back in time for Friday's newsletter and vlog.
We have a wonderful Cherry Busting scene to get things started today. It features two very hot str8 guys, Tomas Salek and Hugo Antonin. It is Tomas who gets a dick in his ass for the very first time. We also have a great wrestling match with two more str8 guys, Alan Pekny and Alan Carly. Then we have a lovely erotic solo from sexy straight newcomer Ivanek Oleg.
Our castings today are very good indeed, Ivan Jenek and Martin Ocenas. They are both great candidates and look very good indeed. But with his enormous cock it is Martin Ocenas who is the pick of the day.
REMEMBER YOUR CAN ALWAYS CHECK THE OLD WH WEBSITE AT:
NEW SETS AT STR8HELL.COM

Members of str8hell.com get full access to the site and to the full archive of more than 2500 sets on Czech Guys Next Door web site, at:
http://archive.czechguysnextdoor.com/
Non-members can access str8hell.com and browse the complete content, including free video previews and some free photos for each set. Non-members can also search the site, and are able to buy any sets they like, without taking out a full membership. Paying only for the sets you really want to see.
Sincerely
William Higgins

WHVideoShop.com Website Latest Updates


DOWNLOAD OUR VIDEOS IN FULL HD 1920x1080p FROM ALL 6 SITES!
Special Offer for William Higgins Newsletter Readers
William Higgins Newsletter readers are able to obtain a discount on the price of WHVideoShop downloads by using the coupons that we will be publishing in each Members Newsletter. The coupon published in each newsletter will be valid for a period of 7 days.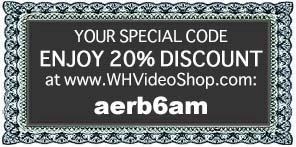 Copy today's coupon code here: aerb6am

Our Partners:

PLEASE PROCEED TO THE NEXT PAGE FOR THE LATEST WilliamHiggins.com UPDATES