Tuesday, January 16, 2018 - Martin & Martin RAW - FULL CONTACT

Martin & Martin RAW - FULL CONTACT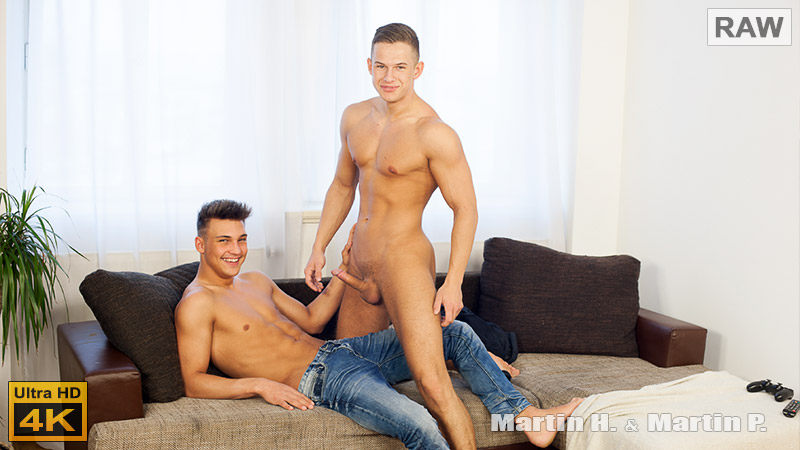 Martin Hovor & Martin Polnak, two great looking str8 guys are enjoying a computer game. But it isn't long until their attentions are turned to each other. They kiss and Martin H's cock seems hard in his jeans as Martin P rubs it. He opens the jeans and releases the stiff cock. Martin P rubs his buddy's sexy body and kisses his chest and nipples, licking his way down to that rock hard cock. He takes the dick in his mouth and starts to suck on it. He wanks the cock, suckng on the balls and then the cock as well. With both guys getting naked Martin P's big stiff cock is exposed too and Martin H quickly starts to suck on it. His mouth encloses the cock as Martin P fucks it into his mouth. Then he pushes the head down on his cock for deep sucking. Martin P then takes another turn on Martin H's big dick. It fucks his mouth hard and then the guys kiss again. Martin P pulls Martin H down onto his cock again, his head bobbing up and down on the cock. Then Martin H bends over, exposing his hot ass. Martin P laps at the tight hole and rubs his finger over it. His finger probes the hot hole and then he shackles Martin H's wrists before sliding his big cock deep into that ass. Martin H moans as the cock fucks him deep. Martin P smacks the ass as he fucks it hard. After he fucks that ass well they change positions and flip, with Martin P sitting his tight hole down on Martin H's cock. He rides that dick and then feels it fucking up into his ass as he wanks himself. Martin H pounds the tight hole as hard as he can with Martin P turning around to face him, before turning back and wanking. His hot hole slides up and down on the thick shaft. Then he wanks even harder as Martin H pummels his ass. That induces the hot cum from Martin P's cock and shoots it all over the place. He climbs off the big cock and kneels to wank Martin H. They kiss some more as Martin H wanks himself and shoots his cum over his friends face. They kiss again and go off to the shower to clean up.
... more about Martin & Martin RAW - FULL CONTACT further in this newsletter

Our Coming Soon Set Preview
Wank Party #92 features 4 hot str8 guys, Laco Meido, Dan Holan, Tomas Salek and Franta Tucny. In this first part we see Tomas adjusting his hair when he is joined by Franta to offers to help. Tomas then does the same to Franta. They begin to kiss as well, letting their hand run over each other. Tomas pushes Franta's jean down a little, reaching inside. Franta opens Tomas jeans and pulls out his stiff cock. Both cocks are soon out and are rock hard as the wank each other while still kissing. Then Tomas leans against the wardrobe as Franta drops to his knees to suck on the stiff cock. Tomas is rock hard as he mouth works on his dick. Franta licks and sucks on that cock as Tomas thrusts his hips. He pushes Franta's head down on the cock as they are joined by Dan and Laco. Laco kisses Tomas as Dan does the same with Franta. Laco drops to his knees and sucks on Tomas' dick as Dan takes Franta's in his mouth too. Both heads bob up and down on the rampant cocks. Tomas and Franta kiss as they enjoy the feeling of the hot mouths on their cocks. Laco then stands and kisses Tomas as Dan and Franta enjoy his cock. Franta then sucks on Tomas again. Laco's huge erection enjoys a lot of attention from both guys and Tomas stays rock hard too as Franta; mouth goes back down on it. Tomas moves to the sofa and is joined by Dan. Dan raises his legs for Laco to rim his hot hot. Tomas' legs are up too as Franta sucks his cock some more. Laco keeps working on Dan's hole, slipping his finger inside. Everythng is set up well for a very hot part two.

OPEN SET WINDOW

Trailer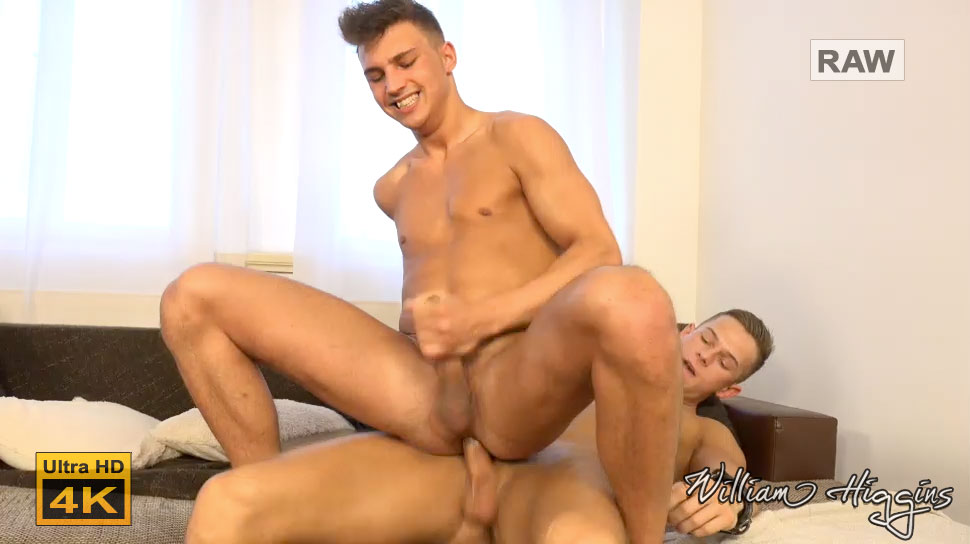 Vlog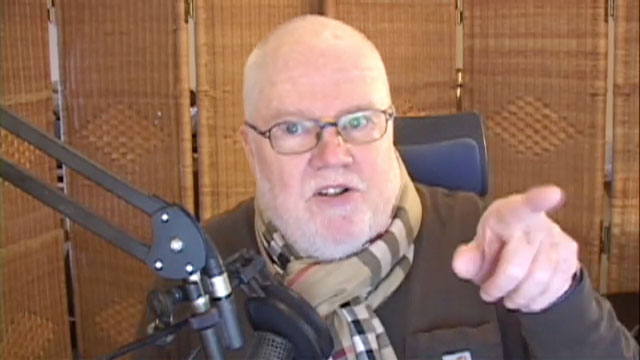 You can watch my Vlog for this Newsletter by clicking above or by going over to the Blog :
http://www.wheuro.com/?p=18455
Here's a quick quiz: How many of you have been watching the site for donkey's years. How many of you remember this guy? He looks almost exactly the same as he did about 20 years ago, except for the silver locks and goatee.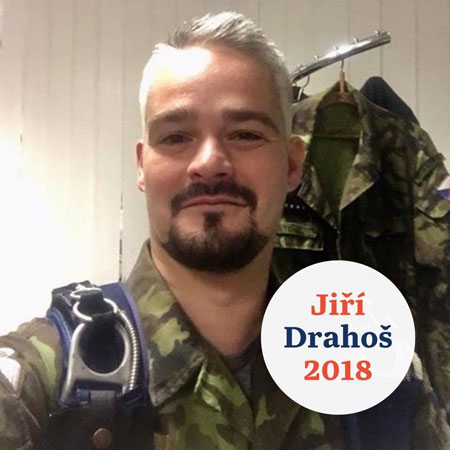 No, he's not Drahos. Drahos is the presidential candidate, whom he's supporting, and who won most of the votes from the Prague area in the first round election last Friday. Drahos is also the candidate for whom I voted in the first round and will be voting for in the second round next Friday. The person pictured is still very handsome and is easily recognizable.
This is our third Newsletter in our 40th year. And I've managed to give myself the sniffles. I'll suck on some zinc tablets as soon as I finish the Newsletter to try to stave off a more serious cold.
Good looking str8 guys Martin Hovor and Martin Polnak flip-flop in a great start to the newsletter today. Then we see Adam Zrzek getting a great massage from Petr Zuska. We then have great looking newcomer, straight guy Erik Lanak with his erotic video.
Our castings today are very good indeed, Milan Hendar and Ivanek Oleg. Both guys look very good indeed, with Milan Hendar being the pick for today.
REMEMBER YOUR CAN ALWAYS CHECK THE OLD WH WEBSITE AT:
NEW SETS AT STR8HELL.COM

Members of str8hell.com get full access to the site and to the full archive of more than 2500 sets on Czech Guys Next Door web site, at:
http://archive.czechguysnextdoor.com/
Non-members can access str8hell.com and browse the complete content, including free video previews and some free photos for each set. Non-members can also search the site, and are able to buy any sets they like, without taking out a full membership. Paying only for the sets you really want to see.
Sincerely
William Higgins

WHVideoShop.com Website Latest Updates


DOWNLOAD OUR VIDEOS IN FULL HD 1920x1080p FROM ALL 6 SITES!
Special Offer for William Higgins Newsletter Readers
William Higgins Newsletter readers are able to obtain a discount on the price of WHVideoShop downloads by using the coupons that we will be publishing in each Members Newsletter. The coupon published in each newsletter will be valid for a period of 7 days.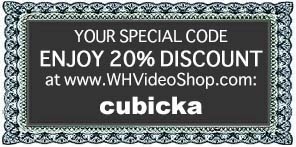 Copy today's coupon code here: cubicka

Our Partners:

PLEASE PROCEED TO THE NEXT PAGE FOR THE LATEST WilliamHiggins.com UPDATES