Tuesday, September 20, 2011 - Dmitry, Artur and Erik

Dmitry, Artur and Erik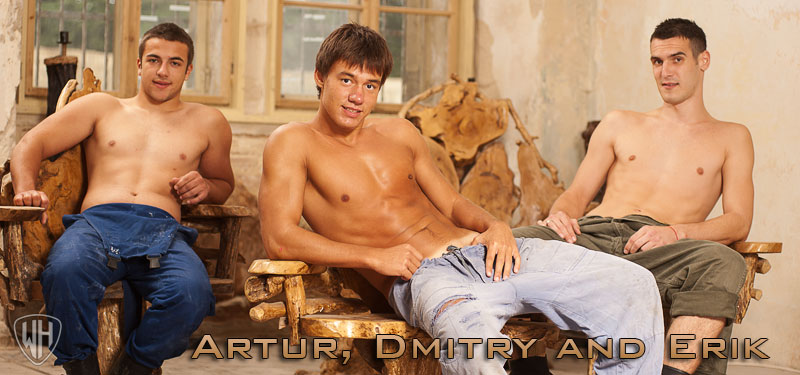 We went on location with Ruslan Tarovsky, Artur Lafek and newcomer Erik Garba. I was interested to see how Erik would get on, as we already know what great performers Artur and Dmitry are. The scene starts with Artur and Dmitry moving some rustic and attractive furniture around, and then as they sit it seems that Dmitry has some stiffness in his shoulders. Artur, ever the willing helper, offers a massage to Dmitry's shoulders, but it's not long before Artur's hands move to rub Dmitry's chest too, and then his mouth goes down to kiss him too. As they kiss Artur rubs Dmitry's groin quite intensively, and then his hand goes in the pants and pulls out a nice big swollen cock and a big pair of balls. Dmitry's cock is big and hard, and Artur wanks it, never taking his eyes of that beauty. Soon Artur cant hold back and goes down on Dmitry's cock sucking it into his mouth. He really enjoys sucking and it fully into it when Erik arrives with the last of the chairs. Seeing Artur on his knees working on Dmitry's rampant rod Erik quickly drop his coveralls, to reveal that he is hard too. Dmitry grabs his cock and starts to ...
... more about Dmitry, Artur and Erik further in this newsletter

Our Coming Soon Set Preview
Zoran Dragonic sent his pics and details to us and we were very impressed with his good looks and great body, so scheduled him for a casting and this shoot immediately afterwards. We lined up Rado Princ to partner him in the shoot. The scene was shot in the basement below our office and starts with Zoran putting on a show, caressing himself for a while and then Rado arrives and immediately starts feeling him and kissing his neck. Then Rado removes Zoran's shirt and the guys kiss. Zoran takes the lead and kisses up and down Rado's body but Rado wants more and both guys drop their jeans and Rado goes down on Zoran's lovely cock as he wanks his own large one. Zoran is eager to show what he can do and sucks on Rado too, really doing a great job, working that dick so well. The guys are really turned on and their cocks are rock hard as they remove the jeans for more action. Zoran sits on the floor so that Rado can fuck his face with his huge throobing cock. He then gets up and kisses Rado, clearly he is enjoying this action. Rado too is clearly up for it and goes down on Zoran again before turning him over and starting to work on his hole, spitting on it, fingering it and rimming it. Such great action, Rado reallys wants that ass, and Zoran is eager to give it up. Nicely prepared Zoran then sits on Rado's massive dick and starts to ride it. Taking that big cock really well Zoran is loving it. Rado starts to really pump that ass, ramming his dick deep inside as Zoran wanks himself. That cock is really working Zoran's hole, stretching it wide as his cock is hard in his hand. Next Zoran bends over and gives full access again, so Rado can shove his dick all the way in which he does, fucking that hot hole for all he is worth. Next to missionary position with Rado deep inside Zoran again and fucking him really well. Zoran loves this action is is wanking himself hard as his hole is being pounded. He cant hold back and shoots his load all over his stomach as his ass is taking a huge cock. That's what Rado wanted to see and pulls out quickly, moving up so he can shoot his load over Zoran's face. Zoran grabs Rado's cock and takes it in his mouth to suck it dry. What a fabulous first scene with Zoran this is. Two great looking guys, with lovely cocks really going at it. Zoran is clearly a good addition to our team.

OPEN SET WINDOW

Latest Updates Trailer
William Higgins Atelier Backstage Vlog
You can also watch my Vlog for this Newsletter by clicking the video above or over at the Blog:
After nearly a week or great Indian Summer weather it turned cold and rainy yesterday in Prague, just when we hosted a reception for an adult convention in our garden. Fortunately, Pavel Nikos rented a propane space heater, and it was quite cozy.
I have some great gossip, which I won't commit to print. I'll only talk about it on my Vlog. Those of you who hate gossip should avoid the Vlog tonight.
We're off to location for three days. Weather is supposed to be fine on Thursday and Friday when we shoot a Super-Wank Party over two days. That should be a lot of fun.
Meanwhile, I posted a lovely Teaser Trailer for a shoot we just made with Rado Zuska and Mattias Solich. As I've previously said Mattias is totally besotted by Rado. Seems like viewers like Mattias just as much as they do Rado. And EVERYONE is in love with Rado. Rado is versatile, but Mattias prefers only to catch. I want to do a threesome, where Rado not only pitches to Mattias, but catches for a third party. I'm open to suggestions for casting. Meanwhile, enjoy this teaser.
MESSAGE ABOUT LINKS TO THE OLD WH WEBSITE - WILLIAMHIGGINS.com ARCHIVES:
Please be aware that the link www.williamhiggins.com takes you to this brand new website now. If you bookmarked our old website in the past and you want to keep the bookmark as a shortest way to access the old WH website you need to change the link in the bookmark to:
You do not need to remember this link, you can conveniently get to the old WH Website - WilliamHiggins.com Archives anytime you need through the "WH 2001-2010" in the top menu of the new WilliamHiggins.com website.
Today's Weather in Prague
CzechGuysNextDoor.com Latest Updates


The Warning for Czech Guys Next Door:None, Two Nice Solo Shoots.
Enter www.CzechGuysNextDoor.com HERE
ENTER www.CzechGuysNextDoor.cz Newsletter Archives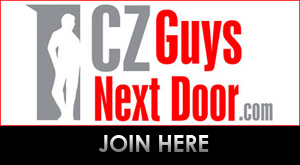 BurnDVD.tv Website Latest Updates


DOWNLOAD AND BURN VIDEOS TO DVD OR DOWNLOAD OUR VIDEOS IN FULL HD
Starting today you can download our videos in Full HD quality 1920x1080px!
Please remember that most of the videos available on BurnDVD are easily able to be downloaded with a single link, but some of the very large files, such as the newsletter DVDs have to be split into three separate links, as detailed below.

The videos with very large file sizes are now split into more than one part, using a program called HJSplit. If you wish to buy one of these larger videos to Burn to DVD, you will receive a link for file and then it is a simple process to join the downloaded files together to make the .iso file for Burning to DVD.

You can see all the available videos at www.burndvd.tv

Before downloading any videos to burn to DVD I advise you to read the BURNDVD Manual, which explains how you can burn the file to DVD. The file is an ISO file which contains all the required DVD files. The process for burning to DVD is fully explained.

The BurnDVD manual is easy to follow, with a step by step guide. Burning a DVD is easy to do, though it is helpful if you have previously burned DVDs or CDs.

The manual can be viewed here: BURNDVD Manual

Anyone who has any problems understanding the manual, or burning their download to DVD, or indeed any questions about this service please email geoff@wh.cz . Geoff will be happy to assist you.

You can view all the available downloads at www.burndvd.tv, by clicking the on the categories. A direct link to the latest files available will be published in each newsletter.
Our Latest Sets at www.BurnDVD.tv
Today we have Ruslan Tarovsky, Artur Lafek and Erik Garba and part 3 of CFNM Fitness Surprise:
Special Offer for William Higgins Newsletter Readers
William Higgins Newsletter readers are able to obtain a discount on the price of BURNDVD downloads by using the coupons that we will be publishing in each Members Newsletter. The coupon published in each newsletter will be valid for a period of 7 days.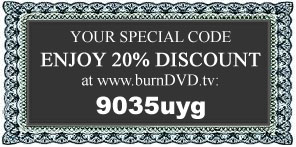 Copy today's coupon code here: 9035uyg

Our Partners:

PLEASE PROCEED TO THE NEXT PAGE FOR THE LATEST WilliamHiggins.com UPDATES