Tuesday, June 05, 2018 - Petr & Miro RAW - FULL CONTACT

Petr & Miro RAW - FULL CONTACT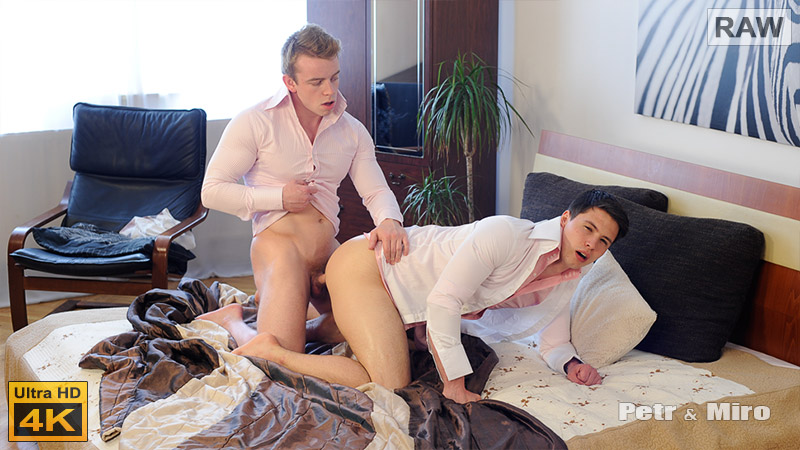 In a wonderful Dreamset, suggested by Floris, we have two very hot straight guys Petr Jarena and Miro Dalek. They both come into the room and collapse onto the bed. Petr says he is very tired and asks Miro to massage him. Miro is happy to avoid and straddles Petr and massages his shoulders. He leans forward and gently kisses his ear. He nuzzles and nibbles the ear and neck. Petr then turns over and they begin to kiss as Miro straddles him again. His hands run over Petr's chest and neck as they continue to kiss. Moving down a little Miro opens Petr's jeans and releases his cock. Petr asks Miro to put on one of his white shirts, and then is asked to try another one. Miro dose as ask and models the shirt, fastening the buttons. Petr tells him to continue dressing and Miro begins to put on a second shirt. Petr gets up to help him and they kiss again. Petr kisses his way down as he kneels and opens Miro's shorts, releasing a big, stiff, cock. He takes the cock into his mouth adn begins to suck it. Petr's head bobs on the big cock. He sucks and licks that huge dick as Miro grabs his collar and pulls him onto the cock. Standing again Petr kisses Miro. Miro kneels on the bed as Petr removes his own shorts. He positions himself behind Miro and slides his stiff cock into the waiting ass hole. Miro's throbbing cock fucks Miro's tight hole, with both of them still wearing theirs shirts. His fucking gets faster and the cock goes in nice and deep as Miro takes it all. Then Petr pulls out and they lay down to kiss. Petr lays on his side and they spoon as Miro's big cock slides deep into the waiting hole. Miro's fat cock is rock hard as it plows deep into Petr's tight hole. He keeps fucking hard until he is ready to cum and then pulls out to shoot his cum onto Petr's shirt covered chest. He milks all the cum from his chest and kisses Petr again. Petr moves up onto his knees, with Miro behind him, and wanks his cock. Miro begins cutting at the shirt as Petr wanks. Then he gives up one of his shirts to replace the damaged one. Wearing the open shirt Petr kneels over Miro and wanks his hot cum over his chest. Then they pull off the tight shirts and kiss again.
... more about Petr & Miro RAW - FULL CONTACT further in this newsletter

Our Coming Soon Set Preview
Those good looking str8 guys Martin Polnak and Milos Ovcacek are enjoying themselves today. Sitting between Milos' legs the barechested Martin turns his head so that that can kiss. Milos runs his hands over Martin's chest and reaches into this pants to feel the hard cock waiting there. Martin lays on the bed and Milos helps him take off the shorts to release that big, hard, cock. Milos immediately starts to suck on the throbbibng dick, taking it all deep into his mouth. He sucks it good, going all the way down on it. With his dick rock hard Martin sits up and begins to grope Milos as he kisses him and licks his chest and nipples. Milos stand and drops his shorts to expose his huge, hard, cock. Martin takes it into his mouth and sucks it, feeling a hand pulling his head onto it. He laps at the balls too and licks the fat shaft. That huge, fat, cock looks so good as Martin's mouth is wrapped tight around it. Mllos fucks his dick into the eager mouth and then Martin stands and pushes Milos onto the bed. Kneeling between Milos' legs he sucks the dick again. Martin sucks and licks the massive cock as Milos lays back and enjoys it. Then Martin lifts Milos legs to get at his ass. He laps at Milos' hot hole for a while, getting it nice and wet. Then he rubs a finger over the hole and slips it inside. He probes the hole gently and licks it some more, taking time out to suck on that huge cock some more too. Then he presents his own throbbing cock to the hole and slides it deep inside. Martin fucks that ass deep as Milos holds one leg in the air. Martin pounds the hot ass hole deep and hard and grabs Milos dick to wank it. Martin then lays on his back and Milos mounts his throbbing dick, sliding his ass all the way down on it. He rides Martin's cock so well, stretching his hole wide as he takes it all. Martin fucks his cock up into that hot hole as Milos bounces up and down. Then Milos dismounts and lays on his back for Martin to fuck him some more. He grabs his dick and wanks as Martin's cock pounds his hole. Milos dick is so big and hard as he wanks it as fast as he can. It quickly shoots the creamy up up his body as Martin's dick bangs away at his hole. Milos milks the cum from his cock while Martin keeps up his hard fucking. Then Martin pulls out of that hot ass and wanks himself to release his cum over Milos. As he milks his dick Milos sits up and kisses him again and they go off to the shower to clean up.

OPEN SET WINDOW

Trailer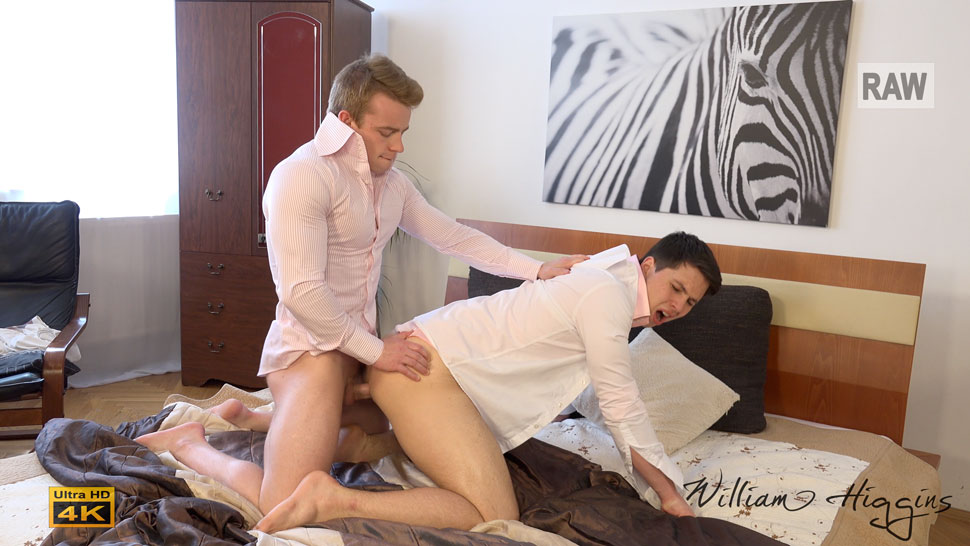 Vlog
You can watch my Vlog for this Newsletter by clicking above or by going over to the Blog :
http://www.wheuro.com/?p=19039
It's quite hot in Prague today. 24º C outside. For us, that's hot. Most of our guest are leaving town by Thursday. We'll just wait here for the next batch to arrive. So, far, no visit from Michael C. But if it happens, I won't be surprised.
Today, we feature a wonderful Dreamset suggested by Floris. I Have a confession to make, Miro Dalek, who is the catcher today is my favorite model currently active on the site, and only when he is passive. However, I must admit he's also a fantastic top. A special 'Thanks' goes out to Floris for suggesting this wonderful pairing.
Leo Dinar is one of the two wonderful, homophobic Slovak boxers who came into the casting couch. Miro persuaded them to do a wrestling together. But that was about it. That evening the more homophobic of the two went home to Slovakia. Leo slept on the studio couch and the following morning did this shoot. Hopefully, he'll be persuaded to do more. There's an old saying, 'Divide and Rule.'
Handsome str8 guys Petr Jarena and Miro Dalek star in a wonderful dreamsest suggested by Floris in a great start to the newsletter. Then we have another great str8 guy Boda Nurak in his massage. We also have an very handsome newcomer, Leo Dinar with his erotic video.
Our castings today are two very hot guys. They are Milan Sabo and Denis Gala. Both look very good indeed with Milan and his enormous dick being the pick for today.
REMEMBER YOUR CAN ALWAYS CHECK THE OLD WH WEBSITE AT:
NEW SETS AT STR8HELL.COM

Members of str8hell.com get full access to the site and to the full archive of more than 2500 sets on Czech Guys Next Door web site, at:
http://archive.czechguysnextdoor.com/
Non-members can access str8hell.com and browse the complete content, including free video previews and some free photos for each set. Non-members can also search the site, and are able to buy any sets they like, without taking out a full membership. Paying only for the sets you really want to see.
Sincerely
William Higgins

WHVideoShop.com Website Latest Updates


DOWNLOAD OUR VIDEOS IN FULL HD 1920x1080p FROM ALL 6 SITES!
Special Offer for William Higgins Newsletter Readers
William Higgins Newsletter readers are able to obtain a discount on the price of WHVideoShop downloads by using the coupons that we will be publishing in each Members Newsletter. The coupon published in each newsletter will be valid for a period of 7 days.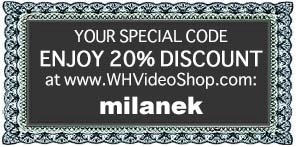 Copy today's coupon code here: milanek

Our Partners:

PLEASE PROCEED TO THE NEXT PAGE FOR THE LATEST WilliamHiggins.com UPDATES