Tuesday, June 12, 2018 - Alan & Tomas RAW - FULL CONTACT

Alan & Tomas RAW - FULL CONTACT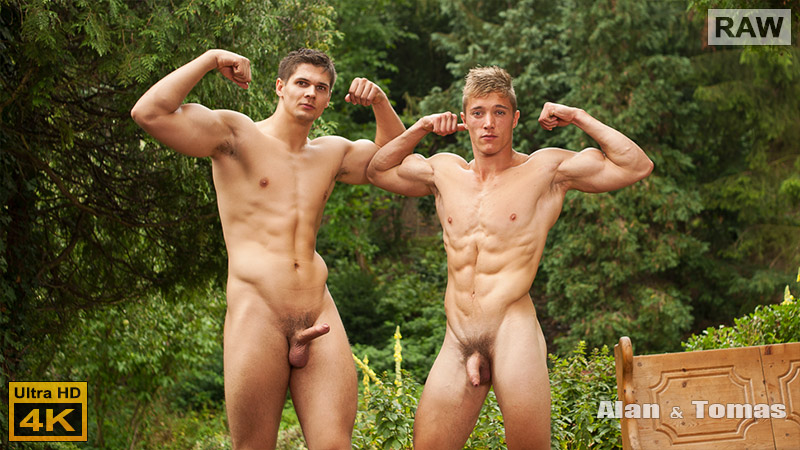 Handsome str8 guys Alan Pekny and Tomas Fuk are in the park, having fun with one of those mini movie cameras. Tomas has it on a selfie stick and Alan performs a little, showing off his sexy ass and his cock, as well as flexing his hot muscled body too. Then they move and find somewhere to sit and check the video. Tomas has other ideas too though and puts down the camera. He begins caressing and then kissing Alan, who responds well by groping Tomas. Tomas leans over to kiss Alan's chest, working his way down and pulling off the shorts. That exposes Alan's hadening cock, which Tomas eagerly takes into his mouth. His head bobs up and down on the hard dick sucking it all the way down to the base. Alan's balls are tight around the base as he enjoys the hot mouth on his dick. He rubs Tomas' shoulders as he enjoys the cock sucking. Then Alan stands up for Tomas to suck him some more. He pulls Tomas' head onto his cock, and holds the mini camera in place to film the sucking. Then Alan turns around, bending forward, to present his hot ass to Tomas. Tomas pushes his face into that hot ass and starts to lap at the tight hole. He licks the hot hole and kisses the ass, holding the camera to film himself at the same time. Then Tomas stands up and presents his big, hard, cock to the ass and slides it deep inside. He stretches Alan's hole wide as his dick pushes into it and begins to fuck. As he fucks deep and hard Tomas' balls swing back and forth. Alan takes the cock so well, pulling is ass cheeks wide apart to get all of that thrusting cock. Then Tomas pulls out and sits down. Alan mounts that big cock, sliding his ass down on it. Tomas fucks him hard, thrusting up into the waiting hole. He continues to fuck that hot ass as Alan stands with one foot on the bench. Alan grabs his own cock and wanks it as Tomas continues pounding his ass deep. Alan then moves again, laying along the bench as Tomas films himself fucking. Alan keeps wanking as his hole is banged deep. He keeps wanking until his shoots his hot cum onto his body as Tomas fucks him. Tomas continues fucking until he is ready to cum too. He pulls out and wanks the cum from his throbbing cock with one hand, as he holds the camera, to film it, with the other. He too milks the cum from his dick and then Alan stands and they kiss again to end a wonderful scene.
... more about Alan & Tomas RAW - FULL CONTACT further in this newsletter

Our Coming Soon Set Preview
Wank Party #97 features a great cast, Kristof Trnka, Karel Opec, Karel Omanak and Bozek Kolek. In this first part Karel Om is busy packing a suitcase when his phone rings. He quickly answers it, to say he doesn't have time to chat and returns to packing. His friends come in and disrupt his packing, finding his rather large dildo in the process. As Karel tries to take the dildo from them he is pulled onto the bed and the guys all start kissing. They start to strip off as they kiss and feel each other. Bozek it first to be naked, releasing his big, hard, cock. Then the others all takes off their jeans too. Kristof and Bozek wank each other as they kiss and the two Karels doing the same. Then they swap parners with Karel Om wanking and then sucking on Bozek's dick. Karel Op lays back for Kristof to suck his throbbing cock too, with Bozek sucking him at the same time. Then Kristof and Karel Op swap places, with Karel Op sucking him. Bozek sucks him and Karel Om continues working on Bozek;s dick. Then is it all change again. Bozek and Karel Op suck each other and Krisrof sucks the kneeling Karel Om. The sucking conintues with Karel Op kneeling as Bozek works on his rampant cock. Kristof continues sucking Karel Op, his head bobbing up and down on the rock hard cock. Then Karel Om stands and kisses the other Karel. Bozek and Kristof take turns at sucking on Karel Op's big cock. He, meanwhile sucks on Karel Om. Then Karel Om kneels and presents his ass for Karel Op to rim as Kristof lays on his back, legs up, for his ass s to feel Bozek's hot tongue.

OPEN SET WINDOW

Trailer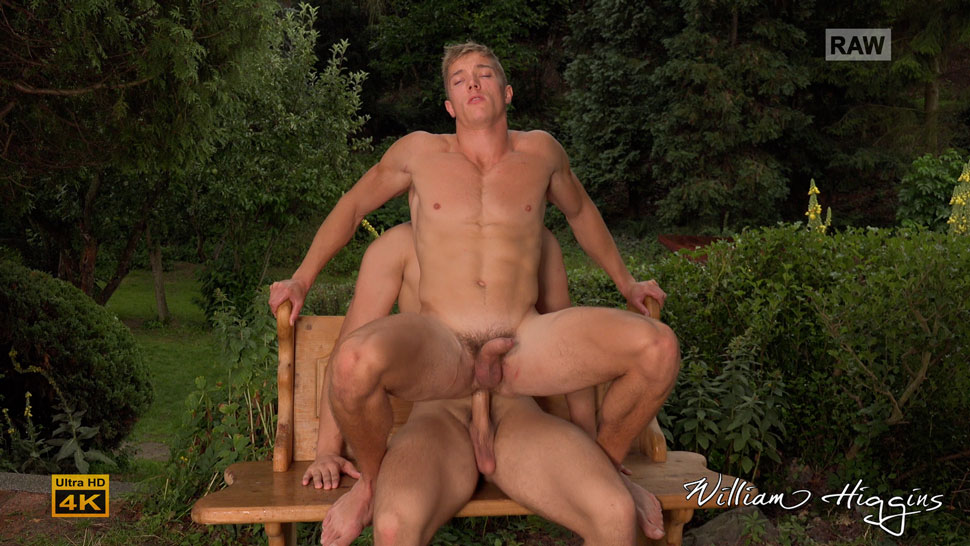 Vlog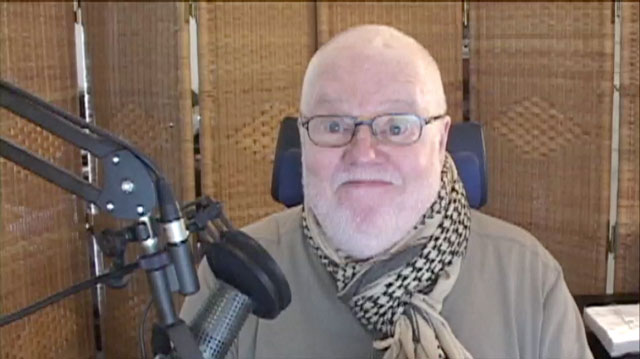 You can watch my Vlog for this Newsletter by clicking above or by going over to the Blog :
http://www.wheuro.com/?p=19069
We've had some very welcome quite heavy thunderstorms in Prague since the last Newsletter. The temperature has cooled down quite a bit, thank you very much. And more thunderstorms might be headed our way from Germany. I certainly welcome the rain and cooler temperatures.
We have a great RAW duo between str8 guys Alan and Tomas. Many, many viewers have commented about the fabulous location. Pavel Nikos has stated he doesn't want to use that location again because it's too far away. He has to drive the models for the next scene there, and drive the models from the previous scene back to Prague. Admittedly, it's a drag. I for one, think the location is worth it. But I'm not doing the marathon driving. At least it's not Greece or South Africa.
We have a fabulous duo with handsome str8 guys Alan Pekny and Tomas Fuk leading things off today. Then we see hot str8 guy Petr Ujen getting a great massage. We also have a very good newcomer, Kristof Trnka in his erotic solo.
Our castings today are two very hot guys. They are Gabriel Lonar and Tibor Jozef. They both look good, but it is Gabriel who excels and is pick of the day.
REMEMBER YOUR CAN ALWAYS CHECK THE OLD WH WEBSITE AT:
NEW SETS AT STR8HELL.COM

Members of str8hell.com get full access to the site and to the full archive of more than 2500 sets on Czech Guys Next Door web site, at:
http://archive.czechguysnextdoor.com/
Non-members can access str8hell.com and browse the complete content, including free video previews and some free photos for each set. Non-members can also search the site, and are able to buy any sets they like, without taking out a full membership. Paying only for the sets you really want to see.
Sincerely
William Higgins

WHVideoShop.com Website Latest Updates


DOWNLOAD OUR VIDEOS IN FULL HD 1920x1080p FROM ALL 6 SITES!
Special Offer for William Higgins Newsletter Readers
William Higgins Newsletter readers are able to obtain a discount on the price of WHVideoShop downloads by using the coupons that we will be publishing in each Members Newsletter. The coupon published in each newsletter will be valid for a period of 7 days.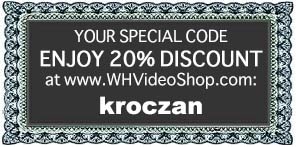 Copy today's coupon code here: kroczan

Our Partners:

PLEASE PROCEED TO THE NEXT PAGE FOR THE LATEST WilliamHiggins.com UPDATES