Friday, July 06, 2018 - Karel & Tomas RAW - CZECH UP

Karel & Tomas RAW - CZECH UP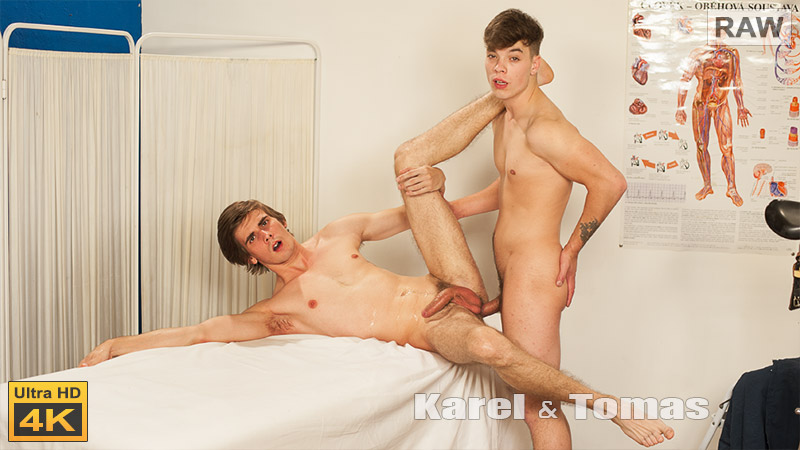 Sexy str8 guy Tomas Berger visist Dr Karel Polak in his office. Tomas is walking with the aid of a crutch, and with his right knee bandaged. He is here to have it cheked out. Karel takes a quick look at the knee and then instructs Tomas to strip. Tomas does that, down to his boxers and then lays on the table. Karel checks the injured leg again, removing the bandage and feeling un and down the leg. He says that he will massage the leg and drips some oil onto it. As Karel's hands work on the leg Tomas' underwear is giving a nice view of his balls. He lays flat on the table as Karel exercises the leg and continues to massage it. Then hands rub all over the thick, hairy, thigh and up into the underwear. Karel bends forward and starts to kiss and lick Tomas' cock, pushing the underwear aside. He kisses the balls too. Tomas' cock quickly gets very hard indeed and Karel's mouth completely encloses the swollen head. He wanks and sucks the thick cock and licks at the balls, sucking them into his mouth. His head bobs up and down on Tomas' rock hard cock as he rubs a hand over the sexy chest. Tomas enjoys the hot mouth on his big cock and Karel strips naked before clmbing over Tomas so they can 69. He sucks on Tomas dick as his own slides into the waiting mouth. Tomas' underwear is removed and the 69 continues, as they suck hard. Then the both stands and kiss as they wank each other. Tpmas then turns around and bends over the table. He feels Karel's rock hard dick enter his hot ass. He wanks himself as Karel pounds the tight hole as hard as he can. Karel holds onto Tomas' hips as he thrust his fat cock deep into that eager ass. Tomas wanks himself so hard as he takes the big cock in his hole. Karel bangs that ass as hard and as deep as he can as Tomas keeps wanking himself. Tomas then turns over and lays on the table for Karel to fuck him some more. He keeps wanking his own cock as Karel's stretches his ass wide. Karel's hard thrusting hips ram his dick so deep into Tomas' ass. Tomas' balls are tight at the base of his cock as he wanks himself and shoots his hot cum up his sexy body. The thick cream lands in big globs as he mlks his dick dry. Karel continues to fuck the hot ass hard until he is ready too. Then he pulls out and wanks his dick to shoot his cum over Tomas. Tomas wanks both cocks together and Karel leans forward to kiss him.
... more about Karel & Tomas RAW - CZECH UP further in this newsletter

Our Coming Soon Set Preview
Gabriel Lonar is a very handsome str8 guy who gets his Cherry Busted by the sexy Tomas Fuk. When Tomas arrives he sits with Gabriel and does a brief interview. Tomas persuades Gabriel into a little experimentation, starting with some kissing. As they kiss Tomas guides Gabriel's hand to start stroking his leg. Then he takes off Gabriel's tee shirt and begins to feel his chest. He kisses and licks the sexy chest and then removes his own tee shirt. Gabriel's hand begins to explose Tomas' body as he feels a hand groping his groin. Tomas licks at Gabriel;s chest and works his way down to his jeans. He opens the jeans and releases Gabriel's cock, taking it into his mouth. That dick is rock hard as Tomas pushes the jeans down and starts working on it. His mouth envelops the head and slides up and down on the thick shaft. Gabriel lays back and enjoys the feeling as his dick is sucked and his big balls lay between his thighs. Tomas mouth slides up and down on the cock, licking the head. Then he sucks on Gabrial's balls too. He then kneels and pulls out his own rock hard dick and Gabriel shows that he is eager to suck too. He takes the cock into his mouth and starts to suck it. His tongue licks around the head and the cock slides back into his mouth as Tomas pulls his head onto the dick. He does a great job of sucking that cock then they kiss some more before Tomas asks if he can fuck Gabriel. A little unsure Gabriel does assume the missionary position and feels Tomas' cock head pushing against his hot hole. That dck slides deep into Gabriels' virgin hole and starts to fuck. Tomas fucks deep into the ass as Gabriel takes it well. Tomas takes hold of Gabriel's cock and wanks it as he fucks the tight hole. Then as the fucking gets faster Gabriel wanks himself and quickly shoots his hot cum all over himself. He continues to milk his cock as Tomas keeps up his fucking. Then Tomas withdraws his cock and shoots his creamy cum onto Gabriel's balls. Having fucked him well Tomas leans forward to end with another kiss.

OPEN SET WINDOW

Trailer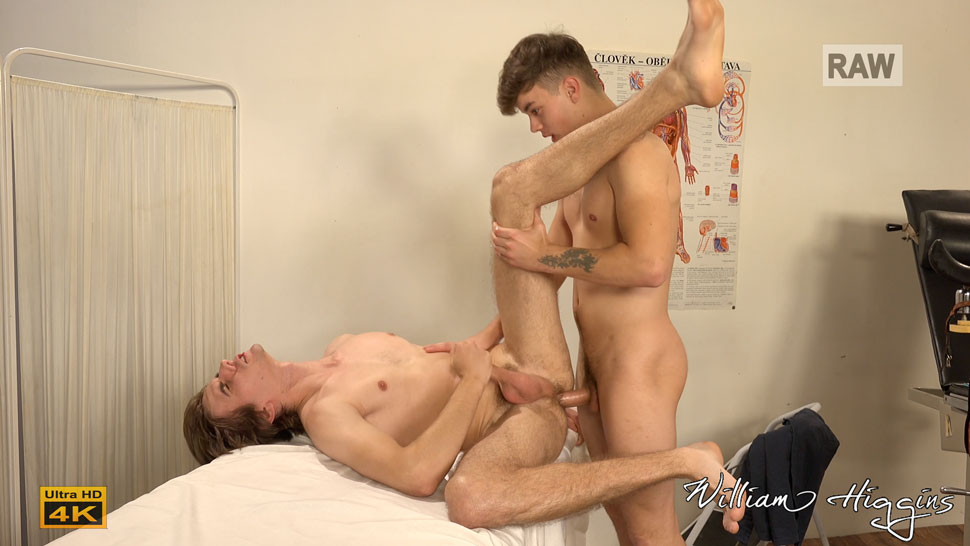 Vlog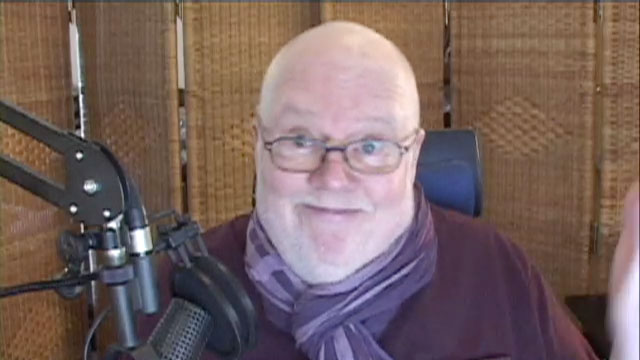 You can watch my Vlog for this Newsletter by clicking above or by going over to the Blog :
http://www.wheuro.com/?p=19174
Prague is enjoying a slight drizzle at the moment. Not much rain, but certainly has cooled things down. Meanwhile the town in virtually empty as Czechs started their holidays last Friday. About the only souls around are tourists. Today, is the second of two official holidays. It's Jan Hus Day.
I see in the morning papers that another 'former' Oklahoma is headed back to the Sooner State. A friend who lives in Germany wrote: "I heard from three friends in Oklahoma last night. They said, 'no surprise,' he did the same things back in Oklahoma." Good to see someone going back to Oklahoma, otherwise, it would be 'will the last one out, please turn out the lights.'
We have a great CzechUp today. Slave driver Pavel made Miro and David come in yesterday. They shot an absolutely fantastic CzechUp. Actually, yesterday was a good day for shoots. As most of the models had the day off and could easily come into the studios.
Don't miss Str8hell today. There's a great spanking.
Handsome straight guy Tomas Berger gets a great Czech Up from another straight hottie, Karel Polak to start today's newsletter. Then we have a fantastic new straight guy Oto Useda in his erotic video. We also have a great bonus set featuring Gabriel Lunna and Diego Lauzen.
We have two very good candidates for casting today, Tomas Folen and Ales Seman. Both are worthy candidates with Ales getting the vote as pick for today.
REMEMBER YOUR CAN ALWAYS CHECK THE OLD WH WEBSITE AT:
NEW SETS AT STR8HELL.COM

Members of str8hell.com get full access to the site and to the full archive of more than 2500 sets on Czech Guys Next Door web site, at:
http://archive.czechguysnextdoor.com/
Non-members can access str8hell.com and browse the complete content, including free video previews and some free photos for each set. Non-members can also search the site, and are able to buy any sets they like, without taking out a full membership. Paying only for the sets you really want to see.
Sincerely
William Higgins

WHVideoShop.com Website Latest Updates


DOWNLOAD OUR VIDEOS IN FULL HD 1920x1080p FROM ALL 6 SITES!
Special Offer for William Higgins Newsletter Readers
William Higgins Newsletter readers are able to obtain a discount on the price of BURNDVD downloads by using the coupons that we will be publishing in each Members Newsletter. The coupon published in each newsletter will be valid for a period of 7 days.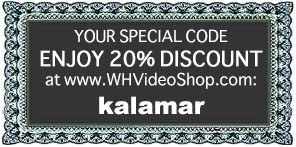 Copy today's coupon code here: kalamar

Our Partners:

PLEASE PROCEED TO THE NEXT PAGE FOR THE LATEST WilliamHiggins.com UPDATES