Friday, July 13, 2018 - Wank Party #98, Part 1 RAW - WANK PARTY

Wank Party #98, Part 1 RAW - WANK PARTY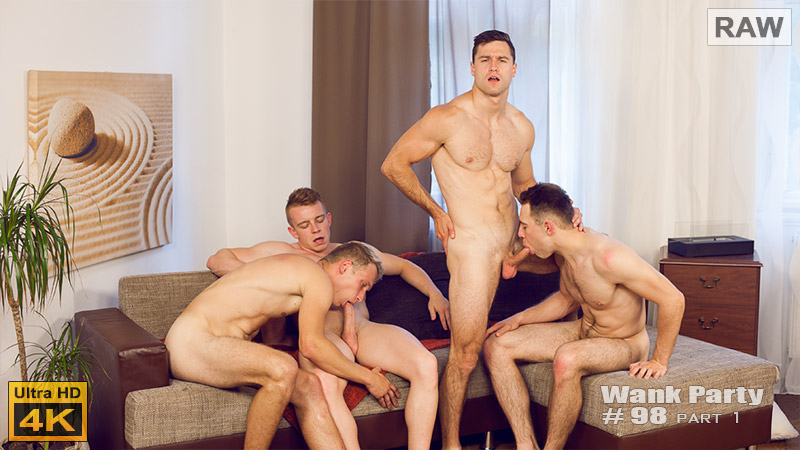 We have a great cast in Wank Party #98, Tomas Salek Petr Jarena, Petr Ujen and Kristof Trnka. In this first part Tomas and Petr J are bare chested and walking in the park. Petr U runs up to join them, apologising for being late. As the continue walking they wonder where Kristof is, but not for long as he quickly joins them. The four of them go back to the apartment and immediately begin to kiss and rub each other. Petr J's cock is soon in Kristof's hand and being wanked, Then both their shorts are down showing off hard cocks. Tomas' shorts are lowered too as Petr U wanks him. Kristof begins to suck on Petr J's throbbing cock as Petr U leans over and does the same to Tomas. He licks up and down Tomas' rock hard cock. Petr J then sucks Kristof's big cock as Petr U continues to working his mouth down on Tomas' dick. Kristof and Petr Jtake turns on each other while Petr U keeps sucking Tomas. Petr U moves to the other side of Tomas and continues to suck as Tomas leans over to kiss Petr J. Kristof keeps up his sucking and wanking too. Petr U leans over and joins Kristof in sucking on Petr J's fat cock. Then they both share Tomas' dick too, licking and sucking his balls as well. Petr U then sits up and Tomas takes a turn on his dick. He is soon replaced by Petr J sucking the cock. Tomas then starts to work on Kristof's cock. Petr U kneels on the sofa as the other three crowd around him. Petr J sucks as Kristof and Tomas kiss. They all take turns on Petr U's cock. Then Kristof sits, his cock standing up, and lets the others take turns at sucking. Petr U then kneels and bends over, presenting his ass for Tomas to rim as Kristof raises his legs for Petr J to lick and finger his hot hole. He wanks himself as he feels the finger pushing into his ass, setting everything up for part two.
... more about Wank Party #98, Part 1 RAW - WANK PARTY further in this newsletter

Our Coming Soon Set Preview
Leo Lombar and Martin Hovor, are two very hot and handsome str8 guys. In this scene Leo arrives and sits on the sofa, after coming back from the gym. Martin comes in and sits next to him. He begins to feel Leo's biceps as they are flexed and then the two of them start to kiss. Leo's tee shirt is pulled off, and then Martin's is too. Leo pushes down his jeans to release his stiffening cock which Martin takes in his mouth and sucks. His head bobs on the throbbing cock as Leo relaxes and enjoys the feeling. He pushes Martin's head down on his hard cock. Martin sucks on the balls too and wanks the cock as well. Then he kisses Leo and gets naked himself. Laying back on the sofa he relaxes as Leo takes a turn at sucking. Martin's big cock fills his mouth as the bearded Leo's lips are wrapped tight around the shaft. Then Leo lays back and raises his legs to expose his tight hole. Martin laps at the hole for a while. Then Leo turns over, onto his knees, presenting his ass to Martin's big hard cock. The cock slides deep into Leo's tight hole and Martin starts to fuck. Leo's tight hole is stretched wide as Martin's dick fucks in and out. The fucking speeds up as the dick works in and out of Leo's ass. He turns over so they can spoon with Martin's dick pounding the hot hole. Leo wanks himself as Martin keeps fucking hard. Leo keeps wanking himself as he takes the big cock in his ass. He shoots his hot cum as Martin keeps fucking him. Then Martin pulls out of the ass to wank his dick and shoot his creamy cum. He milks his cock dry and they kiss again to end a lovely scene.

OPEN SET WINDOW

Trailer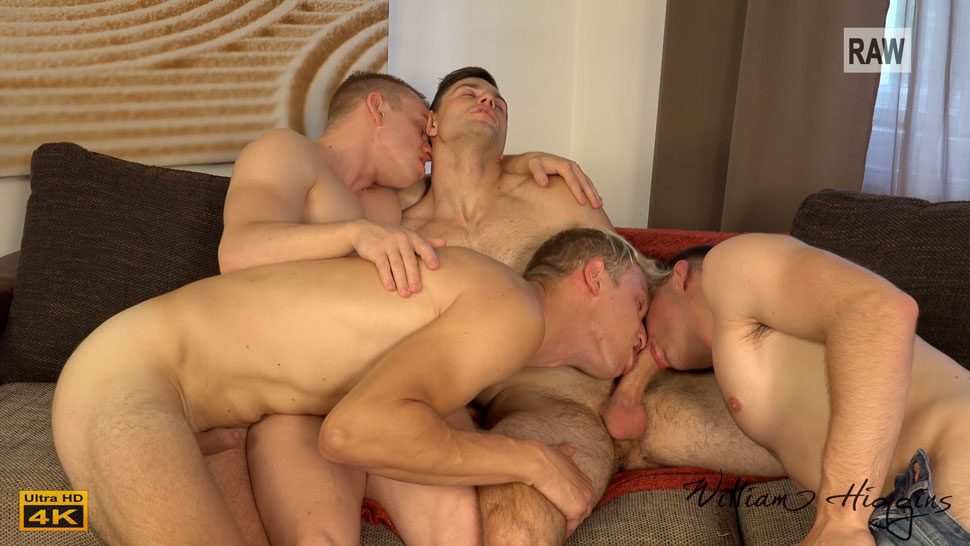 Vlog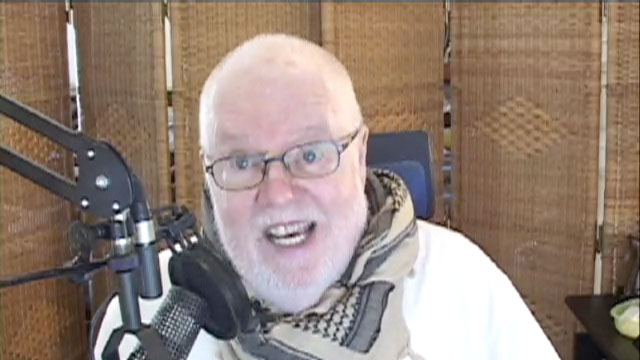 You can watch my Vlog for this Newsletter by clicking above or by going over to the Blog :
http://www.wheuro.com/?p=19207
I don't know whether to say 'Happy' but today is one of the not so many Friday the 13ths of 2018. It seems to received wisdom that the negative connotations of Friday the 13th trace back to the arrest of the Knights Templar in the middle ages. The king of France was looking for a way to steal all of the Templars' assets. He struck on Friday the 13th. Here's an article in today's Independent:
I need to comment on the Solo of Peter Sunek which turned into a Helping Hand. In his interview:
A subscriber wrote:
He speaks excellent English and is interviewed by Frankie.
He claims to be hetero but he has kissed his best friend..when they were drunk...but says during the interview:
Frankie: "Have you ever kissed or hugged your best friend?"
Petr: "Yes....like many times"
Frankie: "You have no problem with that?"
Petr: "No because every time I was drunk...and like if we do it someone else will give us money. Money is money so....
Frankie: "Anything more than just kissing?"
Petr: "No"
Frankie; "Would you do it for money?"
Petr: "Yes"
Frankie: "What do you think how far you would go?"
Petr: "It would matter how far that person would go with money...everything has it's price"
Frankie: "Ok thank you very much."
I think we know what we are dealing with here......I suspect your old phrase is applicable here..."Permission to be gay"
I think we get confirmation very quickly as I watched and realised that the Erotic solo was more of a Helping hand...and Petr comes very quickly after David starts to jerk him off ...we are only 11 mins 40 secs into this 24 minute scene.
For the next 9 minutes or so Petr is finger fucked by David before he starts to jerk him off again...David almost got him to cum again!!
I have a theory in which I believe very strongly. About 2o years ago, I shot a movie at in Spain at the house of a very successful retired advertising executive. He said, 'in the advertising business back in New York, we always looked for a hook in an ad that gave the viewer "permission to believe."
From that, I developed the William Higgins corollary: "Money is the permission to be gay." If anything will work, that will work. You're not gay, you're only doing it for the money. It's just a gig. I've followed my corollary both in my professional and personal lives.
What a great cast we have for Wank Party 98, Petr Jarena, Tomas Salek, Kristof Trnka and Petr Uren. Today we have part one and it is very good indeed. We then have a really cute straight guy, Petr Sunek who receives a helping hand. Then we have a very nice backstage video featuring Boda Gold and Peter Andre.
We have two very good candidates for casting today, Ivan Hulk and Petr Wanek. They both look good, with Petr getting the vote as pick for today.
Coming over the weekend is a great RAW duo with Leo and Martin. Be sure to catch it.
Over at Str8hell we have a fabulous Young Offenders and a terrific Hot Ass. Be sure to check them out.
REMEMBER YOUR CAN ALWAYS CHECK THE OLD WH WEBSITE AT:
NEW SETS AT STR8HELL.COM

Members of str8hell.com get full access to the site and to the full archive of more than 2500 sets on Czech Guys Next Door web site, at:
http://archive.czechguysnextdoor.com/
Non-members can access str8hell.com and browse the complete content, including free video previews and some free photos for each set. Non-members can also search the site, and are able to buy any sets they like, without taking out a full membership. Paying only for the sets you really want to see.
Sincerely
William Higgins

WHVideoShop.com Website Latest Updates


DOWNLOAD OUR VIDEOS IN FULL HD 1920x1080p FROM ALL 6 SITES!
Special Offer for William Higgins Newsletter Readers
William Higgins Newsletter readers are able to obtain a discount on the price of BURNDVD downloads by using the coupons that we will be publishing in each Members Newsletter. The coupon published in each newsletter will be valid for a period of 7 days.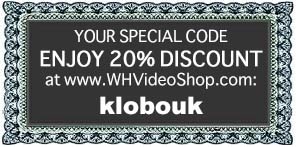 Copy today's coupon code here: klobouk

Our Partners:

PLEASE PROCEED TO THE NEXT PAGE FOR THE LATEST WilliamHiggins.com UPDATES