Tuesday, July 17, 2018 - Leo & Martin RAW - FULL CONTACT

Leo & Martin RAW - FULL CONTACT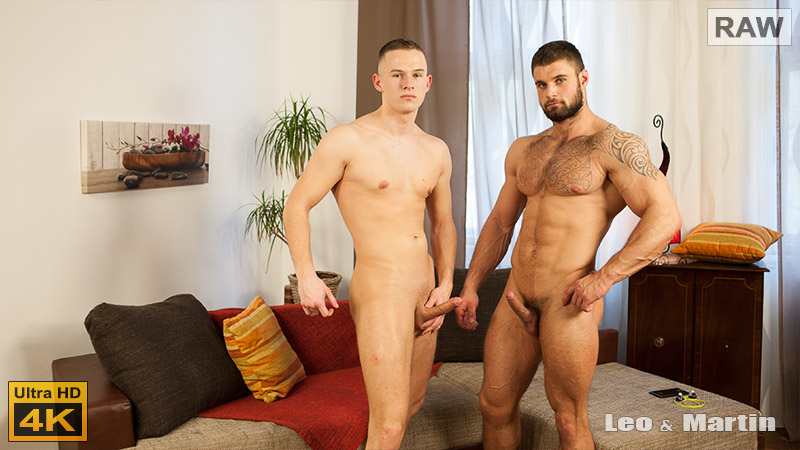 Leo Lombar and Martin Hovor, are two very hot and handsome str8 guys. In this scene Leo arrives and sits on the sofa, after coming back from the gym. Martin comes in and sits next to him. He begins to feel Leo's biceps as they are flexed and then the two of them start to kiss. Leo's tee shirt is pulled off, and then Martin's is too. Leo pushes down his jeans to release his stiffening cock which Martin takes in his mouth and sucks. His head bobs on the throbbing cock as Leo relaxes and enjoys the feeling. He pushes Martin's head down on his hard cock. Martin sucks on the balls too and wanks the cock as well. Then he kisses Leo and gets naked himself. Laying back on the sofa he relaxes as Leo takes a turn at sucking. Martin's big cock fills his mouth as the bearded Leo's lips are wrapped tight around the shaft. Then Leo lays back and raises his legs to expose his tight hole. Martin laps at the hole for a while. Then Leo turns over, onto his knees, presenting his ass to Martin's big hard cock. The cock slides deep into Leo's tight hole and Martin starts to fuck. Leo's tight hole is stretched wide as Martin's dick fucks in and out. The fucking speeds up as the dick works in and out of Leo's ass. He turns over so they can spoon with Martin's dick pounding the hot hole. Leo wanks himself as Martin keeps fucking hard. Leo keeps wanking himself as he takes the big cock in his ass. He shoots his hot cum as Martin keeps fucking him. Then Martin pulls out of the ass to wank his dick and shoot his creamy cum. He milks his cock dry and they kiss again to end a lovely scene.
... more about Leo & Martin RAW - FULL CONTACT further in this newsletter

Our Coming Soon Set Preview
Sexy str8 guys Milos Ovcacek and Peter Lipnik have some great fun today. Peter is on the pone when Milos comes into the bedroom and starts for caress him. Peter ends his call and Milos helps him off with his tee shirt and then lays him down on the bed. He kiss Peter and feels over his chest. Then Milos pulls Peter's pants band down to get a quick taste of his cock. He moves back up and kisses Peter again. Then Peter pushes his pants down to release his big, hardening cock. Milos is quickly on it, taking hold and sucking that dick. His head bobs up and down as he sucks the cock. Then he licks and wanks it too. Milos deep throats that rock hard cock, his lips going all he way down on it until they touch Peter's balls. He continues to suck and wank on Peter's cock for a while. Then Peter gets completely naked and turns over, onto his belly. Milos likes that and quickly starts to rim Peter's hot hole. His tongue laps at the hole and he teases it it with a finger too. The ass is given some gentle slaps as well as Milos continues to rim the hole. He removes his shorts to reveal his massive, rock hard, cock as Peter turns onto his side. Milos presents his dick to the waiting ass and pushes in. That massive cock enters Peter's tight hole, slowly, and stretches it wide. Milos begins to gently fuck the tight hole going deeper and deeper as he begins to speed up. Soon his big cock is pushing all the way into the Peter's ass. Peter takes that dick so well as it fucks his ass. As Milos fucks that sexy ass he grabs Peter's cock and wanks it a bit too. Then Peter lays on his front and Milos climbs on top to fuck his ass harder. His cock pile-drives into the eager hole as the balls get tight around the shaft. That fat dick really works Peter's hole. It comes out and slams back in, with Peter's hole gaping as the cock pulls out. Peter turns over, onto his belly and Milos fucks him missionary style. His big cock fucks deep and hard as Peter moan. He grabs his own cock and starts to wank it as Milos continues to fuck his hole. The fucking gets even harder and Peter soon shoots his creamy cum onto his belly. He milks the cum from his cock as Milos keeps up his deep fucking . Then Milos pulls out and lays down to wank his big cock. He quickly dumps his hot cum onto himself as he kisses Peter to bring a great session to an end.

OPEN SET WINDOW

Trailer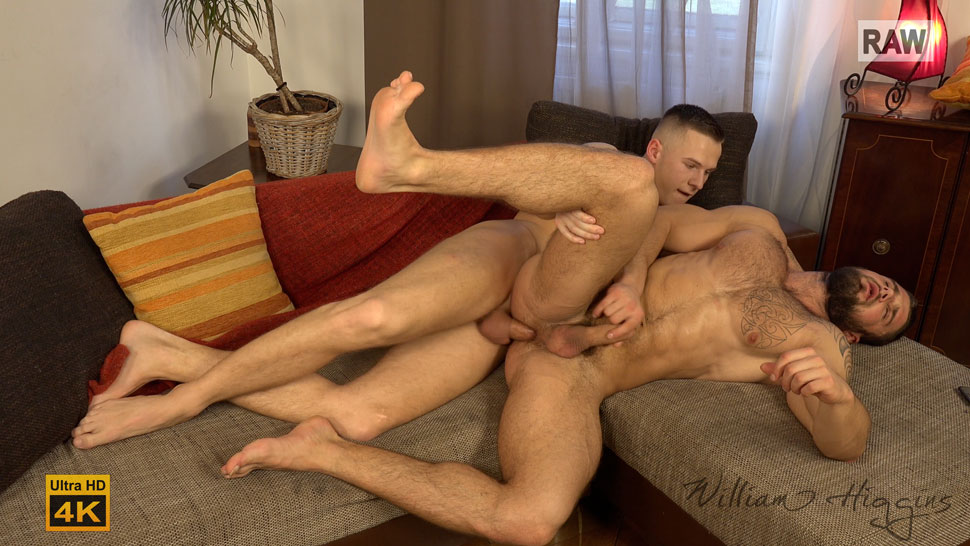 Vlog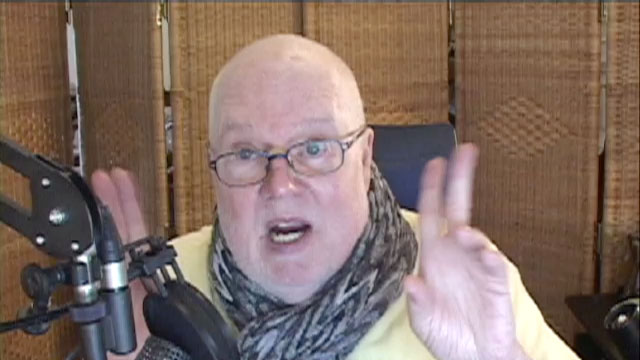 You can watch my Vlog for this Newsletter by clicking above or by going over to the Blog :
http://www.wheuro.com/?p=19216
The other day, I cam across a short clip from a German/Czech TV movie for a German TV network. It is called musterungen Die Freibadclique. It's a WWII movie about a group of young swimmers who are called up to serve in the final days of WWII. I'm pretty sure most of the locations were in the Czech Republic, as it's cheaper to shoot here. And you can still find many locations that fit the time period. The scene is a group of over 40 lads standing naked for their army physicals. Also, I'd lay strong odds that all of the speaking parts were played by Germans and the non-speaking roles by Czechs. The movie was shot in 2017. Here's my point. It would not be difficult at all to find 40+ Czech lads to stand naked in front of a camera. My question is, how given current trends, did they find 40 guys with pubic hair and NO tattoos? With 40 years experience, I can tell when a tattoo has been covered by makeup. I would give the producers credit for working a miracle.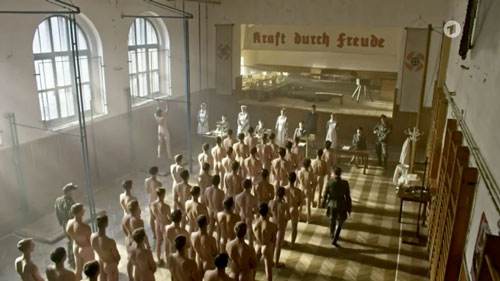 You might have guessed, I'm not impressed by the latest male fashion trends.
Here's a link where you can watch the clip on Tumblr:
https://vtt.tumblr.com/tumblr_p6bkco21o81wqb4ub_480.mp4
Two of the most handsome straight guys, Leo Lombar and Martin Hovor, give us a great scene to start today's newsletter. Then we see another hot str8 guy, Igor Zobor, in his massage. We also have yet another very sexy str8 guy, Milan Neros with his erotic video.
Our castings today are two very good guys. They are Igor Zobor and Omer Tunek and they each do a great casting. Omer with his lovely slim and very fit body, is the pick for today.
REMEMBER YOUR CAN ALWAYS CHECK THE OLD WH WEBSITE AT:
NEW SETS AT STR8HELL.COM

Members of str8hell.com get full access to the site and to the full archive of more than 2500 sets on Czech Guys Next Door web site, at:
http://archive.czechguysnextdoor.com/
Non-members can access str8hell.com and browse the complete content, including free video previews and some free photos for each set. Non-members can also search the site, and are able to buy any sets they like, without taking out a full membership. Paying only for the sets you really want to see.
Sincerely
William Higgins

WHVideoShop.com Website Latest Updates


DOWNLOAD OUR VIDEOS IN FULL HD 1920x1080p FROM ALL 6 SITES!
Special Offer for William Higgins Newsletter Readers
William Higgins Newsletter readers are able to obtain a discount on the price of WHVideoShop downloads by using the coupons that we will be publishing in each Members Newsletter. The coupon published in each newsletter will be valid for a period of 7 days.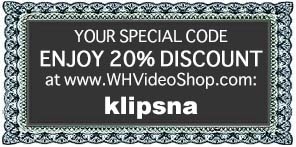 Copy today's coupon code here: klipsna

Our Partners:

PLEASE PROCEED TO THE NEXT PAGE FOR THE LATEST WilliamHiggins.com UPDATES