Tuesday, October 04, 2011 - Mattias, Roman and Zdenek

Mattias, Roman and Zdenek


Roman Demuth, Mattias Solich and Zdenek Zimola are having a day out in the woods, and we first see them as they are searching for somewhere to have a picnic. They eventually find somewhere and lay a blanket on the ground. Once settled they start to eat, with Roman and Zdenek sitting on the blanket sharing food. The sharing quickly turns to kissing and Mattis moves to stand behind them. They turn and open Mattias' jeans to reveal his throbbing cock, which the two guys feast on for a while. Roman then stands to kiss Mattias as Zdenek continues to suck. Roman then removes his jeans too allowing his rock hard cock to breathe. Mattias grabs it and starts to wank as Zdenek is still sucking him. Then Zdenek too is naked, and hard. He stands to kiss Mattias too. Mattias then drops to his knees to suck on both Roman and Zdenek in turn. He then wants more and presents his ass to Zdenek for rimming as Roman gets beneath him to suck on his cock. Zdenek rims that hot ass for a while and then pushes is big fat dick deep into ...
... more about Mattias, Roman and Zdenek further in this newsletter

Our Coming Soon Set Preview
Tibor Vachil is from Plzen and is aged 20. He is self-employed and enjoys sports, friends, music and hockey. Tibor looks great as he sits on the couch for his interview, shirt open and jeans rolled up. He starts to rub his chest and groin, dipping his hand into the jeans for a feel, releasing the top button of the jeans for easier access. Then, when he is hard in those jeans, he shucks them down and his big fat cock flops out. His hand grabs it and wanks, then he leaves it standing to attention as he rubs his body some more. Tibor then stands and we see that his balls hang nice and low as he plays with his nipples as well. Off comes the shirt and that cock is sticking out delightfully. Good to see that Tibor is unshaved down below, and under his arms. His cock head glistens as he wanks himself and then he turns around to expose his ass to us. He spreads his cheeks and his hole is fully exposed, and it looks quite open too. Tibor then lays across the sofa and wanks himself as some oil is dripped onto his torso. Then a helping hand starts to massage the oil into his body. A smile keeps appearing of Tibor's face as the hand does its work, going up and down his chest and onto his legs. The hand takes hold of that big cock and starts to wank it, and then Tibor wanks himself as the hand explores further, under his balls, which elicits more smiles. Some very gentle tickling under the balls and on his hole really gets a lovely response from Tibor. Then he moves down the couch slightly so that, with his legs in the air, he ass is fully exposed. As he wanks that rock hard cock the hand teases his ass some more and then tickles his feet before leaving Tibor to continue his wank. He then moves onto his knees with his ass pushed out so we see more of his hole, with his cock pushed backwards as well. The helping hands spread Tibor's cheeks for a great view and push his cock up against that tight pucker hole before leaving him to wank himself to a very nice climax. Then it is off to the shower for him. What a lovely guy Tibor is, and what very good video shoot. I like him very much and hope he will consider more work.

OPEN SET WINDOW

Latest Updates Trailer
William Higgins Atelier Backstage Vlog
You can also watch my Vlog for this Newsletter by clicking the video above or over at the Blog:
Today, I posted my Third First Look at our Wank In the Woods, 2011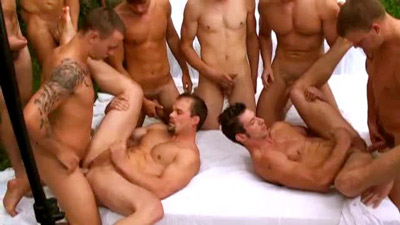 http://www.wheuro.com/?p=9399
I'm back from the Venus convention in Berlin. The weather was FANTASTIC. As Pavel Nikos pointed out, the convention was a month earlier this year. The payoff was some beautiful weather.
The convention was a complete bust. There was hardly any porn represented. What was offered was from companies that had never exhibited there before. That means, they didn't realize there were no new contacts to be made, and if the past is any clue, they won't be back next year, because exhibiting at one of these shows is a very expensive proposition.
The convention, in a word was dildos! Everyone is getting out of the porn business and into the 'rubber goods' or 'toys' business, meaning 'dildos.' An old friend who works for one of the largest str8 porn distributors told me they are getting in the 'toy' business. I thought, but didn't say, you and everyone else. It used to be whenever the str8 companies would have a bad year, they would start producing gay videos. They did that until the figured out they didn't have any feel for what the gay market wants, and then they'd try something else.
I also didn't tell my friend, 'why do you think anyone would go into a dirty, nasty sex shop just to buy a dildo when you can order anything y0u want from Amazon, have it delivered for free the next day in a completely anonymous Amazon brown box? There have been two sex shops in my neighborhood of Prague go out of business within the last 18 months, one only about four months ago. In Prague, you can order anything you want on line, from big distributors, and have it delivered for next to nothing the very next day.
I met with other friends. They have new business plans. Last I heard they had 1990s business plans, this time they'd developed 1980s business plans. I did buy some, guess what, dildos, to use in the CFNM and ambush solo shoots. I have to say if you buy dildos from a gay leather company, they are so large that any straight guy seeing them coming at him, would be half way down the block, naked before you could yell at him to stop. I've also tried lesbian strap on dildos. They are frankly made out of jello type material that is way too soft to do the job. So, I got some intermediate sizes that seem to be made of substantial materials. If they work, it will be worth the trip. (BTW, any ideas where to buy strap on dildos that won't completely scare off straight guys?)
I spent half a day at the show on Thursday, and that was really stretching things out. Then I played hooky and went to the KaDeWe. They had some Snoopy Dog pilots caps, I think they're called mad pilots caps. The ear flaps come all the way down and wrap around your chin. I have about four pilots or trooper caps. But last winter was so cold in Prague, they didn't do the job. I first bought one. It was great. Then I found a much more expensive Barbour one. I thought I'll exchange the first one and buy the second one. But kept both. That was quite expensive. It's good insurance. After spending that much money on mad bomber caps, maybe we'll have a really warm winter in Prague this year. If so, the price will have been well worth it.
Friday, I took the step on step off bus tour of Berlin. I first took one of those tours in Barcelona. Let me tell you, they are WELL WORTH IT, at double the price. I learned more about Berlin this trip on that bus tour than I have in my 50 or so previous visits. (When I checked in the hotel, the cute young asked 'your first to Berlin?' 'No,' I answered, 'I was here when the wall came down.' Probably before he was born. Berlin is not a very photogenic city. But the Gendarmenmarkt place looked great. I hopped off the bus, and there was a little film waiting to be made. Take a look at it on the Blog:
Back on the train, First Class Car. There was a lady, with a pink lilac Sony Viao, lilac nail polish and lip gloss, I kid you not. She was watching old color Marilyn Monroe musicals on that thing, until the screen started flashing, 'emergency battery failure,' and then, thankfully, it went dead. I thought, 'Madam, haven't you every heard of Carmen Miranda, oh so much more colorful and in Technicolor.
Last year, when getting my big roller duffle bag off the train in Prague, it swung around and hit me a nasty whack in the ankle. Quite painful for about a week. I was determined to avoid that this year. I'd just pitch the thing off. Well, I was standing on the top step of the wagon, that is quite high, you know, I pitched, but my hand was still on the retractable handle. It hit the bottom stair, pivoted, and dumped me head first onto the concrete platform. A very hard fall. No one saw it fortunately. I did manage to get up. I'd landed on the thumbs of both hands. Very painful. I immediately thought, 'not broken.' After two days, I'm sure they weren't broken, but oh so swollen and painful. I also bunged up my bad foot, and it is in terrible shape today. I might have to go to the doctor over that tomorrow. Next year, for sure, I will find a more graceful way of exiting the train, that is if I go to Berlin again. Except for the hard, hard landing, it was an very enjoyable trip.
Oh, yes, there was a bit of good news. On Sunday, I discovered that someone had completely reinstalled the OS on my iMac, which I with great difficulty had managed to completely screw before leaving. Not a thing was lost. Now, I've turned on the 'Time Machine' a very nifty back up program that where I can go back to any state hourly for months. That should obviate the most recent trauma. Macs are extremely difficult to screw up, but when you do, the consequences are very serious. At least the don't get viruses.
And, in answer to your question, No, I am not planning on buying a Kindle fire. Reason: Eight hour battery life, and they always like about that. MacBook Air has about five or six hours going full tilt. Normal Kindle has days, and days, and days.
My pick for the Casting Couch today is Martin Laska
MESSAGE ABOUT LINKS TO THE OLD WH WEBSITE - WILLIAMHIGGINS.com ARCHIVES:
Please be aware that the link www.williamhiggins.com takes you to this brand new website now. If you bookmarked our old website in the past and you want to keep the bookmark as a shortest way to access the old WH website you need to change the link in the bookmark to:
You do not need to remember this link, you can conveniently get to the old WH Website - WilliamHiggins.com Archives anytime you need through the "WH 2001-2010" in the top menu of the new WilliamHiggins.com website.
Today's Weather in Prague
CzechGuysNextDoor.com Latest Updates

No Health Warning for CZGND tonight: Two Nice Solos.

Enter www.CzechGuysNextDoor.com HERE
ENTER www.CzechGuysNextDoor.cz Newsletter Archives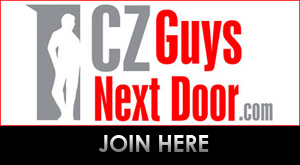 BurnDVD.tv Website Latest Updates


DOWNLOAD AND BURN VIDEOS TO DVD OR DOWNLOAD OUR VIDEOS IN FULL HD
Starting today you can download our videos in Full HD quality 1920x1080px!
Please remember that most of the videos available on BurnDVD are easily able to be downloaded with a single link, but some of the very large files, such as the newsletter DVDs have to be split into three separate links, as detailed below.

The videos with very large file sizes are now split into more than one part, using a program called HJSplit. If you wish to buy one of these larger videos to Burn to DVD, you will receive a link for file and then it is a simple process to join the downloaded files together to make the .iso file for Burning to DVD.

You can see all the available videos at www.burndvd.tv

Before downloading any videos to burn to DVD I advise you to read the BURNDVD Manual, which explains how you can burn the file to DVD. The file is an ISO file which contains all the required DVD files. The process for burning to DVD is fully explained.

The BurnDVD manual is easy to follow, with a step by step guide. Burning a DVD is easy to do, though it is helpful if you have previously burned DVDs or CDs.

The manual can be viewed here: BURNDVD Manual

Anyone who has any problems understanding the manual, or burning their download to DVD, or indeed any questions about this service please email geoff@wh.cz . Geoff will be happy to assist you.

You can view all the available downloads at www.burndvd.tv, by clicking the on the categories. A direct link to the latest files available will be published in each newsletter.
Our Latest Sets at www.BurnDVD.tv
Today we have Mattias Solich with Roman Demuth and Zdenek Zimola and Czech Up with Erik Lasota, Rado Princ and Oleg Bukhtin and CFNM Wrestling part 2:
Special Offer for William Higgins Newsletter Readers
William Higgins Newsletter readers are able to obtain a discount on the price of BURNDVD downloads by using the coupons that we will be publishing in each Members Newsletter. The coupon published in each newsletter will be valid for a period of 7 days.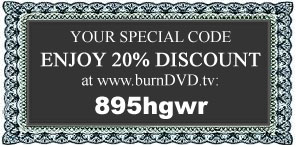 Copy today's coupon code here: 895hgwr

Our Partners:

PLEASE PROCEED TO THE NEXT PAGE FOR THE LATEST WilliamHiggins.com UPDATES