Tuesday, September 04, 2018 - Tomas & Franta RAW - FULL CONTACT

Tomas & Franta RAW - FULL CONTACT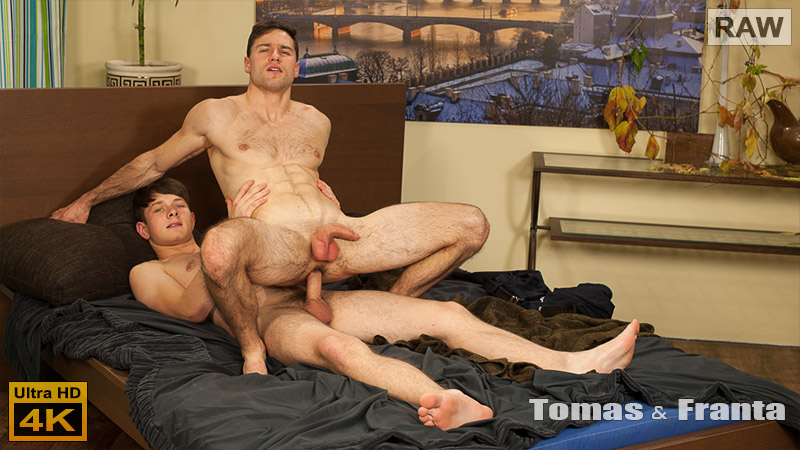 Franta Tucny and Tomas Salek are two very hot straight guys. They are on the bed kissing each other. As Franta lays on his back Tomas helps him open his shirt. Then Tomas moves onto his knees and begins to suck on Franta's rock hard cock. He pulls Franta's jeans down and works his mouth on the big cock, taking time out for more kissing as well. Tomas kisses Franta's sexy chest too, but soon returns to the cock for more sucking. He licks up and down the shaft and sucks the cock deep into his mouth. Then Tomas lays on the bed and Franta is soon sucking on cock too. Tomas' dick is rock hard as Franta sucks it. His hot mouth works up and down the shaft and sucks on the dick, kissing his way up Tomas' hot body too. With both guys fully naked Franta climbs over Tomas, head to toe, so they can enjoy a 69 . Tomas rubs Franta's ass as he sucks the hard dick. They eagerly suck each other for a while before Tomas moves onto his knees with Franta standing behind him. Franta's cock slides deep into the waiting ass. That tight hole takes Franta's dick as it is fucked in and out, with Tomas moaning as he feels it. Franta fucks deep into the hot hole. Franta then pulls out and lays on the bed. Tomas straddles Franta's legs and slides his ass down on the throbbing dick. He rides up and down on Franta's cock and wanks himself at the same tiem. Tomas thrusts his cock up into the ass, fucking hard, as Tomas unloads his creamy cum. The hot cum squirts out of his cock as Franta keeps fucking. Tomas milks his cock dry, with his cum coating Franta's balls as the fucking continues. Moving to a spoon position they continue the hard fucking until Franta is ready to blow his load too. Then he pulls out and shoots his hot cum over that sexy ass. He reaches up to kiss Tomas again before they both go off to the shower to clean up.
... more about Tomas & Franta RAW - FULL CONTACT further in this newsletter

Our Coming Soon Set Preview
We have a stellar cast of very hot str8 guys in Wank Party #100, Oleg Hubert, Hugo Antonin, Martin Pesek, Petr Ugan and Oto Useda. In this first part we join Oleg and Hugo as they stand at the windows to enjoy their cigarettes as the other guys are still asleep. Hugo wonders what the two of them might do and from the large bulge in Oleg's underwear, which outlines his already hard cock, it is clear what he has on his mind. They begin to kiss and feel each other. Hugo is quick to release Oleg's massive erection, and his own dick is pulled out too. Hugo drops to his knees and starts sucking on Oleg's hard, fat, cock. His head bobs as his mouth is wrapped tight around Oleg's dick. He sucks it well, taking it deep into his mouth. He wanks that beautiful erection too as the other three guys lay on the bed sleeping. Then Hugo and Oleg decide to wake up the others. Both naked and hard they move to the bed and begin to wake the guys by kissing and fondling them. Oto is soon wide awake and on his knees as Oleg feels him all over. Martin and Petr wake too and are both soon hard. Petr sucks on Martin's stiff cock as Hugo leans over to suck on Oleg and Oto taking turns on each dick. Petr sucks on Martin's balls too and then takes a turn on Hugo's rock hard cock. Oto and Oleg kiss each other as Hugo straddles Martin so that Petr has easy access to two cocks. Oleg and Oto's dicks are wanked together as they continue to kiss. Then they both move over to Petr to have some fun with him. He lays between them so that he can suck each of them in turn. Meanwhile Martin climbs over the recumbent Hugo to 69 with him. Petr's mouth works hard on Oto's fat cock and then turns around to suck on Oleg's. Martin's mouth really grips Hugo's dick as he sucks it hard. He moves down so that he can kiss Hugo and then kneels while his friend sucks his throbbing dick. Petr continues his work on Oleg's upturned erection and then he twists around to take another turn on Oto's fat cock. Hugo licks and up and Martin's rigid cock and then takes it deep into his eager mouth again. Martin's balls are tight at the base of his shaft as Hugo works on that cock. Petr slips down to suck on Oto's balls before returning to his cock. He turns again to have another go on Oleg's dick which thrusts into his mouth. Meanwhile Martin has turned over and feels Hugo's tongue on his tight hole. The tongue laps at the hole and then Hugo slips a finger inside. Oto lays on his back legs splayed over Olegs, so both cock are close enough for Petr to easily go between the two for sucking. Martin's hole is fingered deep by Hugo as Petr continues to suck those other two huge dicks. as things build up to some great fucking in part two.

OPEN SET WINDOW

Trailer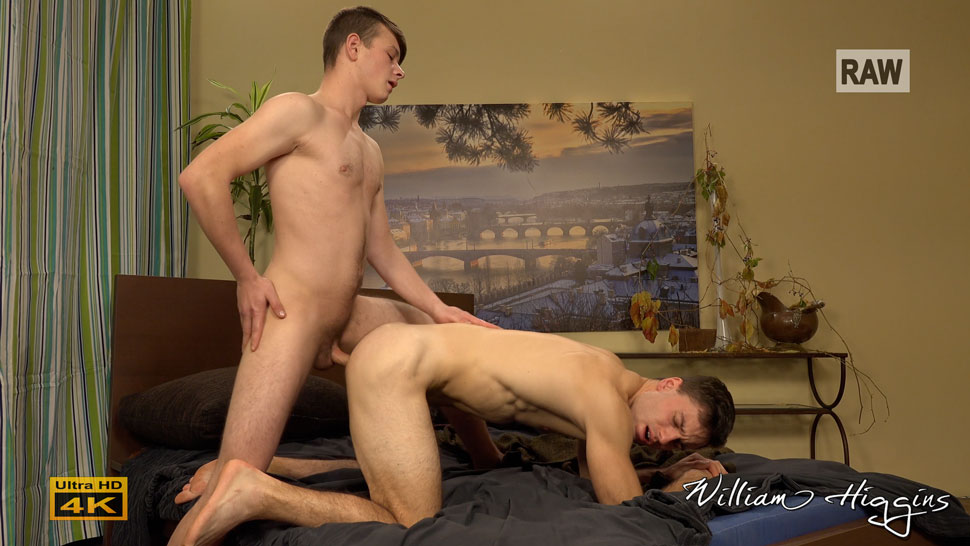 Vlog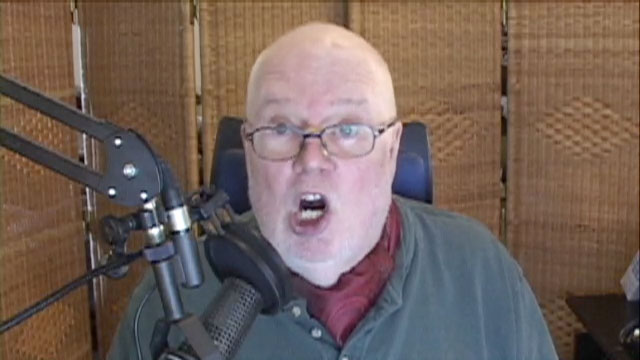 You can watch my Vlog for this Newsletter by clicking above or by going over to the Blog :
http://www.wheuro.com/?p=19393
Back to much warmer weather today with 26ºC outside. The cooler weather has been very welcome, and it's not so bad at the moment.
I want to remind you that on Friday we reach the Century mark in or Wank Parties with Wank Party # 100 Part One. Of course, there are lots more before we started naming them by number. We have five very good looking guys in # 100. Be sure to be here on Friday. And we're about the 60% spot in our 40th year. I started in 1978 (though some swear it was 1977. If so, shooting started that year but my first movie was released in 1978)
I want to give a special shout out to Martin Pesek including his Ambush Massage. Gosh, he's a beautiful specimen.
We have a great newsletter today, starting with two very good straight guys, Tomas Salek and Franta Tucny in a wonderful scene. Then we have another good looking st8 guy, Martin Pesek, being massaged. We also have the good looking Simon Holen in his erotic solo.
Our castings today are two very good guys, Alan Hemar and Simon Holan. Both guys look great but it is Alan with that slim, fit, body and his big cock who gets the vote for pick of the day.
REMEMBER YOUR CAN ALWAYS CHECK THE OLD WH WEBSITE AT:
NEW SETS AT STR8HELL.COM

Members of str8hell.com get full access to the site and to the full archive of more than 2500 sets on Czech Guys Next Door web site, at:
http://archive.czechguysnextdoor.com/
Non-members can access str8hell.com and browse the complete content, including free video previews and some free photos for each set. Non-members can also search the site, and are able to buy any sets they like, without taking out a full membership. Paying only for the sets you really want to see.
Sincerely
William Higgins

WHVideoShop.com Website Latest Updates


DOWNLOAD OUR VIDEOS IN FULL HD 1920x1080p FROM ALL 6 SITES!
Special Offer for William Higgins Newsletter Readers
William Higgins Newsletter readers are able to obtain a discount on the price of WHVideoShop downloads by using the coupons that we will be publishing in each Members Newsletter. The coupon published in each newsletter will be valid for a period of 7 days.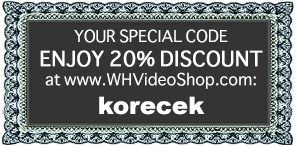 Copy today's coupon code here: korecek

Our Partners:

PLEASE PROCEED TO THE NEXT PAGE FOR THE LATEST WilliamHiggins.com UPDATES