Friday, October 07, 2011 - Paul and Yuri - Raunchy Sex

Raunchy Sex with Paul and Yuri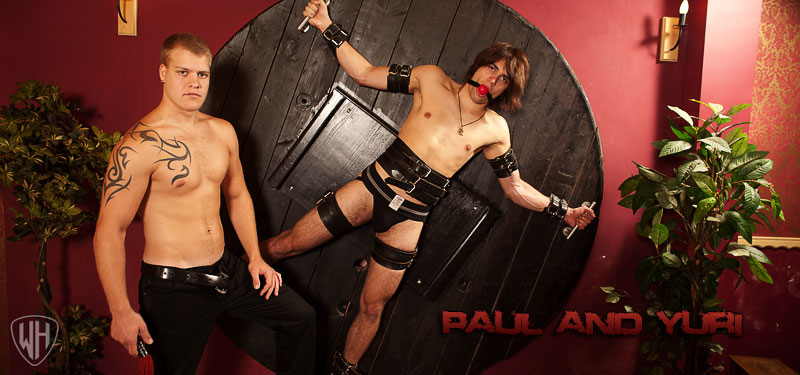 Paul Fresh, who first came to us about 3 years ago recently decided that he was prepared to do guy-guy shoots. So we paired him with newcomer Yuri Bulakov for a Raunchy Duo. The scene, filmed on location, starts with Paul leading a blindfolded and cuffed Yuri into the room and pushing him down on his knees. Paul then sits down to enjoye a cigaratte and read the newspaper. But before he really does any reading he decides he needs a drink. Placing the rim of a glass in Yuri's mouth Paul opens a bottle and pours himself a drink. Which he duly despatches quite quickly and repeats the process for another, but Yuri is moving and spills the drink over his chest as it is being poured. Paul uses a foot to rub the drink over Yuri's body and after a little trouble pushing his toe into Yuri's mouth, to be sucked. After some toe sucking Paul standsa grabs Yuri's head and pushes it into his groin. Then he opens his pants releasing his cock, which needs a relieve itself. Making Yuri hold a large glass Paul proceeds to piss into it. It's a half liter glass and Paul almost fills it with a nice stream of piss. Taking the piss from Yuri Paul now pushes his cock into Yuri's mouth to be sucked. His big cock quickly gets very hard as Yuri sucks it. He grabs Yuri's hair and pulls him onto that cock, making him gag and salivate as he sucks. He then turns around and pushes his ass into Yuri's face, making him rim his hole. Paul decides that Yuri should be naked, so he strips him and then starts to slap at his chest and his cock. We can see that the cock is swelling as it is being slapped, and soon it is fully erect. Paul grabs it and starts wanking on it, while inducing his tongue into Yuri's ...
... more about Raunchy Sex with Paul and Yuri further in this newsletter

Our Coming Soon Set Preview
Two better looking guys you couldn't hope to meet. Pairing them up for this duo was a great idea as they look great together. We first encounter David as he is out walking, in the park and then down by the river. He seems to be looking for something, or someone, but hasn't found it yet. After searching in various places he eventually finds Artur, who surprises him as he looks. They waste no time in getting inside, where they can get to grips with each other. David removes Arturs shirt and they start kissing right away. As they do so David's shirt comes off too, and before long the pants are dropped too. As they kiss Artur's dick gets very hard indeed and David goes down and sucks on it. He certainly knows how to do it, taking that rock hard cock in his mouth to suck it and then to lick it too. He really enjoys the cock, lapping at it, sucking it and licking the balls too. Then David stands and his cock is hard too. Artur takes both dicks in his hand and wanks them together before kissing David again and then going down on his cock, to return the favor. The guys move to the sofa for a 69, with Artur on top, exposing his nice hairy ass as David sucks his cock. Artur thens stands so he can fuck his cock into David's mouth, before turning around and sitting his ass on his face fro some rimming. David is really horny for Artur's cock though and sits on it and starts to rife it. He really rides it well, sitting all the way down on it, so the cock is as deep as it can go. He rides that dick so well. Next the guys change to doggy style and Artur fucks that ass real hard, with David feeling every thrust, before another change, to missionary. As Artur is fucking him David wanks himself and very soon he blows a real nice load. Artur moves up and drops a real creamy load over David's chest and David takes the cock in his mouth to suck it dry. Finally the guys stand and kiss each other, with long, sensual kisses bringing the scene to a very nice end. Two lovely looking guys in a very good scene.

OPEN SET WINDOW

Trailer
Vlog
You can also watch my Vlog for this Newsletter by clicking the video above or over at the Blog:
I should write something about the passing of Steve Jobs. He was a difficult person. They say, All Saints Are Difficult People. I really resented his statement, 'we don't want to see porn on any of the iOS devices, and added something like 'No one wants to see that on any of our devices.' Well, speak for yourself. I understand that he was committed to animated movies for kids through Pixar. But I've always hated censorship. After he returned to Apple, they marketed some 'insanely great' products. They also released a few real losers. That's good because, you have to be willing to fail.
I really did not like the fact that Jobs excluded Adobe Flash from the iPad for no valid reason. If it caused a few crashes, well, let the iPad owner make the decision. Then came the Gizmodo incident, where they got some photos of a prototype iPhone, and Apple turned it into a criminal matter. Gizmodo handled the situation stupidly, but still. Then came another incident where a prototype went missing. Through GPS Apple's private detectives thought they traced the missing phone to a house in San Francisco. Apple's private eyes convinced three local police officers to go to the house with them, flash their badges. The home owner was left with the impression that the private dicks were actual cops. The Apple detectives searched the guy's house, while the real police waited in the yard. The guy thought he consented to a police search. This conduct was IMHO not only Big Brother, but boarder line criminal as the Apple detectives came very close to the edge if not crossing over of impersonating police officers.
I believe I could start an iPod museum. I've owned lots of them up through the last iPod Photo. After that Apple degraded the amplifier in order to add more bells and whistles. I also started our guys editing with Mac and Final Cut Pro. After we hired editors, I personally switched to the PC. I'm ashamed to admit, to save money. I got by with a PC for about ten years. When my last one started to go, I threw in the towel and decided to pay the Mac premium. I'm very glad I did and am sure I'll never switch back to PC. The Mac computer is fantastic. I also bought an iPad, which I loved at first. I loved doing tricks to do things with the iPad that Mr. Jobs didn't allow. After while, that became very boring, and I stuck the iPad on a shelf. When the new MacBook Air came along, I jumped and bought one. It will do EVERYTHING. I gave the iPad to Boris and the guys. They love it for showing porn to the models during shoots. It's much more convenient than using DVDs.
I do hope Apple continues to make some insanely great products. I want to keep using Mac computers for the rest of my career. The new CEO of Apple is widely believed to be gay. He hasn't denied it. That doesn't mean they will take a less aggressive stance against porn. Personally, I think they should just shut up about it. I don't believe that Bill Gates says he doesn't want to see porn on Windows devices.
I do believe we own a lot to Mr. Jobs. He certainly has induced to world to up it's game. I'd say all of the smart phones we see nowadays are based on the iPhone. If that hadn't come along, we'd all still probably be using clunkers.
Today, I posted Part Four of my First Looks at the 2011 Wank in the Woods. This is the barbeque sequence. Two more parts to go.
Vlog
It's a little bit difficult today choosing between Zoran Dragonic (from Croatia) and Tomas Kavur. All things considered, I'll go with Tomas
MESSAGE ABOUT LINKS TO THE OLD WH WEBSITE - WILLIAMHIGGINS.com ARCHIVES:
Please be aware that the link www.williamhiggins.com takes you to this brand new website now. If you bookmarked our old website in the past and you want to keep the bookmark as a shortest way to access the old WH website you need to change the link in the bookmark to:
You do not need to remember this link, you can conveniently get to the old WH Website - WilliamHiggins.com Archives anytime you need through the "WH 2001-2010" in the top menu of the new WilliamHiggins.com website.
Today's Weather in Prague
CzechGuysNextDoor.com Latest Updates

Health Warning CZGND: Strong, Toda we have spanking and two very good solos.

Enter www.CzechGuysNextDoor.com HERE
ENTER www.CzechGuysNextDoor.cz Newsletter Archives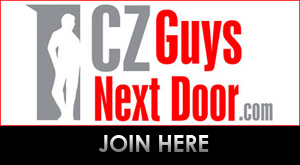 BurnDVD.tv Website Latest Updates


DOWNLOAD AND BURN VIDEOS TO DVD OR DOWNLOAD OUR VIDEOS IN FULL HD
Starting today you can download our videos in Full HD quality 1920x1080px!
Please remember that most of the videos available on BurnDVD are easily able to be downloaded with a single link, but some of the very large files, such as the newsletter DVDs have to be split into three separate links, as detailed below.

The videos with very large file sizes are now split into more than one part, using a program called HJSplit. If you wish to buy one of these larger videos to Burn to DVD, you will receive a link for file and then it is a simple process to join the downloaded files together to make the .iso file for Burning to DVD.

You can see all the available videos at www.burndvd.tv

Before downloading any videos to burn to DVD I advise you to read the BURNDVD Manual, which explains how you can burn the file to DVD. The file is an ISO file which contains all the required DVD files. The process for burning to DVD is fully explained.

The BurnDVD manual is easy to follow, with a step by step guide. Burning a DVD is easy to do, though it is helpful if you have previously burned DVDs or CDs.

The manual can be viewed here: BURNDVD Manual

Anyone who has any problems understanding the manual, or burning their download to DVD, or indeed any questions about this service please email geoff@wh.cz . Geoff will be happy to assist you.

You can view all the available downloads at www.burndvd.tv, by clicking the on the categories. A direct link to the latest files available will be published in each newsletter.
Our Latest Sets at www.BurnDVD.tv
Today we have a Raunchy Duo with Paul Fresh and Yuri Bulakov and Part 3 of our latest Duty Bound and Ruslan Tarovsky vs. Jindra Hruda:
Special Offer for William Higgins Newsletter Readers
William Higgins Newsletter readers are able to obtain a discount on the price of BURNDVD downloads by using the coupons that we will be publishing in each Members Newsletter. The coupon published in each newsletter will be valid for a period of 7 days.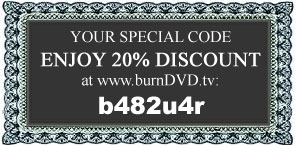 Copy today's coupon code here: b482u4r

Our Partners:

PLEASE PROCEED TO THE NEXT PAGE FOR THE LATEST WilliamHiggins.com UPDATES