Tuesday, October 02, 2018 - Gerasim & Tomas RAW - CHERRY BUSTING

Gerasim & Tomas RAW - CHERRY BUSTING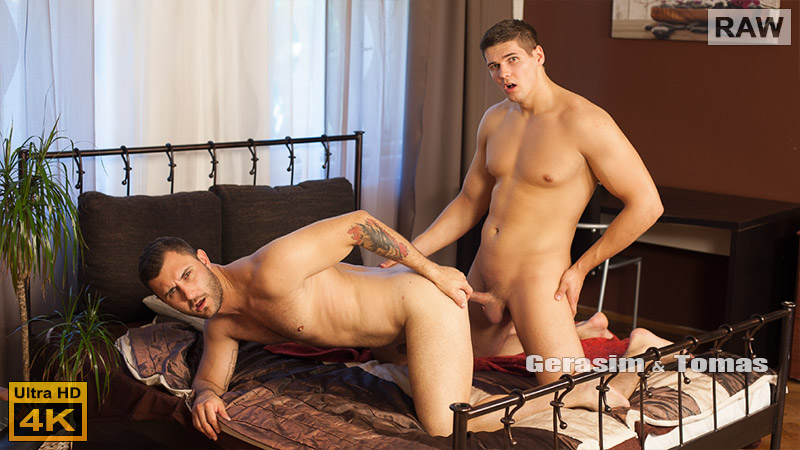 Gerasim Spartak is a handsome, hairy st8 guy who gets his cherry busted today. His partner for this treat is another hot str8 guy Tomas Fuk. They begin by kissing and feeling each other, lifting tee shirts to kiss chests too. Soon they are bare-chested with hard cocks out too. They kiss as they wank each other, with some playful spanks too. Then both get naked and Tomas lays on top of Gerasim lustily kissing him. He sucks on nipples too before moving down to kiss the balls and lick that hard cock. He takes Gerasims stiff dick into his mouth and sucks it hard. LIcking up and down the shaft and sucking on the head he does a great job on that dick. He sucks on the balls too while Gerasim reaches for Tomas' cock and wanks it. Then they swap places and Gerasim sucks on Tomas' cock and balls. His head bobs on the cock as they moan with pleasure. His mouth encircles the cock as he sucks and then he takes the balls into his mouth and pulls on them as he releases. As the change positions again Tomas sucks on Gerasim's cock before getting between his legs to fuck him. His throbbing cock pushes into Gerasim's tight, virgin, hole and begins to fuck. Gerasim gives his own cock a few pulls as he takes that dick in his ass. Laying on his back Gerasim's hot hairy chest looks so good as the dick fucks his hot hole. He moans as he feels the cock stretching his hole and he wanks on his cock. He keeps wanking as Tomas fucks him hard and he speeds up the stroking until he shoots his hot cum onto his belly. Tomas continues fucking Gerasim's ass, turning him over onto his knees too. That big cock works deep into Gerasim's ass as Tomas fucks. Geramsim's cock stays rock hard as Tomas fucks him. As the cum builds up Tomas pulls out to shoot the creamy cum over Gerasim's hole. Then Gerasim turns round and they kiss again.
... more about Gerasim & Tomas RAW - CHERRY BUSTING further in this newsletter

Our Coming Soon Set Preview
In Wank Party #101 we have a great cast of str8 guys, Roco Rita, Petr Zuska, Tomas Berger and Ivan Gula. In this first part we see Ivan with his legs in the air as Tomas rims his hot hole. Then Tomas sucks on Ivan's rock hard cock too as he rubs the tight hole. He slips a finger into the hole too as he continues to wank and suck on Ivan's cock. Licking up and down the shaft Tomas also sucks on Ivan's balls as he play with the ass hole. As the two of them are enjoying themselves they are joined by Roco whose hot mouth is quickly taking a turn on Ivan's dick. Coming off the cock Roco gropes Tomas and kisses him. Then both of them take turns on Ivan's dick. Tomas feels Roco as they keep sucking on Ivan. Roco's cock is hard from being pulled by Tomas. Tomas stands and lowers his jeans to release his hard cock too. Ivan sits up and both he and Rock suck Tomas. Together they lick on that big cock and take turns on sucking it. Roco laps at the big balls too as Petr arrives to join in the fun. He feels Tomas' body as the guys continue to suck. Then Petr pulls out his rock hard dick to be sucked too. Roco works on Tomas and Ivan sucks Petr's cock as everything gets very hot, ready for more action in part 2.

OPEN SET WINDOW

Trailer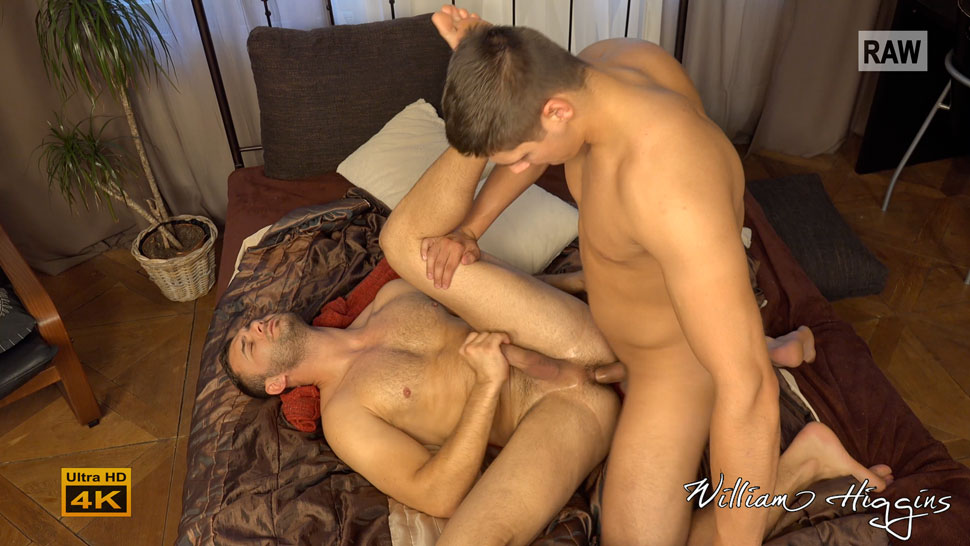 Vlog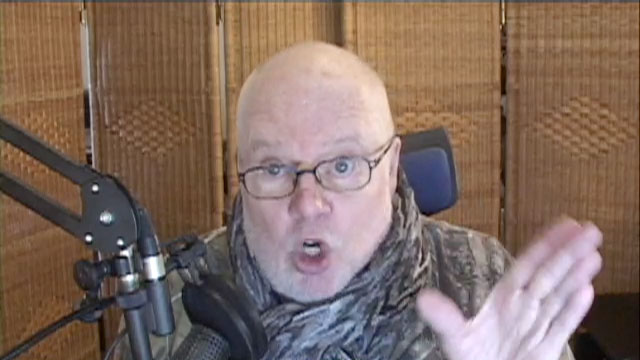 You can watch my Vlog for this Newsletter by clicking above or by going over to the Blog :
http://www.wheuro.com/?p=19496
Where has 2018 gone? The tenth month of our 40th year in the gay adult business and it's almost gone. You can certainly tell autumn has arrived with a bang. Currently it's 11º C outside, much colder this morning. Yesterday, I contacted out IT guy, Marco, who is vacationing in South Florida about a technical question. I told him, 'get ready for winter when you return. It's 9º here at the moment.' He replied, 'in Florida it's 33º and muggy. I'll take 9º any time.' I guess he's not a Snow Bunny.
I want to remind you that, coming up on Friday, is Part One of our 101st numbered Wank Party. Looks like a great cast. So, be with us on Friday.
We have a great newsletter today which starts with two magnificent str8 guys, Gerasim Spartak and Tomas Fuk where the former gets his cherry busted. Then we have another very good massage, with str8 guy Milan Neros being the subject. We also have a hot and handsome newcomer, str8 guy Ondra Tumra in his erotic solo.
For our castings today we have Petr Gunek and Igor Ujak. With his slim, fit, body and his stiff cock its is Igor Ujak who is the pick for today.
REMEMBER YOUR CAN ALWAYS CHECK THE OLD WH WEBSITE AT:
NEW SETS AT STR8HELL.COM

Members of str8hell.com get full access to the site and to the full archive of more than 2500 sets on Czech Guys Next Door web site, at:
http://archive.czechguysnextdoor.com/
Non-members can access str8hell.com and browse the complete content, including free video previews and some free photos for each set. Non-members can also search the site, and are able to buy any sets they like, without taking out a full membership. Paying only for the sets you really want to see.
Sincerely
William Higgins

WHVideoShop.com Website Latest Updates


DOWNLOAD OUR VIDEOS IN FULL HD 1920x1080p FROM ALL 6 SITES!
Special Offer for William Higgins Newsletter Readers
William Higgins Newsletter readers are able to obtain a discount on the price of WHVideoShop downloads by using the coupons that we will be publishing in each Members Newsletter. The coupon published in each newsletter will be valid for a period of 7 days.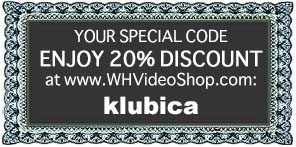 Copy today's coupon code here: klubica

Our Partners:

PLEASE PROCEED TO THE NEXT PAGE FOR THE LATEST WilliamHiggins.com UPDATES