Tuesday, October 16, 2018 - Nicolas & Miro RAW - CHERRY BUSTING

Nicolas & Miro RAW - CHERRY BUSTING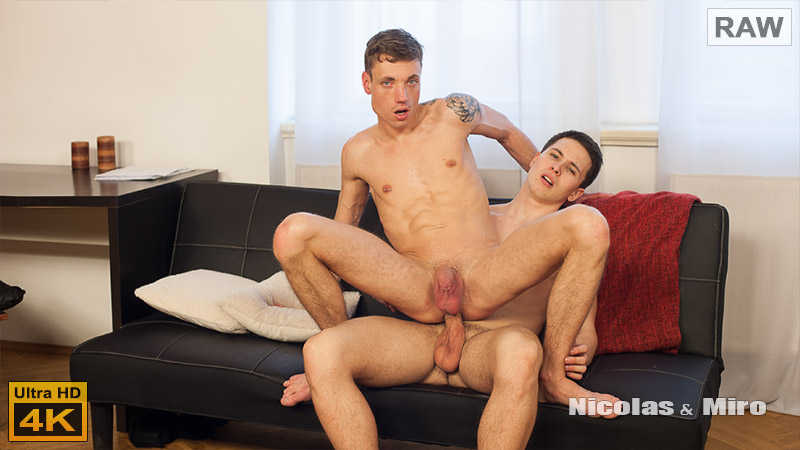 Cute and sexy str8 guy Nicolas Daner is due to get his cherry busted by Miro Dalek. We have already seen Nicolas being fucked in another scene, but this video was made before that one, and was his very first time. He is sitting on the sofa when Miro arrives and starts to ask him some questions. Then they begin to kiss, removing their tee shirts as they feel each other. Miro gropes Nicolas as they continue to kiss. Nicolas reciprocates as Miro opens his jeans. Miro slides the jeans down enough to release his rampant cock. That big cock stands proudly as Nicolas leans over to take it in his mouth. He sucks on the big dick, his lips closed tight around the shaft. Miro rubs him encouragingly as Nicolas' head bobs up and down on that big cock. Miro pushes Nicolas head down, further, on the cock. It slides deep into his mouth as he sucks very well. He licks the balls and up the shaft and sucks the dick some more. Miro stands and leans back on the bookcase as Nicolas kneels to continue working on the throbbing cock. His mouth does such a great job on that huge erection. Then he comes off the cock and the guys kiss again. Then Nicolas removes his jeans and presents his hot ass which Miro fills as he slides his huge pole deep inside. His dick stretches the virgin hole wide and he starts to fuck. His dick pounds in and out of the tight hole fucking it deep. Nicolas takes it so well as Miro fucks hard. Miro slaps the ass too as he bangs away at the hot hole. Miro's balls swing back and forth as he really fucks as hard as he can. Nicolas takes the dick in his hole so well as his own dick is rock hard. That hard cock swings up and down, hitting his belly, as his hole is plowed deep. Miro pulls out and shoves the big cock back into the hot hole as he fucks with such gusto.Miro pulls out again and kisses Nicolas and the he sits. Nicolas straddles him and slides his ass down on that massive cock to ride it. His ass slides up and down on the dick as he fucks himself onto it. His own huge erection sways around as he takes every inch of the cock into his ass. Sliding off the cock he lays on his back with his legs up so that Miro can fuck him some mpre. He takes that dick easily into his loosened hole, holding his feet together as he enjoys the feeling of the dick in his ass. Grabbing his own cock Nicolas wanks it hard and fast while Miro keeps fucking. Miro's fat pole keeps up the hard fucking as Nicolas wanks himself to a cum shot. He shoots his hot cum all over his sexy body, globs of cum squirting all over he place. Miro continues to fuck until he is ready to cum too, then he pulls out to dump his cum onto Nicolas balls. They then kiss to end a wonderful Cherry Busting scene.
... more about Nicolas & Miro RAW - CHERRY BUSTING further in this newsletter

Our Coming Soon Set Preview
In Wank Party #101 we have a great cast of good looking str8 guys, Petr Zuska, Tomas Berger, Ivan Gula and Roco Rita. This second part begins with Ivan and Roco sucking Tomas and Petr. Then they pair up, with Roco kneeling on the sofa ready for Petr's big cock in his ass and Tomas presenting his hole to Ivan. Ivan's dick is rock hard and slides into Tomas' ass, opening it wide as he begins to fuck. Tomas wanks himself as he feels the big cock fucking deep into his ass. As Ivan pulls out Tomas reaches back to wank that big cock before it slides into the ass again. Petr, meanwhile is fucking Roco hard, spanking his ass at the same time. He pulls out and shoves that dick back into Roco's hole as he fucks. Then he reaches over and spanks Ivan's ass too. His big dick stretches Roco's hole as he fucks nice and deep. Then Ivan starts to work his ass onto that big cock, pushing back to take it all. Petr pulls out and spreads Ivan's ass before shoving his cock back inside. Tomas continues to wank himself as he takes all over Ivan's cock. The hairy hole receives that dick and takes it very well. Then Tomas stands and kisses Ivan before laying on the floor so they can spoon. Meanwhile Roco turns over onto his back for more of Petr's dick. Tomas wanks h is own cock hard as he feels Ivan pounding his hot hole and he soon gives up his creamy load shooting over his hairy thigh. Ivan continues to fuck that ass as Tomas milks himself dry. Roco holds his legs up as Petr rams his cock in and out of the eager hole. Petr fucks deep and hard before they move over so that Ivan can fuck Roco. His cock works the hot hole as Roco sucks on Petr's throbbing cock. Then Petr takes over the fucking and Tomas wanks Ivan. They change over again so that Roco feels Ivan's dick ramming into his ass. Petr wanks himself as Tomas encourages them all. Petr wanks himself and soon shoots his hot cum onto Roco's ass as Ivan continues to fuck. As his cum builds up Ivan pulls out and unloads the hot load over Roco's ass too.

OPEN SET WINDOW

Trailer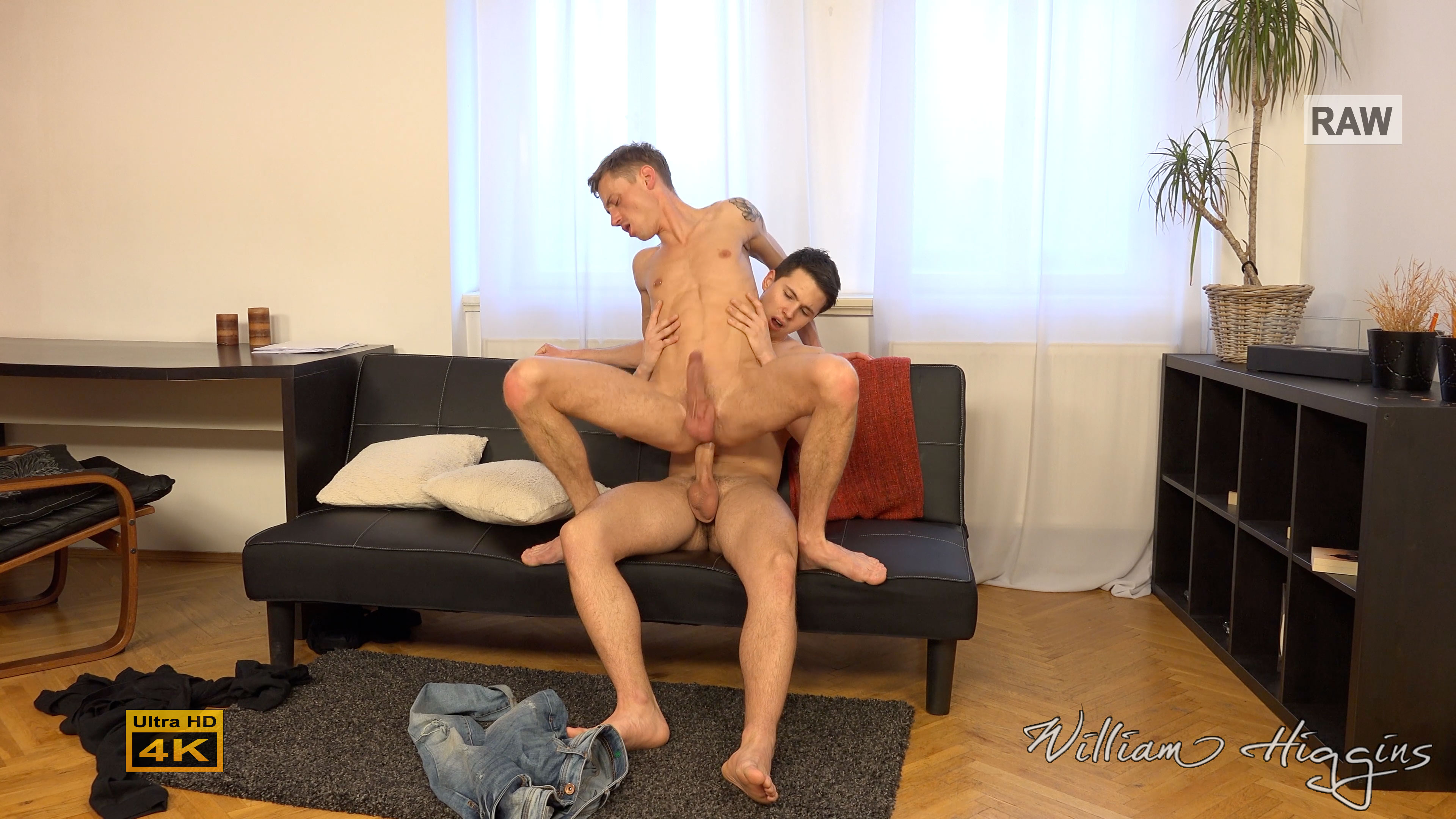 Vlog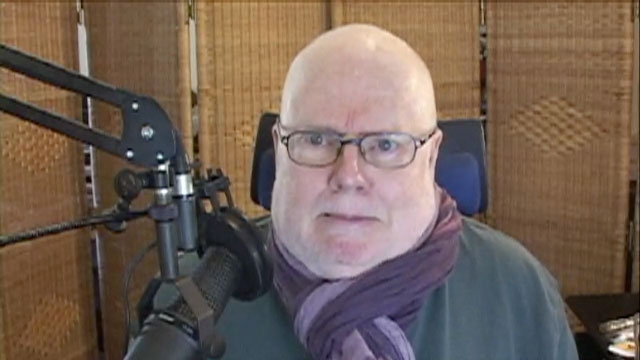 You can watch my Vlog for this Newsletter by clicking above or by going over to the Blog :
http://www.wheuro.com/?p=19547
I have a couple of recommendations: Nicolas getting Cherry Busted by Miro. Very good episode. And coming up on Friday, Part 2 of Wank Party 101 in our 40th year. I've noticed another studio celebrating it's 25th year, congratulations and welcome to the club, newcomer.
Cute str8 guy Nicolas Hamer gets his cherry busted by Miro Dalek today. Although we have seen Nicolas in another scene this was actually the first time he got cock in his ass. We also have a very hot pairing in a wrestling match, Gerasim Spartak and Martin Polnak. Then we see hot, straight, newcomer Voloda Saskyn in a very good erotic video.
For our castings today we have Ivan Janak and Igor Hnizdo. Both guys look very good, but Igor is the stand out today and gets the vote as pick for today.
REMEMBER YOUR CAN ALWAYS CHECK THE OLD WH WEBSITE AT:
NEW SETS AT STR8HELL.COM

Members of str8hell.com get full access to the site and to the full archive of more than 2500 sets on Czech Guys Next Door web site, at:
http://archive.czechguysnextdoor.com/
Non-members can access str8hell.com and browse the complete content, including free video previews and some free photos for each set. Non-members can also search the site, and are able to buy any sets they like, without taking out a full membership. Paying only for the sets you really want to see.
Sincerely
William Higgins

WHVideoShop.com Website Latest Updates


DOWNLOAD OUR VIDEOS IN FULL HD 1920x1080p FROM ALL 6 SITES!
Special Offer for William Higgins Newsletter Readers
William Higgins Newsletter readers are able to obtain a discount on the price of WHVideoShop downloads by using the coupons that we will be publishing in each Members Newsletter. The coupon published in each newsletter will be valid for a period of 7 days.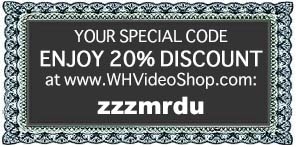 Copy today's coupon code here: zzzmrdu

Our Partners:

PLEASE PROCEED TO THE NEXT PAGE FOR THE LATEST WilliamHiggins.com UPDATES