Tuesday, October 11, 2011 - Artur and David

Artur and David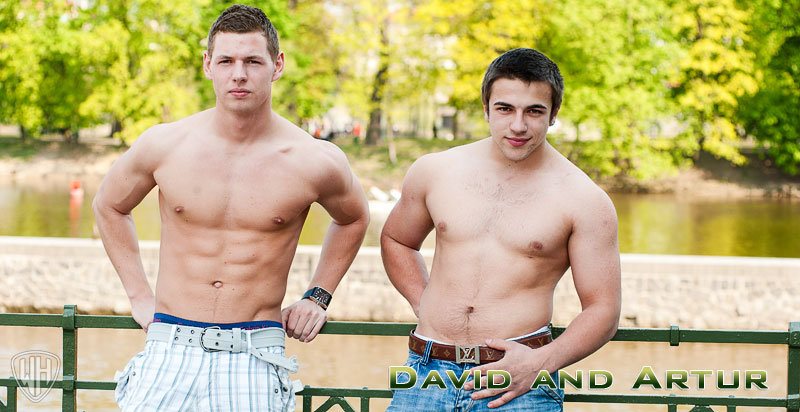 Two better looking guys you couldn't hope to meet. Pairing them up for this duo was a great idea as they look great together. We first encounter David as he is out walking, in the park and then down by the river. He seems to be looking for something, or someone, but hasn't found it yet. After searching in various places he eventually finds Artur, who surprises him as he looks. They waste no time in getting inside, where they can get to grips with each other. David removes Arturs shirt and they start kissing right away. As they do so David's shirt comes off too, and before long the pants are dropped too. As they kiss Artur's dick gets very hard indeed and David goes down and sucks on it. He certainly knows how to do it, taking that rock hard cock in his ...
... more about Artur and David further in this newsletter

Our Coming Soon Set Preview
We recently filmed our 2011 Wank in the Wood, and now present the first part. This mainly features Jan Pribyla, Mattias Solich, Zdenek Zimola, Ruslan Tarovsky and Yuri Bulakov. The scene starts with Jan sleeping with Rado Zuzka. Jan awakes, and gently moving Rado's leg creeps out of the room and into a room where 4 others are sleeping, but he doesn't linger. Instead he goes for a shower as he arrives we see Mattias Solich making a fire and Ruslan Tarovsky Vorobev already in the shower. Jan decides to shave first, as Ruslan Tarovsky showers, but the mirror is steamed up so he asks Mattias to shave him instead. Mattias does just that, admiring Jan's good looks as he does it. When finished Mattias just has to kiss Jan. Ruslan Tarovsky meanwhile is drying himself in the background. He watches closely and moves in to kiss Jan as well. The guys quickly drop their undies revealing nicely swollen cocks and Mattias drops down to suck on Ruslan Tarovsky and Jan. Then it is Jan's turn to suck on Mattias and Ruslan Tarovsky and having had his fill, for the moment, Ruslan Tarovsky takes a turn on both of the guys. The certainly enjoy themselves sucking, wanking and kissing. We then see Zdenek Zimola, newly wakened from sleeping with Paul Fresh. He gets out of bed and takes in the morning air through the open window. Zdenek goes to the kitchen and encounters Yuri Bulakov making something to eat, with Dimtry, Jan and Mattias in the background kissing up a storm. Zdenek tells Yuri about them kissing and wanking and he turns to watch, his own cock already bulging in his undies. Taking his cue from the others Zdenek starts to caress Yuri, and soon they are kissing too. Zdenek is very interested in Yuri's bulge and takes it in his hand and starts working it. Soon he has Yuri on the table undies down and he sucks on Yuri's big fat cock. Zdenek is rock hard as he sucks but Yuri has other ideas and moves into the next room, as Jan, Mattias and Ruslan Tarovsky do so as well. They sprawl on the bed, in front of the newly made fire, that we have heard crackling throughout. Zdenek works on Jan's and Mattias' cocks as Yuri pays attention to Ruslan Tarovsky. Mattias is always ready for some hot cock and he goes down on Zdenek as well and Ruslan Tarovsky trades places with Yuri, working on his big cock. Things are really hotting up now and they change positions so that Jan can rim Zdenek's pert arse. At the same time Yuri rims Mattias, who sucks on Ruslan Tarovsky. Jan cant resist slipping a finger into Zdenek's tight hole as he rims. Yuri also takes a finger to Mattias' ass as well, slipping it in real easy. The fingers have done their job and Zdenek rides Jan's hard, thick cock as Ruslan Tarovsky moves round and pushes his into Mattias. The fucking proceeds very well, with a change of positions to bring part one to a very exciting end.

OPEN SET WINDOW

Latest Updates Trailer
William Higgins Atelier Backstage Vlog
You can also watch my Vlog for this Newsletter by clicking the video above or over at the Blog:
Coming Soon will be our fantastic Wank in the Woods, 2011.
I've just posted Part Five of my First Looks. Part Six will be posted on Friday. And guess what? There's an entire first half of the movie that I haven't touched yet.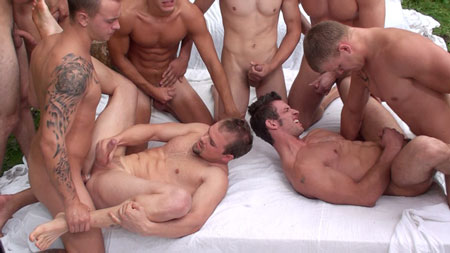 I had intended to post links to a couple of articles of gay interest in the previous Newsletter. Because of the death of Mr. Jobs, I forgot. So here they are tonight. Very interesting articles.
Fall is very definitely in the air in Prague. It's getting dark earlier and light later. Mornings can be chilly and rainy. Today, the sun actually came out about noon, and it was comfortable for Aida and me to sit in the park. Someone wrote: Get out your mad bomber hats that you bought in Berlin, you're going to need them. Not yet, but it's getting near that time.
My pick for tonight's Casting Couch is Roman Dusda. He's great.
MESSAGE ABOUT LINKS TO THE OLD WH WEBSITE - WILLIAMHIGGINS.com ARCHIVES:
Please be aware that the link www.williamhiggins.com takes you to this brand new website now. If you bookmarked our old website in the past and you want to keep the bookmark as a shortest way to access the old WH website you need to change the link in the bookmark to:
You do not need to remember this link, you can conveniently get to the old WH Website - WilliamHiggins.com Archives anytime you need through the "WH 2001-2010" in the top menu of the new WilliamHiggins.com website.
Today's Weather in Prague
CzechGuysNextDoor.com Latest Updates

CZGND Health Warning, None, Two Nice Solo Shoots.

Enter www.CzechGuysNextDoor.com HERE
ENTER www.CzechGuysNextDoor.cz Newsletter Archives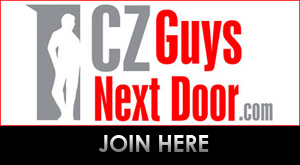 BurnDVD.tv Website Latest Updates


DOWNLOAD AND BURN VIDEOS TO DVD OR DOWNLOAD OUR VIDEOS IN FULL HD
Starting today you can download our videos in Full HD quality 1920x1080px!
Please remember that most of the videos available on BurnDVD are easily able to be downloaded with a single link, but some of the very large files, such as the newsletter DVDs have to be split into three separate links, as detailed below.

The videos with very large file sizes are now split into more than one part, using a program called HJSplit. If you wish to buy one of these larger videos to Burn to DVD, you will receive a link for file and then it is a simple process to join the downloaded files together to make the .iso file for Burning to DVD.

You can see all the available videos at www.burndvd.tv

Before downloading any videos to burn to DVD I advise you to read the BURNDVD Manual, which explains how you can burn the file to DVD. The file is an ISO file which contains all the required DVD files. The process for burning to DVD is fully explained.

The BurnDVD manual is easy to follow, with a step by step guide. Burning a DVD is easy to do, though it is helpful if you have previously burned DVDs or CDs.

The manual can be viewed here: BURNDVD Manual

Anyone who has any problems understanding the manual, or burning their download to DVD, or indeed any questions about this service please email geoff@wh.cz . Geoff will be happy to assist you.

You can view all the available downloads at www.burndvd.tv, by clicking the on the categories. A direct link to the latest files available will be published in each newsletter.
Our Latest Sets at www.BurnDVD.tv
Today we have Artur Lafek and David Skabeta and CFNM Wrestling part 3:
Special Offer for William Higgins Newsletter Readers
William Higgins Newsletter readers are able to obtain a discount on the price of BURNDVD downloads by using the coupons that we will be publishing in each Members Newsletter. The coupon published in each newsletter will be valid for a period of 7 days.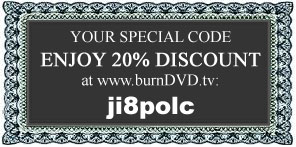 Copy today's coupon code here: ji8polc

Our Partners:

PLEASE PROCEED TO THE NEXT PAGE FOR THE LATEST WilliamHiggins.com UPDATES