Friday, October 14, 2011 - Wank in the Woods 2011 - Part 1

Wank in the Woods 2011 - Part 1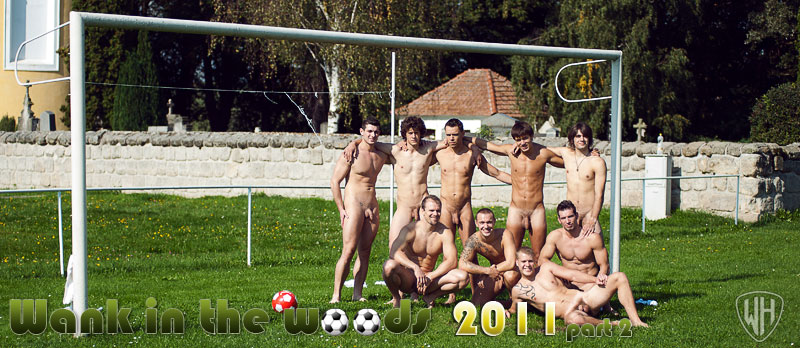 We recently filmed our 2011 Wank in the Wood, and now present the first part. This mainly features Jan Pribyla, Mattias Solich, Zdenek Zimola, Ruslan Tarovsky and Yuri Bulakov. The scene starts with Jan sleeping with Rado Zuzka. Jan awakes, and gently moving Rado's leg creeps out of the room and into a room where 4 others are sleeping, but he doesn't linger. Instead he goes for a shower as he arrives we see Mattias Solich making a fire and Ruslan Tarovsky already in the shower. Jan decides to shave first, as Dmitry showers, but the mirror is steamed up so he asks Mattias to shave him instead. Mattias does just that, admiring Jan's good looks as he does it. When finished Mattias just has to kiss Jan. Dmitry meanwhile is drying himself in the background. He watches closely and moves in to kiss Jan as well. The guys quickly drop their undies revealing nicely swollen cocks and Mattias drops down to suck on Dmitry and Jan. Then it is Jan's turn to suck on Mattias and Dmitry and having had his fill, for the moment, Dmitry takes a turn on both of the guys. The certainly enjoy themselves sucking, wanking and kissing. We then see Zdenek Zimola, newly wakened from sleeping with Paul Fresh. He gets out of bed and takes in the morning air through the open window. Zdenek goes to the kitchen and encounters Yuri Bulakov making something to eat, with Dimtry, Jan and Mattias in the background kissing up a storm. Zdenek tells Yuri about them kissing and wanking and ...
... more about Wank in the Woods 2011 - Part 1 further in this newsletter

Our Coming Soon Set Preview
Wank In The Woods 2011 features features Jan Pribyla, Mattias Solich, Zdenek Zimola, Ruslan Tarovsky and Yuri Bulakov. They are joined, later, by Rado Zuska, Honza Copak, Rado Princ and Paul Fresh. This second part continues where part one concluded, with Zdenek riding Jan's big cock and Ruslan Tarovsky plowing Mattias' hot ass. Zdenek really knows how to ride and his own big fat cock is standing proud as he does it. Meanwhile Ruslan Tarovsky is pounding Mattias ass and Yuri feeds Mattias mouth. Zdenek then relaxes a bit and lets Jan do the work, with his cock thrusting up, hard and fast into that hot hole. As they go at it Yuri swaps places with Ruslan Tarovsky and slides his cock into Mattias to guck him. Mattias also takes Ruslan Tarovsky's cock in his both, so he is filled at both ends. Time to swap partners, so Jan fucks Mattias doggy style while Ruslan Tarovsky does the same to Zdenek, with Yuri again feeding Mattias'mouth. They are fucking nice and hard and Yuri wants some ass too, so he again changes with Ruslan Tarovsky, as we get a glorious close-up of Zdenek's ass. Another change of position has Yuri fucking Zdenek in missionary while Zdenek again rides Jan's rock hard cock. As Mattias rides Jan's cock Ruslan Tarovsky wanks him. That gets Mattias so close and he takes over wanking himself and shoots a lovely load as Jan's dick is deep in his ass. That really sets Ruslan Tarovsky off and he blows his load over Mattias leg. Yuri is fucking Zdenek hard and fast as Zdenek wanks his cock. It looks like they are ready,but before either can blow Jan spurts his cum over Mattias. Then Zdenek's creamy load squirts right up his chest, swiftly followed by Yuri firing his huge load all over Zdeneks cock. The guys then hear someone coming and all run off. The scene changes and all nice guys come running through the shot and out on to the playing field. Dressed only in shorts or undies the guys run around the field and then do some training exercises, directed by Rado Z. Forming a circle, with Mattias in the middle, they play a football passing game. It seems that if the guy in the middle can get the ball the person who last touched it must get naked. So Zdenek is first up, stripping his undies off. Soon followed by Rado Z. It is not long before Rado has the ball so Paul strips off too. Rado Z loses out again, but is already naked, so he has to take Paul's place in the middle, until he gets the ball back and Paul is back again. Eventually Paul manages to get the ball from Rado P, so he gets naked. It seems that Paul is spending a lot of time in the middle as he soon has to replace Rado P. More changing until Jan makes a mistake and off come his shorts. Yuri is next to fall and into the middle he goes, naked, followed quickly by Zdenek and then Mattias. Only two guys left now, with shorts on and Ruslan Tarovsky is the one who is next to strip, leaving Honza as the winner. He too gets naked and the guys continue their play for a while, all naked now, cocks flapping as the play. The guys then have a leap-frog race in two teams of four before running down to the far end of the field for a race the full length of the pitch. Rado is the winner of the race and it lifted up as champion, by Rado P and Paul and they walk off the field, ready for more to come in the next part. This second part has been great fun with a lovely finale to the sex scene and then a very good game which got all the guys naked for us.

OPEN SET WINDOW

Trailer
Vlog
You can also watch my Vlog for this Newsletter by clicking the video above or over at the Blog:
http://www.wheuro.com/?p=9433
It's turning quite nippy in Prague, so today I got out one of the mad bomber caps I bought in Berlin. It felt quite good. I think lots of more cold weather is to come. I am grateful for the lovely Indian Summer we enjoyed last month. October won't be that way, I'm pretty sure
Today, I posted the final of my Six First Looks at the Second Part of our 2011 Wank In the Woods. You can see of the parts on my Blog. I've taken all of the parts and edited them into a 25 minute HD Backstage video which will be posted on this site after we've finished posting the entire video.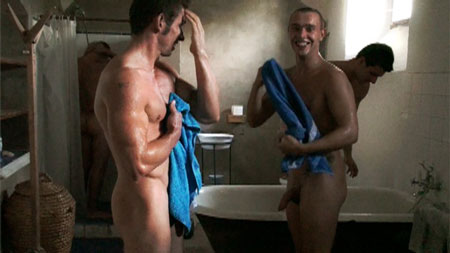 Today, I suffered another one of those Mac disasters. It's been my experience, Mac is a much more robust OS than Windows, but when something goes wrong, the consequences can be dire. Franky shot a wonderful Backstage video of today's main event. I edited it into a 15 minute Backstage documentary. Tonight I was going to publish an excerpt along with the first part of A Wank In The Woods, 2011. Well, the old disk I was using to back up the Mac with Time Machine crashed. The long and short of it, after a lot of angst, my project of the Franky video has gone missing. So, I won't publish it tonight. Thank God It's Friday, I've got all day tomorrow and Sunday to find the project files and publish the First Look. Otherwise, I'll have to re-edit it. (I won't go diving back into the project tonight. I've learned I need to sleep on it, lest I do even more damage!) It's been my unhappy experience, the second attempt is never as good as the first. However, I can tell you from editing this project, the entire Wank In The Woods 2011 is really exceptional. Please enjoy part one. We'll be rolling the entire film out in subsequent Newsletters.
My Pick for the Casting Couch tonight is Zdenek Valda
MESSAGE ABOUT LINKS TO THE OLD WH WEBSITE - WILLIAMHIGGINS.com ARCHIVES:
Please be aware that the link www.williamhiggins.com takes you to this brand new website now. If you bookmarked our old website in the past and you want to keep the bookmark as a shortest way to access the old WH website you need to change the link in the bookmark to:
You do not need to remember this link, you can conveniently get to the old WH Website - WilliamHiggins.com Archives anytime you need through the "WH 2001-2010" in the top menu of the new WilliamHiggins.com website.
Today's Weather in Prague
CzechGuysNextDoor.com Latest Updates

Health Warning: High, CFNM Plus two nice solo Shoots.

Enter www.CzechGuysNextDoor.com HERE
ENTER www.CzechGuysNextDoor.cz Newsletter Archives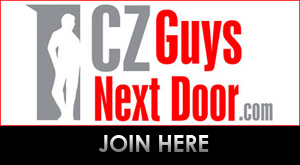 BurnDVD.tv Website Latest Updates


DOWNLOAD AND BURN VIDEOS TO DVD OR DOWNLOAD OUR VIDEOS IN FULL HD
Starting today you can download our videos in Full HD quality 1920x1080px!
Please remember that most of the videos available on BurnDVD are easily able to be downloaded with a single link, but some of the very large files, such as the newsletter DVDs have to be split into three separate links, as detailed below.

The videos with very large file sizes are now split into more than one part, using a program called HJSplit. If you wish to buy one of these larger videos to Burn to DVD, you will receive a link for file and then it is a simple process to join the downloaded files together to make the .iso file for Burning to DVD.

You can see all the available videos at www.burndvd.tv

Before downloading any videos to burn to DVD I advise you to read the BURNDVD Manual, which explains how you can burn the file to DVD. The file is an ISO file which contains all the required DVD files. The process for burning to DVD is fully explained.

The BurnDVD manual is easy to follow, with a step by step guide. Burning a DVD is easy to do, though it is helpful if you have previously burned DVDs or CDs.

The manual can be viewed here: BURNDVD Manual

Anyone who has any problems understanding the manual, or burning their download to DVD, or indeed any questions about this service please email geoff@wh.cz . Geoff will be happy to assist you.

You can view all the available downloads at www.burndvd.tv, by clicking the on the categories. A direct link to the latest files available will be published in each newsletter.
Our Latest Sets at www.BurnDVD.tv
Today we have a part 1 of our Wank in The Woods 2011 and CFNM Army Games with Jakub Marhoul and Michal Frys:
Special Offer for William Higgins Newsletter Readers
William Higgins Newsletter readers are able to obtain a discount on the price of BURNDVD downloads by using the coupons that we will be publishing in each Members Newsletter. The coupon published in each newsletter will be valid for a period of 7 days.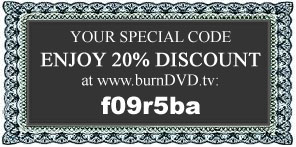 Copy today's coupon code here: f09r5ba

Our Partners:

PLEASE PROCEED TO THE NEXT PAGE FOR THE LATEST WilliamHiggins.com UPDATES