Tuesday, October 18, 2011 - Wank in the Woods 2011 - Part 2

Wank in the Woods 2011 - Part 2


Wank In The Woods 2011 features features Jan Pribyla, Mattias Solich, Zdenek Zimola, Ruslan Tarovsky and Yuri Bulakov. They are joined, later, by Rado Zuska, Honza Copak, Rado Princ and Paul Fresh. This second part continues where part one concluded, with Zdenek riding Jan's big cock and Dmitry plowing Mattias' hot ass. Zdenek really knows how to ride and his own big fat cock is standing proud as he does it. Meanwhile Dmitry is pounding Mattias ass and Yuri feeds Mattias mouth. Zdenek then relaxes a bit and lets Jan do the work, with his cock thrusting up, hard and fast into that hot hole. As they go at it Yuri swaps places with Dmitry and slides his cock into Mattias to guck him. Mattias also takes Dmitry's cock in his both, so he is filled at both ends. Time to swap partners, so Jan fucks Mattias doggy style while Dmitry does the same to Zdenek, with Yuri again feeding Mattias'mouth. They are fucking nice and hard and Yuri wants some ass too, so he again changes with Dmitry, as we get a glorious close-up of Zdenek's ass. Another change of position has Yuri fucking Zdenek in missionary while Zdenek again rides Jan's rock hard cock. As Mattias rides Jan's cock Dmitry wanks him. That gets Mattias so close and he takes over wanking himself and shoots a lovely load as Jan's dick is deep in his ass. That really sets Dmitry off and he blows his load over Mattias leg. Yuri is fucking Zdenek hard and fast as Zdenek wanks his cock. It looks like they are ready,but before either can blow Jan spurts his cum over Mattias. Then Zdenek's creamy load squirts right up his chest, swiftly followed by Yuri firing his huge load all over Zdeneks ...
... more about Wank in the Woods 2011 - Part 2 further in this newsletter

Our Coming Soon Set Preview

Latest Updates Trailer
William Higgins Atelier Backstage Vlog
You can also watch my Vlog for this Newsletter by clicking the video above or over at the Blog:
Where we left off last time, I had just messed up my iMac again. The little pocket drive where I was doing my Time Machine Backups bit the dust. So, I switched backups to the hard drive where I store my video. When I went to apply the finishing touches to Franky's excellent documentary on Part One of A Wank In The Woods, it and all of my other projects had disappeared. That was like an hour before my deadline on Friday's Newsletter. Big Problem. So, I slept on it. I spent all day Saturday researching the problem: Events go missing in Final Cut Pro X. I read forum after forum. Then I got down to a tiny post at the bottom of one very long page of posts, and it said, 'oh, yes, you cannot put Time Machine Backups on the same hard drive with your fcpx projects.' Duh. Who would have ever thought of that one? Literally 20 seconds later the problem was fixed. I opened Time Machine, clicked the switch to 'off.' Ah voila, the problem was fixed. As they say, a little knowledge is a dangerous thing, especially in my mind. Found Franky's documentary and published it. I have prepared a 16 minute HD version that will be posted on the site as soon as we finish publishing both parts of A Wank In The Woods. Meanwhile, take a look at the low quality preview version: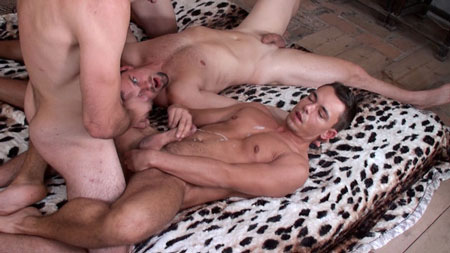 http://www.wheuro.com/?p=9438
Meanwhile, I mentioned the new tiny video camera I bought so that I could always carry a camera with me. The top professionals say, 'What's the best camera to take a picture with?' Answer, 'The camera you have with you.' In other words, if you don't have a camera with you, it's not possible to take that immortal picture. Well, I tested it out by doing the backstage of a shoot the other day. Today, I edited the footage. The quality from that little thing is amazing. I'd say it's as good as our huge professional cameras. The sound is excellent, there is no giggling of the microphone. The picture is rock steady with the new steady shot technology. It's always in focus, and the color is fantastic. I'll be doing some more tests, but I'm thinking of using these new cameras for more than just backstage. I'll show a shot of it on tonight's vlog.
Nice looking candidates on the Casting Couch today, but I'll go with Richard Mestek. Golly, what a BOD!
MESSAGE ABOUT LINKS TO THE OLD WH WEBSITE - WILLIAMHIGGINS.com ARCHIVES:
Please be aware that the link www.williamhiggins.com takes you to this brand new website now. If you bookmarked our old website in the past and you want to keep the bookmark as a shortest way to access the old WH website you need to change the link in the bookmark to:
You do not need to remember this link, you can conveniently get to the old WH Website - WilliamHiggins.com Archives anytime you need through the "WH 2001-2010" in the top menu of the new WilliamHiggins.com website.
Today's Weather in Prague
CzechGuysNextDoor.com Latest Updates


Enter www.CzechGuysNextDoor.com HERE
ENTER www.CzechGuysNextDoor.cz Newsletter Archives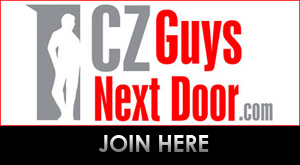 BurnDVD.tv Website Latest Updates


DOWNLOAD AND BURN VIDEOS TO DVD OR DOWNLOAD OUR VIDEOS IN FULL HD
Starting today you can download our videos in Full HD quality 1920x1080px!
Please remember that most of the videos available on BurnDVD are easily able to be downloaded with a single link, but some of the very large files, such as the newsletter DVDs have to be split into three separate links, as detailed below.

The videos with very large file sizes are now split into more than one part, using a program called HJSplit. If you wish to buy one of these larger videos to Burn to DVD, you will receive a link for file and then it is a simple process to join the downloaded files together to make the .iso file for Burning to DVD.

You can see all the available videos at www.burndvd.tv

Before downloading any videos to burn to DVD I advise you to read the BURNDVD Manual, which explains how you can burn the file to DVD. The file is an ISO file which contains all the required DVD files. The process for burning to DVD is fully explained.

The BurnDVD manual is easy to follow, with a step by step guide. Burning a DVD is easy to do, though it is helpful if you have previously burned DVDs or CDs.

The manual can be viewed here: BURNDVD Manual

Anyone who has any problems understanding the manual, or burning their download to DVD, or indeed any questions about this service please email geoff@wh.cz . Geoff will be happy to assist you.

You can view all the available downloads at www.burndvd.tv, by clicking the on the categories. A direct link to the latest files available will be published in each newsletter.
Our Latest Sets at www.BurnDVD.tv
Today we have part 2 of Wank In The Woods 2001 and Radko Stencl`s Screentest with Marek Novak as well as part 4 of CFNM- Wrestling:
Special Offer for William Higgins Newsletter Readers
William Higgins Newsletter readers are able to obtain a discount on the price of BURNDVD downloads by using the coupons that we will be publishing in each Members Newsletter. The coupon published in each newsletter will be valid for a period of 7 days.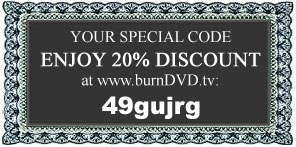 Copy today's coupon code here: 49gujrg

Our Partners:

PLEASE PROCEED TO THE NEXT PAGE FOR THE LATEST WilliamHiggins.com UPDATES