Tuesday, October 25, 2011 - Roman Duzda's Massage

Roman Duzda's Massage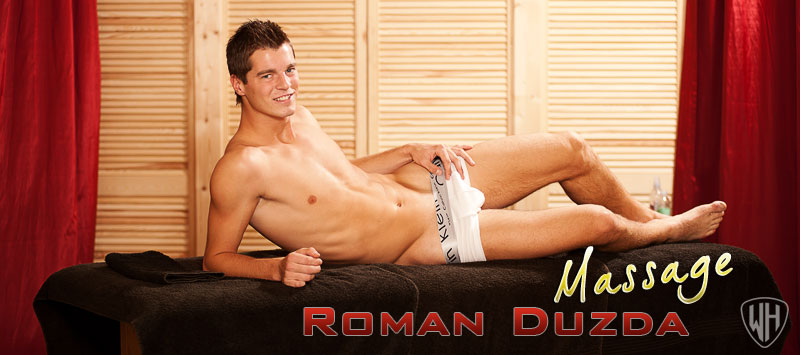 Roman Duzda is a great looking guy and after his solo shoot we asked him if he would come back for a massage. Happily for us he agreed. He starts off by stripping down for us and standing while we admire his body, both front and back, before climbing onto the massage table. The masseur arrives and gets to work, firstly on Romans back, oiling it and then gently massaging. He works on the back for a while then, skipping over his coverer ass, he moves to massage his legs too. Having coated those hairy legs in oil the masseur then removes the towel from Roman's ass and starts to work on it. It is a beautiful bubble butt and his hand massage the cheeks. Then his hand goes between Roman's legs and pull his cock back, we see that it is already hard. He continues to play with the cock as his other hand rubs and feels that hot ass. Then taking some more oil the hands explore that ass crack pulling it open and dipping a finger into Roman's ...
... more about Roman Duzda's Massage further in this newsletter

Our Coming Soon Set Preview
Martin Rusek is a great looking newcomer, who quickly told us he was up for trying guy-guy stuff, so we set him up with the lovely Jan Pribyla, for a screentest. After a brief interview the guys get right to it, with some very nice kissing. Jan makes the first move with his hand in Martin's crotch, and then works on his nipples some too. He works his way down Martin's body, and opens his jeans. Then Jan pulls Martin's cock out of the those jeans, and it is already quite hard. Jan wanks on that cock as Martin kisses his nipples before Jan removes Martin's jeans, with that cock throbbing and ready for action. Jan sucks on Martin's big hard cock, taking it deep in his mouth. Jan, for his part, slides his hand into Jan's jeans, for a feel of cock too. Jan is enjoying that cock, sucking it and licking up and down the thick shaft and licking on the balls. We change position and Jan is naked, with Martin working on his cock. Jan has a lovely cock and Martin licks it and then sucks on the head before sliding his mouth over the shaft too. He works gently on Jan's cock and soon Jan wants more and throws Martin on his back, climbs over him and shoves his cock back into Martin's mouth and starts to fuck his face. Martin's mouth takes the cock very well indeed, and he wanks himself as he does it. Next Jan gets on his knees so that Martin can rim his hole. As he licks at that hole he slides first one and then two fingers deep inside, with Jan moaning as he feels his hole being invaded. Martin knows what he wants now and slides his cock deep inside Jan's ass and starts to fuck him hard and fast. He grabs Jan's hair for leverage as he fucks his tight hole. Jan, though, also wants some ass and they change positions so that Jan can fuck Martin, pumping his dick into that hole really well. A change of position to missionary, see Jan really fucking Martin hard, and Martin is feeling it, moaning with each thrust of that big dick deep into his ass. Martin loves it and is wanking as he is fucked, soon he shoots his load while Jan's dick is deep inside him. Jan is fucking fast and is soon ready to blow his own load. He moves up to Martin's face and shoots his cum into Martin's mouth. Martin takes hold of Jan's cock and sucks it dry. Then Martin gets up so that they can kiss to finish the scene in very nice style. What a great screentest, Martin was superb, as was Jan who we can always rely on to perform very well.

OPEN SET WINDOW

Latest Updates Trailer
William Higgins Atelier Backstage Vlog
You can also watch my Vlog for this Newsletter by clicking the video above or over at the Blog:
I've had many requests for Franky to model his new hair, which I found for him at the huge Prague Chinese Market. Miro kindly took this photo with his iPhone.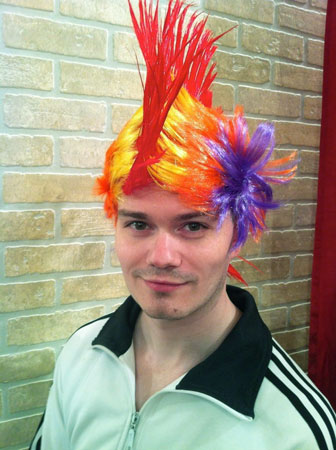 Stunning, Franky will be the hit of Valentino's!
There has been a lot of chat on Prague Buddies about 'The Dutchman,' a former workshop student, who visits Prague from time to time, to assist with our Helping Hand shoots. On Sunday we took an all day tour of the locations in the North that we used when filming Jan Dvorak. We managed to get to all of them except that famous rock location filmed in 'Carlo and Friends.' The field through which it was necessary to drive, had been closed off by an electrical fence and was now a horse pasture. We could have still gotten to the location, but it would have involved climbing over one steep hill to get to the hill we used. I said to save it for another trip. We visited the lake where we filmed part of the first 'A Wank In The Woods.' Afterwards, we stopped at a restaurant for a late lunch. We had actually eaten at the same place ten years ago after filming all day on location. During lunch, I asked the Dutchman about all the rumors that have been swirling around on Prague Buddies. He stated that he is absolutely straight. He has a very strong artistic interest in the nude male body, but he is not sexually aroused at all by guys. And, yes, he will be getting married soon. He's asked Franky to be his best man. Today, as a sacrifice to his art, he even sucked off a model during a Helping Hand. So, there you have it, for what it's worth. I'm sure there will be cynics out there who will not believe his answer. But that's his story, and he's sticking to it.
Today, I posted a very brief Backstage Sneak Preview of a fantastic CzechUp, starring Roman Duzda, who's also featured in today's Newsletter. I've also prepared a 30 minute Backstage Documentary about this episode (that's how much I like it) that will be presented after we publish the episode on line. Please take a look at the preview video: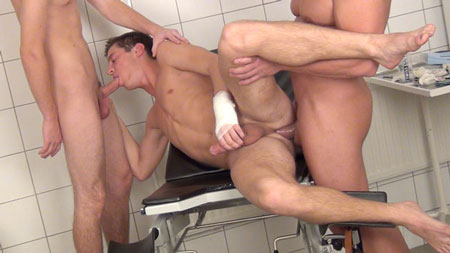 Our coming soon is Martin and Jan. I've done a Sneak Backstage Preview of this episode over on the Blog. It's quite a good scene. Take a look at the Preview on the Blog:
Casting Couch
For the Casting Couch, we have some awfully good guys today. Geoff likes Tomas Haloda, as do I. I also like Daniel Hurta. But I have a weakness for long hair, so I'm going with Jirka Vavrin. But as far as liking is concerned, you couldn't fit a piece of paper between them.
MESSAGE ABOUT LINKS TO THE OLD WH WEBSITE - WILLIAMHIGGINS.com ARCHIVES:
Please be aware that the link www.williamhiggins.com takes you to this brand new website now. If you bookmarked our old website in the past and you want to keep the bookmark as a shortest way to access the old WH website you need to change the link in the bookmark to:
You do not need to remember this link, you can conveniently get to the old WH Website - WilliamHiggins.com Archives anytime you need through the "WH 2001-2010" in the top menu of the new WilliamHiggins.com website.
Today's Weather in Prague
CzechGuysNextDoor.com Latest Updates

CzechGuysNextDoor Health Warning: None, two nice solo shoots.

Enter www.CzechGuysNextDoor.com HERE
ENTER www.CzechGuysNextDoor.cz Newsletter Archives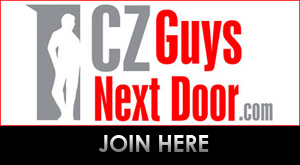 BurnDVD.tv Website Latest Updates


DOWNLOAD AND BURN VIDEOS TO DVD OR DOWNLOAD OUR VIDEOS IN FULL HD
Starting today you can download our videos in Full HD quality 1920x1080px!
Please remember that most of the videos available on BurnDVD are easily able to be downloaded with a single link, but some of the very large files, such as the newsletter DVDs have to be split into three separate links, as detailed below.

The videos with very large file sizes are now split into more than one part, using a program called HJSplit. If you wish to buy one of these larger videos to Burn to DVD, you will receive a link for file and then it is a simple process to join the downloaded files together to make the .iso file for Burning to DVD.

You can see all the available videos at www.burndvd.tv

Before downloading any videos to burn to DVD I advise you to read the BURNDVD Manual, which explains how you can burn the file to DVD. The file is an ISO file which contains all the required DVD files. The process for burning to DVD is fully explained.

The BurnDVD manual is easy to follow, with a step by step guide. Burning a DVD is easy to do, though it is helpful if you have previously burned DVDs or CDs.

The manual can be viewed here: BURNDVD Manual

Anyone who has any problems understanding the manual, or burning their download to DVD, or indeed any questions about this service please email geoff@wh.cz . Geoff will be happy to assist you.

You can view all the available downloads at www.burndvd.tv, by clicking the on the categories. A direct link to the latest files available will be published in each newsletter.
Our Latest Sets at www.BurnDVD.tv
Today we have Roman Duzda`s Massage and Ivan Cakovsky with Fanda Modry as well as part one of our latest CFNM:
Special Offer for William Higgins Newsletter Readers
William Higgins Newsletter readers are able to obtain a discount on the price of BURNDVD downloads by using the coupons that we will be publishing in each Members Newsletter. The coupon published in each newsletter will be valid for a period of 7 days.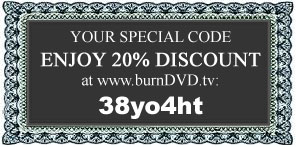 Copy today's coupon code here: 38yo4ht

Our Partners:

PLEASE PROCEED TO THE NEXT PAGE FOR THE LATEST WilliamHiggins.com UPDATES