Friday, October 28, 2011 - Jan and Martin, Screentest

Jan and Martin, Screentest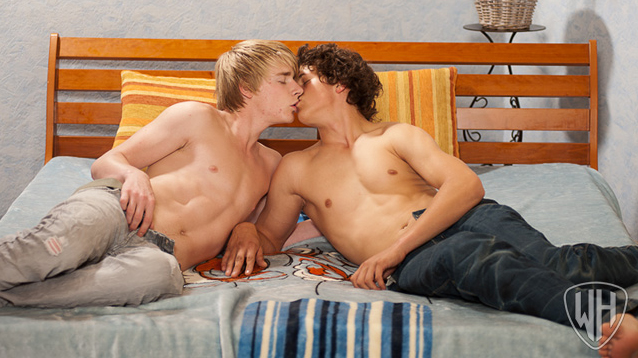 Martin Rusek is a great looking newcomer, who quickly told us he was up for trying guy-guy stuff, so we set him up with the lovely Jan Pribyla, for a screentest. After a brief interview the guys get right to it, with some very nice kissing. Jan makes the first move with his hand in Martin's crotch, and then works on his nipples some too. He works his way down Martin's body, and opens his jeans. Then Jan pulls Martin's cock out of the those jeans, and it is already quite hard. Jan wanks on that cock as Martin kisses his nipples before Jan removes Martin's jeans, with that cock throbbing and ready for action. Jan sucks on Martin's big hard cock, taking it deep in his mouth. Jan, for his part, slides his hand into Jan's jeans, for a feel of cock too. Jan is enjoying that cock, sucking it and licking up and down the thick shaft and licking on the balls. We change position and Jan is naked, with Martin working on his cock. Jan has a lovely cock and Martin licks it and then sucks on the head before sliding his mouth over the shaft too. He works gently on Jan's cock and soon Jan wants more and throws Martin on his back, climbs over him and shoves his cock back into Martin's mouth and starts to fuck his face. Martin's mouth takes the cock very well indeed, and he wanks himself as he does it. Next Jan gets on his knees so that Martin can rim his hole. As he licks at that hole he slides ...
... more about Jan and Martin - Screen Test further in this newsletter

Our Coming Soon Set Preview
Honza Forst is a really handsome guy with a nice slim build. I was very keen to do more than an erotic video with him, so Boris called him in for this massage. He starts off by stripping down for us and then showing us his wares front and back, and very attractive they are too. Then he climbs onto the massage table and awaits the arrival of the masseur. The masseur duly arrives and starts work, firstly massaging Honza's back and then moving down to his hairy legs and his feet. His oiled hands then move under the towel covering Honza's ass and start to massage it. He removes the towel so we can see that bubble butt as he works on it, with the cheeks spreading to tease us with the hole. The hands spend a lot of time on that ass crack, feeling it and then spreading it wide so we get a great view of Honza's tight hole. A finger then finds its slippery way into Honza's hole and starts to slowly fuck in and out before moving down and feeling his balls too. Then it is back to fingering Honza's hole and a vibrator is used to open it even wider, slipping in and out nice and deeply. Honza is moved onto his knees, so that his ass spread nicely and the vibrator gets to work on that ass again. His big cock is hardening as well as it hangs down. The masseur then takes a thicker, black, vibrator and pushes that into Honza's ass as he also wanks his cock. That vibrator is sliding easily into Honza's hole and it is opening up very well, so an even larger one takes its place and in it goes. The vibrator is turned on and makes a merry noise as it works the hole. When it is removed we can see that Honza's hole is wide open, it has been stretched very well indeed. Then Honza lays down, on his back and the masseur starts to wank him, getting his big cock nice and hard, until it shoots a very nice load for us, which is scooped up and smeared over Honza's face. The masseur then leaves Honza to relax, bringing a wonderful scene to and end.

OPEN SET WINDOW

Trailer
Vlog
You can also watch my Vlog for this Newsletter by clicking the video above or over at the Blog:
Coming Soon
Today's Coming Attraction is the excellent episode we shot with Mattias and Rado. I really love this shoot. And I've posted a Backstage, Sneak Preview on the Blog. Take a look. The full shoot will be coming soon!
This is a very big holiday in the Czech Republic. There are heaps of empty parking spaces on the street. Most businesses are closed and only tourists are walking around on the streets. It's the anniversary of the founding of Czechoslovakia after WWI. Never mind that Czechoslovakia no longer exists, it's still a splendid opportunity to take off from work. But not us. Pavel Nikos the gringe that stole Christmas scheduled two shoots and casting couch today. This holiday brings back a memory: Several years back, I was walking Buddy and Aida on Petrin Hill on this day. I had no idea about the holiday. We were near the crest, walking through a stand of forest. All of a sudden BOOM, BOOM, BOOM. I could see the muzzle flashes of the cannons, hidden by the trees, not 10 meters from us. They were firing off a 40 gun salute. I jumped about three feet in the air. Buddy and Aida took off running like crazy. Buddy stopped about a hundred meters away after the firing stopped. Aida was long gone. Of course I was in a panic. About three quarters of the way down the hill, I found Aida where she had been apprehended by the police. If they hadn't stopped her, I'm pretty sure she would have run all the way to Brno. I explained to them as best I could that she'd run away from the artillery fire and they gave her back to me. That was a real freight. And all over an obsolete holiday I'd which I had previously known noting about.
Today, I noticed this article in Salon. The female write is worrying about shaving in the nether region by males. Is it a coming trend? I wonder what rock she has been living under?
Recently, we shot a great threesome with Rado, Mattias, and Gregor. We're saving it for a special occasion. I have made a brief sneak preview for the Blog. Tomorrow, I'll edit a 15 minute version to post in HD on the site after we post the actual set. Please. take a look at the preview.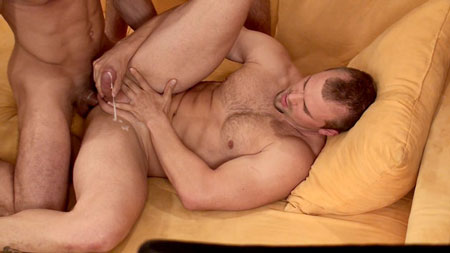 My pick for from today's Casting Couch is Martin Necas
MESSAGE ABOUT LINKS TO THE OLD WH WEBSITE - WILLIAMHIGGINS.com ARCHIVES:
Please be aware that the link www.williamhiggins.com takes you to this brand new website now. If you bookmarked our old website in the past and you want to keep the bookmark as a shortest way to access the old WH website you need to change the link in the bookmark to:
You do not need to remember this link, you can conveniently get to the old WH Website - WilliamHiggins.com Archives anytime you need through the "WH 2001-2010" in the top menu of the new WilliamHiggins.com website.
Today's Weather in Prague
CzechGuysNextDoor.com Latest Updates


Enter www.CzechGuysNextDoor.com HERE
ENTER www.CzechGuysNextDoor.cz Newsletter Archives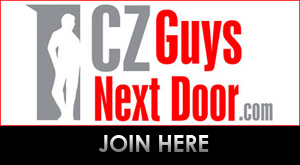 BurnDVD.tv Website Latest Updates


DOWNLOAD AND BURN VIDEOS TO DVD OR DOWNLOAD OUR VIDEOS IN FULL HD
Starting today you can download our videos in Full HD quality 1920x1080px!
Please remember that most of the videos available on BurnDVD are easily able to be downloaded with a single link, but some of the very large files, such as the newsletter DVDs have to be split into three separate links, as detailed below.

The videos with very large file sizes are now split into more than one part, using a program called HJSplit. If you wish to buy one of these larger videos to Burn to DVD, you will receive a link for file and then it is a simple process to join the downloaded files together to make the .iso file for Burning to DVD.

You can see all the available videos at www.burndvd.tv

Before downloading any videos to burn to DVD I advise you to read the BURNDVD Manual, which explains how you can burn the file to DVD. The file is an ISO file which contains all the required DVD files. The process for burning to DVD is fully explained.

The BurnDVD manual is easy to follow, with a step by step guide. Burning a DVD is easy to do, though it is helpful if you have previously burned DVDs or CDs.

The manual can be viewed here: BURNDVD Manual

Anyone who has any problems understanding the manual, or burning their download to DVD, or indeed any questions about this service please email geoff@wh.cz . Geoff will be happy to assist you.

You can view all the available downloads at www.burndvd.tv, by clicking the on the categories. A direct link to the latest files available will be published in each newsletter.
Our Latest Sets at www.BurnDVD.tv
Today we have Martin Rusek`s Screentest with Jan Pribyla and Rado Princ`s Tickling:
Special Offer for William Higgins Newsletter Readers
William Higgins Newsletter readers are able to obtain a discount on the price of BURNDVD downloads by using the coupons that we will be publishing in each Members Newsletter. The coupon published in each newsletter will be valid for a period of 7 days.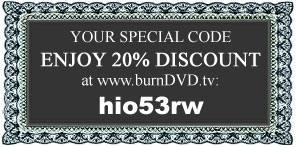 Copy today's coupon code here: hio53rw

Our Partners:

PLEASE PROCEED TO THE NEXT PAGE FOR THE LATEST WilliamHiggins.com UPDATES