Friday, November 04, 2011 - Honza, Dima and Paul - Duty Bound

Honza, Dima and Paul - Duty Bound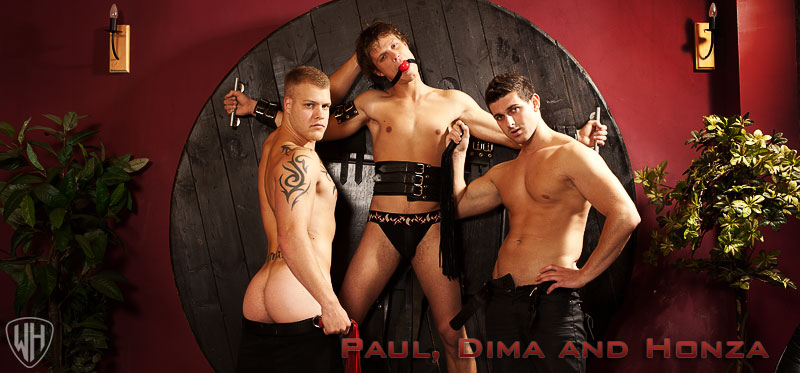 Dima Lukin is a great guy, who we set up for a Duty Bound with Paul Fresh and Honza Copak. The scene starts with Paul and Honza celebrating Honza's birthday. After blowing out the candles on his cake Honza is presented with his present. He is invite to remove a cover and there is the present. It is Dmitry, strapped to a upright turntable, blindfolded and gagged too. Honza and Paul start to feel Dima, and turn the table so that he is now horizontal. The guys tease him somewhat, tweaking his nipples and slapping him. Paul starts groping Dima's cock in his jockstrap, and pulls it out. It is rock hard already and Honza takes it in his mouth, and bites on it, and chews, a little, on the foreskin. Paul and Honza then undo their pants a get their dicks out. Honza needs to piss and lets it go alover Dima's foot, while Paul shoves his rampant cock in Dima's mouth and starts to fuck his face. Paul then takes some of the birthday cake and eat it, shoving some of it into Dima's mouth, and the pushing his cock in too. He fucks Dima's mouth with cake smeared all over his face. The they swing the table round so Honza can fuck Dimas mouth too. Meanwhile Paul cuts the jock strap off Dima and watches as Honza fucks his face. Turning the table again so that Dima is upside down Honza drops to his knees for more sucking of his ...
... more about Honza, Dima and Paul - Duty Bound further in this newsletter

Our Coming Soon Set Preview
Roman Duzda is a really handsome guy and we moved quite quickly to sign him up for a Czech Up. We pulled in Dr Daniel Avedon and Sister Gregor Bortel to look after Roman. Daniel and Gregor are in their medical suite waiting for the first patient of the day. A knock on the door heralds the arrival of Roman, assisted by a passer by, who has found him, rather drunk, laying on the road. Roman certainly seems to be more than a little inebriated and Dr Daniel decides that he must do an examination. So they remove Roman's clothes and then put him in the shower, to clean him up some. Daniel takes a hose to wash Roman, who already has a rock hard cock. After washing his front Roman is made to turn around and bend over, so that they guys can wash his ass too. His big fat cock is hanging down, and needs to be washed too. So Roman stands up and the guys wash his throbbing dick. Gregor is clearly very impressed with Roman's cock and starts to suck on it, taking it deep in his mouth. Having had a good suck on that cock Gregor grabs it in his hand and leads Roman back into the surgery. Daniel then begins a fuller inspection, and finds that Roman's wrist hurts and needs to be bandaged. Gregor though is more interested in Roman's cock and starts to suck it again. Daniel takes that as a cue and starts to suck on Roman's nipples before taking a turn at sucking his hard cock. He then climbs up so that Roman can suck on his cock as well. It seems that Roman is accomplished at sucking cock and soon he is taking turns on Daniel's and Gregor's. Next they turn there attention to Roman's ass, and both Gregor and Daniel shove their gloved fingers into his hole, before doing a more formal internal exam. Next they decide that Roman should be pushed further and Daniels throbbing cock is pushed into his tight hole, as he sucks on Gregor's dick. Roman certainly takes it very well indeed, and wants to feel Gregor in his hole too. So they change positions and Roman sits right down on Gregor. He really works his hole over that cock and rides up and down on it. Gregor is feeling that tight ass wrapped around his dick and soon is ready to cum, so he quickly moves to Roman's chest and shoots a big load. Roman sucks the spent cock in his mouth and sucks it as he blows his own load. The guys all then kiss to bring a very nice scene to an end.

OPEN SET WINDOW

Trailer
Vlog
You can also watch my Vlog for this Newsletter by clicking the video above or over at the Blog:
My bad foot got so bad during my trip to Berlin, that I finally bit the bullet and decided to have it operated on. I've been debating this operation for years and years. The last time I consulted surgeon was in 2007. I went back to him, and he said he felt he was no longer competent to do the operation. That didn't make me feel the greatest. He referred me to a surgeon at Prague's largest hospital. I went there for a consultation two days ago. The surgeon was not only young, and good looking, he was obviously very competent and spoke English perfectly. He went over all of the possible procedures and the risks of each. At an attempt at humor, I asked him where he'd learned to speak English so well. He told me he'd lived in Scotland for a year. I replied, 'well they haven't spoken English in Scotland for years.' No response. (You might recall that Apple's new personal assistant Siri cannot understand 'Scottish.') He told me to think it over and let him know if I decide to do the operation. Five minutes after leaving his office, I decided to go ahead with the operation. He'll operate "at Christmastime." I don't know whether he means Christmas Day or right around that time. So, if I pass all of the pre-op physicals, I'll be laid out for awhile around the holiday season. Recovery time from the operation is about three months. I figured this is a good time to go for the operation because, if this year is anything like last year, we'll be up to our asses in snow in Prague. If all goes well, I should be dancing the light fandango buy summer time.
Today we launch our new site str8hell.com. The name sort of says it all. Just a week ago we filmed the premiere episode for the new site with Rado and Martin. Today, totally by chance I prepared a sneak preview, and THEN I found out the set was going live today. That was luck. Hope you enjoy the sneak and then will go over to the new site and see the real thing. I'll also be preparing a long documentary that will be posted on the new site in HD.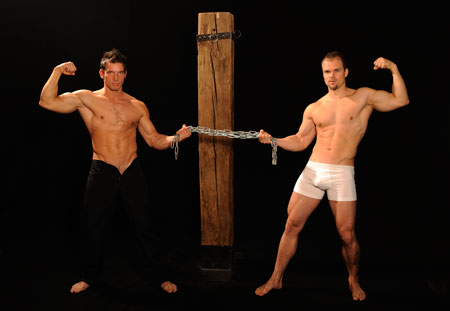 My pick for this week's Casting Couch is Dmitry Karnik.
MESSAGE ABOUT LINKS TO THE OLD WH WEBSITE - WILLIAMHIGGINS.com ARCHIVES:
Please be aware that the link www.williamhiggins.com takes you to this brand new website now. If you bookmarked our old website in the past and you want to keep the bookmark as a shortest way to access the old WH website you need to change the link in the bookmark to:
You do not need to remember this link, you can conveniently get to the old WH Website - WilliamHiggins.com Archives anytime you need through the "WH 2001-2010" in the top menu of the new WilliamHiggins.com website.
Today's Weather in Prague
Today we launch our all new Kink only site with no solos. It's not for the feint hearted. Do take a look (if you dare):
http://www.str8hell.com/updates
At present, Members of CzechGuysNextDoor will be able to access the new site with their user information. If you have problems, write Karel@wh.cz
Latest Sets At Our NEW STR8HELL.com Website


BurnDVD.tv Website Latest Updates


DOWNLOAD AND BURN VIDEOS TO DVD OR DOWNLOAD OUR VIDEOS IN FULL HD
Starting today you can download our videos in Full HD quality 1920x1080px!
Please remember that most of the videos available on BurnDVD are easily able to be downloaded with a single link, but some of the very large files, such as the newsletter DVDs have to be split into three separate links, as detailed below.

The videos with very large file sizes are now split into more than one part, using a program called HJSplit. If you wish to buy one of these larger videos to Burn to DVD, you will receive a link for file and then it is a simple process to join the downloaded files together to make the .iso file for Burning to DVD.

You can see all the available videos at www.burndvd.tv

Before downloading any videos to burn to DVD I advise you to read the BURNDVD Manual, which explains how you can burn the file to DVD. The file is an ISO file which contains all the required DVD files. The process for burning to DVD is fully explained.

The BurnDVD manual is easy to follow, with a step by step guide. Burning a DVD is easy to do, though it is helpful if you have previously burned DVDs or CDs.

The manual can be viewed here: BURNDVD Manual

Anyone who has any problems understanding the manual, or burning their download to DVD, or indeed any questions about this service please email geoff@wh.cz . Geoff will be happy to assist you.

You can view all the available downloads at www.burndvd.tv, by clicking the on the categories. A direct link to the latest files available will be published in each newsletter.
Our Latest Sets at www.BurnDVD.tv
Today we have Duty Bound with Paul Fresh, Honza Copak and Dima Lukin Honza Copak`s Spanking and Honza Forst and Dima Kokes Wrestling:
Special Offer for William Higgins Newsletter Readers
William Higgins Newsletter readers are able to obtain a discount on the price of BURNDVD downloads by using the coupons that we will be publishing in each Members Newsletter. The coupon published in each newsletter will be valid for a period of 7 days.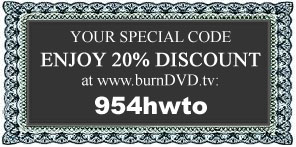 Copy today's coupon code here: 954hwto

Our Partners:

PLEASE PROCEED TO THE NEXT PAGE FOR THE LATEST WilliamHiggins.com UPDATES