Friday, November 11, 2011 - Wank in the Woods 2011

Wank in the Woods 2011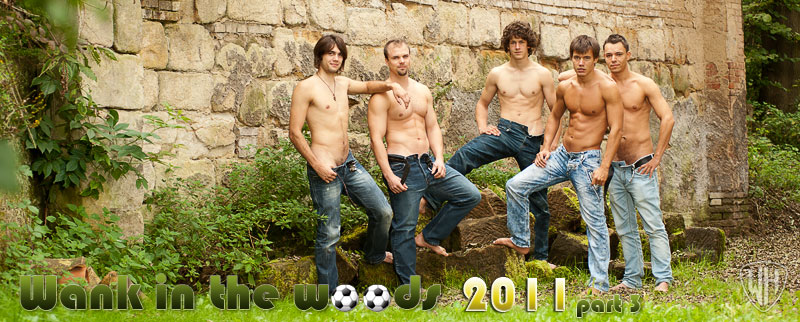 Part 3 of Wank In The Woods 2011 features no fewer than 9 models, Ruslan Tarovsky, Honza Copak, Mattias Solich, Rado Zuska, Jan Pribyla, Paul Fresh, Rado Princ, Zdenek Zimola and Yuri Bulakov. Things get started when the guys arrive at a camp fire site, all naked. Rado Zuska chops some more wood as Jan Pribyla sets to work lighting the fire. Beers are also handed around to refresh the guys, and the barbecue is set up ready for cooking some food. Dmitry and Rado Z also start to cook some food over the fire as everyone sits around drinking. As they wait for the food to cook Rado Z and Rado P decide on a little fun and start to spray beer on the other, who return fire very quickly. The guys frolic around spraying each other and laughing as they do it, then they gather around the fire again. Honza, Mattias and Rado Z are feeling more than a little frisky and start kissing each other. The other guys see this and start to play as well. Paul Fresh relishes waving his big dick for everyone to see. The guys seem to split naturally into groups of three, groping each other, kissing and sucking. The beer seems to have had an effect on them too as they gather round the fire to piss. Then they get back to the action, with Yuri sitting on Rado P's big hard cock while Honza sucks on ...
... more about Wank in the Woods 2011 further in this newsletter

Our Coming Soon Set Preview
Ruslan Tarovsky, Honza Copak, Mattias Solich, Rado Zuska, Jan Pribyla, Paul Fresh, Rado Princ, Zdenek Zimola and Yuri Bulakov continue in Wank In The Woods 2011. This is the 4th part, which carries on from the change of positions right at the end of part 3. Paul Fresh is fucking Zdenek Zimola while Jan is fucking Yuri and Mattias is being plowed nice and deep by Rado Z. There is lots of moaning as the cocks go deep into their hot asses. Honza, Ruslan Tarovsky and Rado P keep busy at the same time, wanking themselves and being sucked by the bottoms. Zdenek really enjoys Paul's big dick up his ass and is rock hard as he is taking it. The same applies to Yuri who is wanking his throbbing cock as Jan plows him. Yuri loves the action sucks on Rado P while Jan keeps ramming his ass. The guys change positions again, this time with Mattias sitting on Paul's hard cock, while Rado P fucks Zdenek who in turn is fucking Yuri. Honza also gets a turn, with his big cock deep fucking Rado Z who sucks on Jan as his ass is being well fucked. The action is truly hot as everyone is involved, Ruslan Tarovsky loves the threeway action with Rado P, Zdenek and Yuri and leans over to suck on Yuri's cock. But he want even more, so Rado Z fucks his tight ass and Jan takes a turn in Honza's hole. The guys are getting close now, as they huddle around Rado P while he fucks Mattias and Paul fucks Rado Z wanking themselves furiously. Mattias is the first to blow, his creamy load landing on his leg, as Rado P is deep in his ass. Rado P pulls out and cums over Mattias, then Ruslan Tarovsky drops his load on him too. Next is Rado Z, he cums a big load while Paul is fucking him. Then he kisses the already spent Mattias. Yuri then blows his load and Ruslan Tarovsky wanks his cock to get the last of the cum out of it. Paul is next, and shoots all over Rado Z, followed quickly by Jan and Honza. The final cumshot is Zdenek who blows over Mattias. Fully sated the guys kiss each other and all snuggle up together to sleep off their exertions which brings a really great Wank In The Woods to and end.

OPEN SET WINDOW

Trailer
Vlog
You can also watch my Vlog for this Newsletter by clicking the video above or over at the Blog:
This is an important date: 11 11 11. Next year there will be a 12 12 12 and then I think that it for the perfect numbers for the remainder of this century. Please correct me if I'm wrong.
Last night, the weather in Prague turned dramatically colder. Today was the first time I felt I needed to wear gloves. This afternoon, I asked Pavel Nikos: "When will it get warmer again?" His answer:
"Spring!" Oh, well. Seems like the lovely Indian Summer was just yesterday.
My Teaser Backstage tonight is Honza Forst Deflowered. It took me a long time to schedule this shoot. I really, really like Honza Forst. He is one of those 'you can fuck me, but don't you dare try to kiss me' guys. Miro rooted him with toys twice, in his solo shoot and in an ambush massage. I told Boris I must work more with him. Boris replied, 'he doesn't want to do any more work.' I replied, 'No is not an option.' Somehow, Boris worked his magic and Honza agreed to do a BrokeCzechGuys. I said it was fine if he doesn't do anything but get sucked and fucked. Apparently, this was not good enough for Boris, and he persuaded Honza to do the entire nine yards. Great scene. We brought in Ivan Cakovsky as the 'ringer' to service Honza. Half way thru the shoot, after being thoroughly rooted by Ivan, Honza told Boris, 'next time I want to top.' I said, 'that's fine with me.' Anything to see more of this cute little guy. An interesting stat: He came to the Casting Couch two days after his 18th birthday. That very day Miro poked him with a vibrator. Quite a nice delayed birthday celebration for him.
I'll edit a very long version of this backstage to post on the site after the main set runs. Meanwhile enjoy this teaser.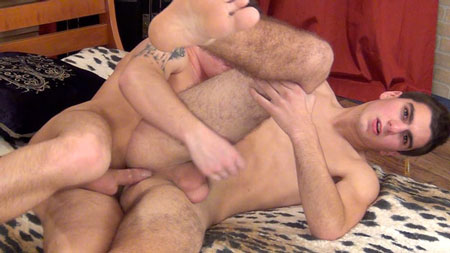 My pick for this week's Casting Couch is Dmitry Karnik.
MESSAGE ABOUT LINKS TO THE OLD WH WEBSITE - WILLIAMHIGGINS.com ARCHIVES:
Please be aware that the link www.williamhiggins.com takes you to this brand new website now. If you bookmarked our old website in the past and you want to keep the bookmark as a shortest way to access the old WH website you need to change the link in the bookmark to:
You do not need to remember this link, you can conveniently get to the old WH Website - WilliamHiggins.com Archives anytime you need through the "WH 2001-2010" in the top menu of the new WilliamHiggins.com website.
Today's Weather in Prague
We have launched our all new Kink only site with no solos. It's not for the feint hearted. Do take a look (if you dare):
http://www.str8hell.com/updates
At present, Members of CzechGuysNextDoor will be able to access the new site with their user information. If you have problems, write Karel@wh.cz
Latest Sets At Our NEW STR8HELL.com Website

Members of CzechGuysnextDoor.com - to log in the member's section of the new STR8HELL website use your present username and password, if you forgot your password or encounter a log in problem please feel free to contact us at: whcustomerservice@gmail.com
Non-members - you are welcome to browse our complete content - each regular set contains free video preview and free photos, if you decide not to become a member of our website you can also buy sets separately (we huge, well organized and easy to search library of models - there is always few models you may like) you can pay only for what you really want see ;-). You are always welcome to come back.
All members of www.CzechGuysNextDoor.com get a free access to STR8HELL.com till the end of November 2011!
Please use your present CzechGuysNextDoor username and password to log into the members area.
We have terminated updates to CzechGuysNextDoor.com website. CzechGuysNextDoor.com website will stay online, but now only as an archive of all CzechGuysNextdoor.com sets. Anyone who wants to access CzechGuysNextDoor.com Archives needs to have a STR8HELL.com membership. STR8HELL.com will continue with most of the czechguysnextdoor.com projects. Anyone who joins STR8HELL.com will gain access to two websites STR8HELL.com and CzechGuyNextDoor.com Archives which contain 2500+ sets. STR8HELL.com has exactly same features and controls as NEW WilliamHiggins.com website.
Direct access to CzechGuysNextDoor.com website is now through the link: archive.czechguysnextdoor.com or through "Archive Sets 2004-2011" links on the new STR8HELL website.
Thank you for your loyalty to CzechGuysNextDoor.com website,
Sincerely
William Higgins

BurnDVD.tv Website Latest Updates


DOWNLOAD AND BURN VIDEOS TO DVD OR DOWNLOAD OUR VIDEOS IN FULL HD
Starting today you can download our videos in Full HD quality 1920x1080px!
Please remember that most of the videos available on BurnDVD are easily able to be downloaded with a single link, but some of the very large files, such as the newsletter DVDs have to be split into three separate links, as detailed below.

The videos with very large file sizes are now split into more than one part, using a program called HJSplit. If you wish to buy one of these larger videos to Burn to DVD, you will receive a link for file and then it is a simple process to join the downloaded files together to make the .iso file for Burning to DVD.

You can see all the available videos at www.burndvd.tv

Before downloading any videos to burn to DVD I advise you to read the BURNDVD Manual, which explains how you can burn the file to DVD. The file is an ISO file which contains all the required DVD files. The process for burning to DVD is fully explained.

The BurnDVD manual is easy to follow, with a step by step guide. Burning a DVD is easy to do, though it is helpful if you have previously burned DVDs or CDs.

The manual can be viewed here: BURNDVD Manual

Anyone who has any problems understanding the manual, or burning their download to DVD, or indeed any questions about this service please email geoff@wh.cz . Geoff will be happy to assist you.

You can view all the available downloads at www.burndvd.tv, by clicking the on the categories. A direct link to the latest files available will be published in each newsletter.
Our Latest Sets at www.BurnDVD.tv
Today we have Wank In The Woods 2011 Part 3 and a great new Airport Security as Dima Kokes erotic video:
Special Offer for William Higgins Newsletter Readers
William Higgins Newsletter readers are able to obtain a discount on the price of BURNDVD downloads by using the coupons that we will be publishing in each Members Newsletter. The coupon published in each newsletter will be valid for a period of 7 days.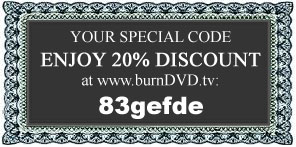 Copy today's coupon code here: 83gefde

Our Partners:

PLEASE PROCEED TO THE NEXT PAGE FOR THE LATEST WilliamHiggins.com UPDATES