Friday, March 16, 2018 - Wank Party #94, Part 1 RAW - WANK PARTY

Wank Party #94, Part 1 RAW - WANK PARTY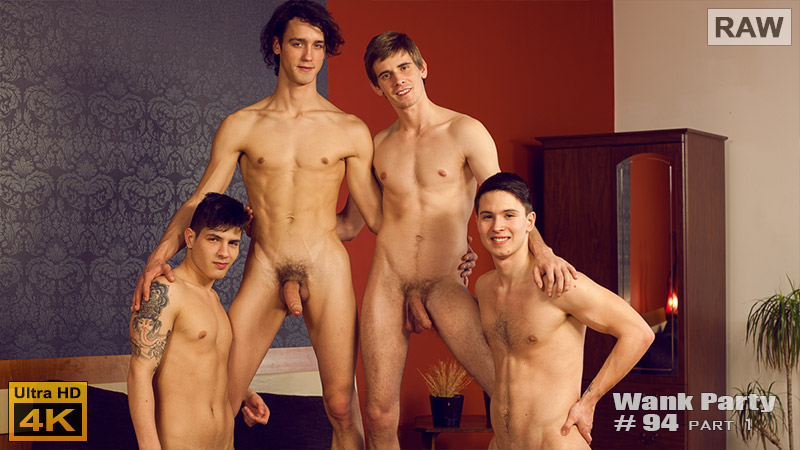 In Wank Party #94 we have 4 of the sexiest str8 guys, Petr Uman, Vadim Covrescu, Miro Dalek and Tomas Berger. This first part begins as Petr is sleeping and the other guys come into the room to wake him up. As he sits up Tomas leans over and kisses Petr's chest. Miro and Vadim kiss each other too as Tomas goes down on Petr's rock hard cock. All the guys get barechested and continue to share kisses, with Tomas sucking on Petr's dick some more. Miro strips off his pants revealing his huge swelling cock which Vadim quickly goes down on . Vadim pulls his own cock out too. He pulls on his cock as he sucks Miro. Tomas takes his dick out too but keeps sucking on Petr. Petr lays down for Tomas to suck his dick. He reaches over and rubs Vadim's chest. Vadim's mouth keeps sucking Miro's throbbing cock as Tomas and Petr change places. Petr eagerly takes Tomas cock in his mouth and starts to suck. Miro fucks his cock into Vadim's mouth, making him gag a little. As Vadim sucks that cock he feels Tomas kissing his back. He takes all of Miro's dick into his mouth and Tomas goes back to sucking Petr. The Miro lays down and everyone's attention turns to his big cock. They take turns in sucking it and kissing all over his hot body. His big cock stays so hard as the guys enjoy working on it. Tomas can't resist another chance to suck on Petr's big cock too, so he sucks that while Vadim works on Miro's. Then Vadim straddles Miro to suck his cock as his ass is available for Miro to rim. Miro tongues the tight hole as Tomas sucks Petr. Vadim lays on his back with his legs in the air. Miro laps at his hole while Tomas keeps working on Petr's dick. Petr's balls are tight against his shaft as his cock is sucked. Then he moves to suck Tomas again Whille Vadim's legs are over his head, ass in the air as Miro keeps rimming his sexy hole. He rubs his fingers over that hot hole and keeps lapping at it as Vadim wanks himself. Then he shoves a finger deep into Vadim;s hole, setting things up for a great finale in part 2.
... more about Wank Party #94, Part 1 RAW - WANK PARTY further in this newsletter

Our Coming Soon Set Preview


Trailer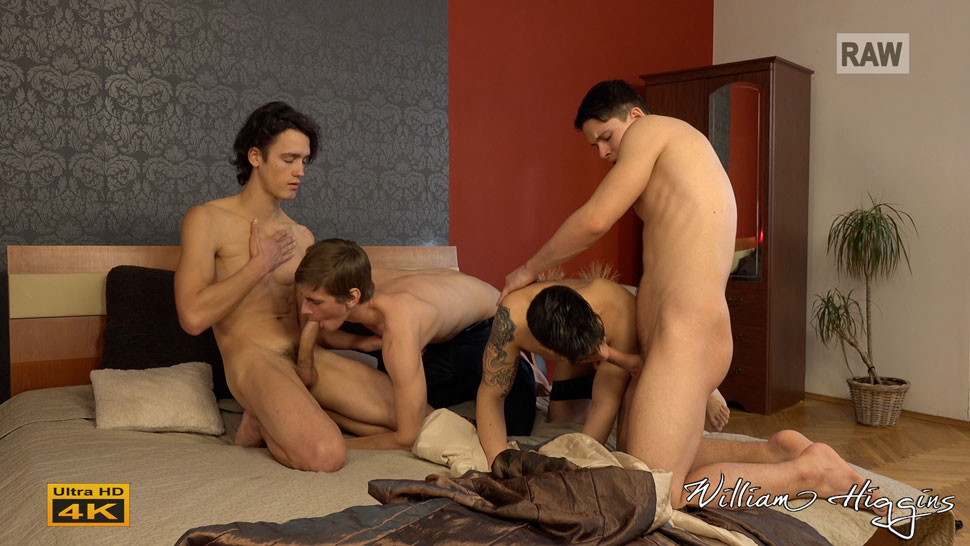 Vlog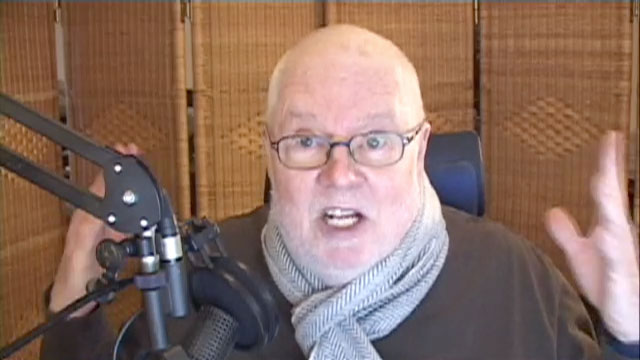 You can watch my Vlog for this Newsletter by clicking above or by going over to the Blog :
http://www.wheuro.com/?p=18685
2018 is a year of anniversaries for us: This is my 40th year in gay porn production. I moved to Europe 30 Years ago. And TODAY is the second anniversary of my knee replacement surgery. That's something I'd really like to forget about, but folks keep reminding me. My knee surgery did not go off without a hitch. I had a heart attack in the ICU and I won't even go into my stories about Nurse Ratched. After I sort of recovered, I remarked, 'most people say that having a knee replacement is the worst thing they've ever been through.' I must say, THAT is a gross understatement. Here we are two years to the day from the surgery and the fake knee is working just fine, knock on wood.
Our Wordsmith Mr. Geoff is now working on Pages in iMac. It seems that autocorrect changed 'Wank' to 'Want.' Autocorrect is pernicious, no matter what OS you use. I do want to crow a bit: I was the first one in gay porn to use the word 'Wank.' In 1988 I stopped off in Australia where students were having one of many anti-government demonstrations. There were lots of signs: 'Blank (governor of the province) is a WANKER!' That's interesting, I thought, I wonder what 'wanker' means. Keep in mind there was no Internet in those days. But I found out. "Oh, that's wonderful. I'll have to use it," was my immediate thought. So, I did and have. Fast forward 30 years and now almost everyone uses 'Wank' instead of the less elegant words.
We have a fantastic set coming on line this weekend: Ondra and Karel. Don't miss it. Looks great. And, wow, the kink set Paul and Rado looks fantastic.
Part 1 of Wank Party #94, with four of the sexiest str8guys, Tomas Berger, Miro Dalek, Petr Uman and Vadim Covrescu, is our lead feature in today's Newsletter. Then we have a wonderful erotic solo from str8 newcomer Ivan Danek. We also have a bonus set from str8hell.com a Raunchy duo with Paul Hunter and Rado Zuska.
Our castings today are very good indeed, Petr Urana and Filip Urbak. Both guys look good, but Petr is my pick for today.
REMEMBER YOUR CAN ALWAYS CHECK THE OLD WH WEBSITE AT:
NEW SETS AT STR8HELL.COM

Members of str8hell.com get full access to the site and to the full archive of more than 2500 sets on Czech Guys Next Door web site, at:
http://archive.czechguysnextdoor.com/
Non-members can access str8hell.com and browse the complete content, including free video previews and some free photos for each set. Non-members can also search the site, and are able to buy any sets they like, without taking out a full membership. Paying only for the sets you really want to see.
Sincerely
William Higgins

WHVideoShop.com Website Latest Updates


DOWNLOAD OUR VIDEOS IN FULL HD 1920x1080p FROM ALL 6 SITES!
Special Offer for William Higgins Newsletter Readers
William Higgins Newsletter readers are able to obtain a discount on the price of BURNDVD downloads by using the coupons that we will be publishing in each Members Newsletter. The coupon published in each newsletter will be valid for a period of 7 days.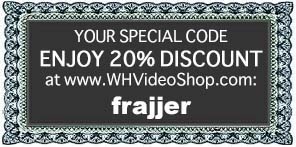 Copy today's coupon code here: frajjer

Our Partners:

PLEASE PROCEED TO THE NEXT PAGE FOR THE LATEST WilliamHiggins.com UPDATES